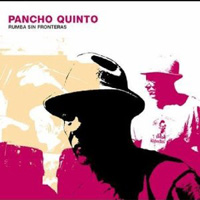 Pancho Quinto
Rumba Sin Fronteras (Riverboat Records/World Music Network TUGCD1031, 2003)
A true master percussionist from a land that has produced many, Cuba's Pancho Quinto can still astound after nearly half a century of activity. Early on, he pioneered the use of bata (double-headed sacred drum) and cajón (wooden box drum) in the already heavily percussive backbone of rumba, and his deft, textured drumming continues to epitomize the best combination of tradition and innovation.
There are moments on Rumba Sin Fronteras when he handily nails the convergence points between Afro-Cuban roots and Latin jazz as well, with no small assist from guests like keyboard genius Omar Sosa (who also soars stunningly on marimba on one track here).
By and large this is a percussion and voice album, though. The African-influenced call-and-response vocals have a relaxed, conversant quality that fits flawlessly with the array of hand drums and smaller instruments. Amid multiple layers of skin-on-skin beats punctuated by wooden and metallic sounds
darting in and out, the whole thing sounds perfectly synchronized yet somehow loose and free-spirited. And when electric instruments are added, as on the rolling funk of the opening "La Gorra," there's a soulfulness and sensuality that the percussion props up all the more.
Kudos to the razor sharp production work of Greg Landau, one of several San Francisco area luminaries (percussionist John Santos is another) who contribute to the overall excellence here.
So how do I best describe this disc? Many words come to mind–hypnotic, exhilarating, virtuosic, hot, cool, atmospheric, etc.–all aptly descriptive but all ultimately falling short of describing how very wonderful it is. Suffice to say it's one of the greatest percussion-centered recordings ever, and one of my top picks of the year.
Author:
Tom Orr
Tom Orr is a California-based writer whose talent and mental stability are of an equally questionable nature. His hobbies include ignoring trends, striking dramatic poses in front of his ever-tolerant wife and watching helplessly as his kids surpass him in all desirable traits.