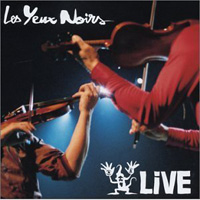 Les Yeux Noirs
Live (World Village 4680190, 2003)
Led by classically-trained violinists Eric and Olivier Slabiak, Les Yeux Noirs created one of last year's more memorable albums with Balamouk, a seamlessly brilliant Gypsy/klezmer blend that brought out the best in both styles, individually and collectively. This new live disc shows them to be just as tight onstage (in case you had any doubt), and though many of the tunes were also highlights of Balamouk, most are carried beyond their already substantial studio counterparts. A little extra jamming length here, a bit more tricky soloing there, and the result is a nimble and lively performance that is no mere rehash.
A tartly stomping "Cioara" kicks things off, with the crinkly tones of the cimbalom and dancing percussion bouncing to and fro between the rich violins as guitar, bass, cello and accordion lubricate the Balkan and Yiddish accents with loving grace. Faster pieces like "Calusul" and "L'Alouette" reach delightful frenzy without sloppiness, though the band's softer side is evident on two versions of the tender "Lluba," including a new take with a children's choir adding depth to the traditional lament. In fact, the balance of fast and slow tunes give this disc a good sense of pace that many live albums lack. Then when you factor in solid versions of such originals as Balamouk's Afro/Euro title track, you have a live set that delivers mightily in terms of innovation and exciting musical border-crossing. Listening to this will make your feet move and your heart ache. You'll love it.
buy Live
Author:
Tom Orr
Tom Orr is a California-based writer whose talent and mental stability are of an equally questionable nature. His hobbies include ignoring trends, striking dramatic poses in front of his ever-tolerant wife and watching helplessly as his kids surpass him in all desirable traits.