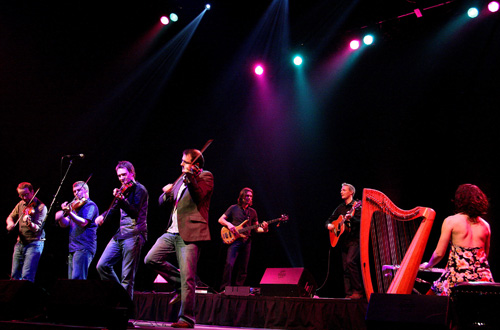 Fiddlers' Bid is internationally respected as a leading exponent of their unique musical heritage and rich fiddle tradition. Global ambassadors for Shetland, this dynamic four-fiddle front line joins with a powerhouse of piano, bass, guitar and Scottish harp to create a 'display of stunning virtuosity'.
Since their formation in 1991, the "flying fiddles and furious talent" of Fiddlers' Bid have astounded audiences all over the world with their expressive, high energy music and performance.
Fiddlers' Bid have performed at some of the largest folk festivals in the world including the 2003 Smithsonian Folklife Festival in USA and have had two hugely successful tours of Australia and Tasmania, performing at the Melbourne Concert Hall and Sydney Opera House. One tour earned the band a nomination for Best Contemporary Music Presentation at a national music award ceremony in Australia.
Their album Da Farder Ben Da Welcomer was the Greentrax best-selling album of 2002 and Naked and Bare received acclaimed reviews.
Discography:
Around the World (Fiddlers' Bid, 1994)
Hamnataing (Greentrax Recordings, 1998)
Da Farder Ben Da Welcomer (Greentrax Recordings, 2001)
Naked and Bare (Greentrax Recordings, 2005)
All Dressed in Yellow (2009)
website: http://www.fiddlersbid.com