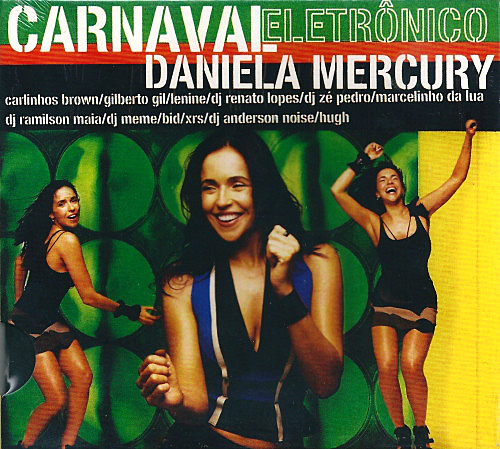 Portugal – Brazilian Superstar Daniela Mercury will be one of the stars featured on the World Stage in Rock in Rio Lisbon on June 5th. Daniela Mercury's fame has extended beyond Brazil to Europe as well. The singer will perform the same night as Black Eyed Peas, Britney Spears, Sugababes, Nuno Norte and Joao Pedro Pais during the large musical event.
The latest release from Daniela Mercury is titled Carnaval Eletronico, a fusion of Drum'n'bass, House, Techno, Lounge, Dub with typical Brazilian rhythms. One of the singles included is "Amor de Carnaval" (Carnival Love). Daniela started her career at the early age of 15, performing in bars in Salvador, Brazil. In 1988 she was background vocals in Gilberto Gil's band. In 1992 she performed in front of a crowd of 20 thousand in Sao Paulo, one of the historic moments in her career. The songwriter was appointed by UNESCO as an "Artist in favor of Human Rights".
The organization Rock in Rio Lisbon presented this week the whole infrastructure built at the Bela Vista Park in Lisbon, Portugal. The space designed for enjoyment and entertainment features more than 200 thousand square meters and will host the biggest musical event in the world, along six days divided in two consecutive weekends, from May 28th to May 30th and from June 4th to 6th.
World Stage confirmed bands:
– Paul McCartney – May 28
– Peter Gabriel, Ben Harper & The Innocent Criminals, Jet, Gilberto Gil and Rui Veloso – May 29
– Foo Fighters, Evanescence, Kings of Leon, Charlie Brown Jr e Xutos and Pontapés – May 30
– Metallica, Slipknot, Incubus, Sepultura and Moonspell – June 4
– Black Eyed Peas, Britney Spears, Sugababes, Daniela Mercury, Nuno Norte and João Pedro Pais – June 5
– Sting, Alicia Keys, Alejandro Sanz, Ivete Sangalo and Luis Represas – June 6
The Roots Tent will showcase 20 bands and artists representing world music:
– May 28: Daby Toure (Senegal), Ensemble Kabul (Afghanistan), Rão Kyao (Portugal);
– May 29: At-Tambur (Portugal), Havana Abierta (Cuba), Thierry Robin (France ), Manu Dibango & Ray Lema (Cameroon – Congo);
– May 30: Manecas Costa (Guiné-Bissau), Terrakota (Portugal), The Klezmatics (USA), Angelique Kidjo (Benin);
– June 4: Faltriqueira (Spain), Trio Madeira Brasil (Brazil), Javier Ruibal (Spain), Souad Massi (Argelia);
– June 5: Regis Gizavo (Madagascar), Gaiteiros de Lisboa (Portugal), Joyce & Quarteto (Brazil), Nguyên Lê (Vietnam-France);
– June 6: Tucanas (Portugal), Amparanóia (Spain), Trio Curupira & Hamilton de Holanda (Brazil), Mariza (Portugal).
On the Electronic Tent by Smirnoff Experience, 72,000 watts of energy and 15 of the best DJ"s in the world will scratch and make people party all night long.
– May 28: Projecto D.O.J. (Portugal); Gilles Peterson (Switzerland) and David Mancuso (USA);
– May 29 – "House is a Feeling": Felipe Venâncio (Brazil), José Luís Magoya (Spain), To Ricciardi (Portugal), Miss Barbara Tucker (USA) and Tedd Patterson
(USA);
– May 30 –"Techno World": A Paul (Portugal), Angel Molina (Spain), DJ Anderson Noise (Brazil), Jim Masters (UK) and Jeff Mills (USA);
– June 4 – "Electro N' Bass": DJ's Zig Zag Warriors (Portugal), Dj Kitten (Portugal), Adam Freeland (UK) and Dj Patife & Mc Cleveland Watkiss (Brazil/UK);
– June 5 – Carl Cox will play for 3 hours;
– June 6 – "Progressive House": Felix daCat (Portugal), Desyn Masiello (UK), John Digweed (UK) and Dj Vibe (Portugal)
The Rock in Rio project goes beyond the concept of a music festival. The visitors will not only have the World Stage, the Electronic Tent by Smirnoff Experience and the Roots Tent, but also 14 daily hours of enjoyment, with an area denominated "Radical" , dedicated to sports; debates on the Better World Tent; and other attractions such as a food court and a mini shopping center.
The Social Project
The main focus of Rock in Rio Lisbon's social project is centered on programs destined to improve the lives of children and youngsters. The Plan Childreach International with over 60 years of existence in 43 countries around the world, will be the benefited organization. With the objective of sponsoring the education and life quality of less fortunate children and their communities, the organization Rock in Rio already donated 250 thousand euros to this institution
and hopes to reach a million euros from ticketing. The SIC Esperanca also compromises to take part of the ticketing proceeds to different initiatives sponsored by the organizers of Rock in Rio Lisbon for benefit institutions recognized by their projects in favor of Portuguese children and youngsters.