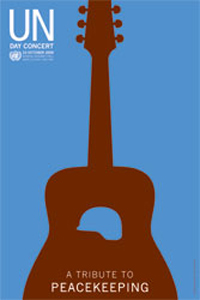 Culture Project will be celebrating the UN Day Concert: A Tribute to Peacekeeping. This celebration, through live music performances and documentary film clips, will commemorate the anniversary of the United Nations Charter and shine light on one of the organization's most noted initiatives: peacekeeping.
The concert will take place on Friday, October 23rd in the UN General Assembly on the eve of UN Day, celebrated internationally October 24th. This continues an effort on the part of Culture Project to emphasize the value of culture as a transformative force and a much needed diplomatic tool.
This year marks the 64th anniversary of the founding of the United Nations, whose mission of international coexistence, peace and security has never been more vital. Peacekeeping and conflict prevention are at the very heart of the these founding principles; utilizing Peacekeepers, or "Blue Helmets," as they are popularly known, who non-violently aid in stability, security and sustainable world peace by disarming ex-combatants, training police, supporting elections, and helping to build State institutions.
To usher in this momentous international holiday and promote global discourse, Culture Project has assembled an all-star lineup of world musicians, filmmakers, ambassadors, and performers, sharing talents and personal experiences of UN Peacekeepers. The event, emceed by CNN's Isha Sesay, will showcase performers from around the world whose work is indispensable to their respective countries and the world community alike, including Roberta Flack, Angelique Kidjo, UN Goodwill Ambassador Harry Belafonte, accomplished Chinese pianist Lang Lang, legendary guitarist John McLaughlin, Grammy-winner Zakir Hussain, the Indo-jazz group Remember Shakti, former child soldier Emmanuel Jal, Senegal's stunning hip-hop artist Sister Fa, Pakistani musician Salman Ahmad with Samir Chatterjee from India and Colombia's electrifying band Aterciopelados. Renowned musician and producer Nile Rodgers will serve as musical director.
lso featured in the night's entertainment is a brand new documentary film by Fisher Stevens, The War Against War, which will officially premiere in a series of five short segments throughout the course of the concert. The film will give a candid and objective look at the dangers the "Blue Helmets" face in the field as well as the trials and tribulations the "bosses" face at Headquarters. Through a mixture of footage from various field missions all over the world, and a series of intimate interviews with UN officials, Peacekeepers in the field, and world leaders, Stevens captures the challenges UN Peacekeepers face every day serving some of the world's most vulnerable populations. Mr. Stevens is the award winning director and producer behind 2008's Independent Spirit Award Best Documentary Crazy Love and this year's Hot Docs and Sundance Audience Award winner The Cove.
The concert will be filmed by Link TV, a mission-driven media company that seeks to provide diverse perspectives from around the world and promote global citizenship. The concert will air in its entirety on the network's national TV channel and stream on their website in November.
More information at:
Author:
World Music Central News Department
World music news from the editors at World Music Central