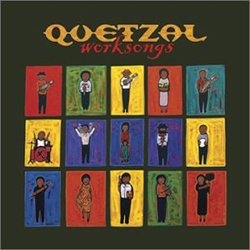 Los Angeles, USA – Quetzal, the groundbreaking band stemming from the barrios of Los Angeles is set for its worldwide release today, July 8th, titled Worksongs (Vanguard Records). The release also marks the band's 10-year anniversary of creating real heartfelt Latin folk and roots-rock music. Worksongs, an 11-track collection of powerful songs collaborated on by the six band members, follows their critically acclaimed album Sing The Real released last year on Vanguard Records.
Quetzal's grassroots approach to fusing the folk styles of Mexico and Cuba, including son and bolero, alongside tasteful elements of rock and blues, carves an inspiring path in the tiresome music industry. After the successful tours and concerts alongside the likes of Los Lobos, Aerosmith, Ozomatli, Taj Mahal and Michelle Shocked, Quetzal proved beyond doubt, their ability to play intimate clubs and large arenas alike without a hitch, gaining fans at every stop.
Produced by longtime Los Lobos saxophonist Steve Berlin, whose playing and production credits include Bonnie Raitt, John Lee Hooker, Sheryl Crow, Faith No More and Paul Simon, saw the working relationship a perfect fit. "It's profound, there's not enough articulation about what's going on in East LA [Los Angeles]," he says. "Worksongs is not just a record; they are the voice of the culture. We've [Los Lobos] carried the torch long enough, and I think Quetzal is the next to step up and speak for the community."
Quetzal is now performing music from Worksongs and is not only touring with Ziggy Marley, Taj Mahal and Little Feat, but will headline major concerts in Los Angeles (Ford Amphitheater), Cleveland (Night Town), and other major cities.
Quetzal is: Quetzal Flores, Martha Gonzalez, Edson Gianesi, Gabriel Gonzalez, Dante Pascuzzo, and Kiko Cornejo.