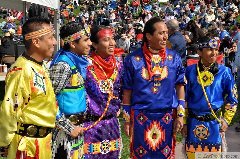 Albuquerque, USA – The Yellow Bird Indian Dancers will participate in the Cross-Year Celebrations of Taipei City "International Young Power Drum & Dance Festival", January 6-11, 2004.  The group presents a repertoire of authentic Apache, Southwest and Northern Plains dances which are colorful yet educational. From the exciting Hoop Dance to the beautiful Apache Rainbow Dance, the presentations are enhanced by native sign language and flute music.
The Yellow Bird Dancers are all members of the Duncan family, headed by Ken Duncan, Sr., from the San Carlos Apache reservation in Arizona,  and Doreen Duncan, his wife, is from the Arikara, Hidatsa and Mandan Nations of the Fort Berthold Reservation in North Dakota.
Another member of the family is  a four-time World Champion Teen Hoop dancer. Ken is a graduate of the Institute of American Indian Arts and a recipient of the "Outstanding Young Men in America Award."  Ken is an accomplished storyteller/lecturer,  has been featured in numerous children television programs and has lectured at Mayo Clinic, museums and universities.  He is also a flute player and traditional shieldmaker.
Doreen Duncan, Business Manager, is a graduate of Arizona State University and has extensive experience in Native American cultural interpretation. The group also provides Native craft demonstrations and a broad range of hands-on and interactive activities for children and adults.