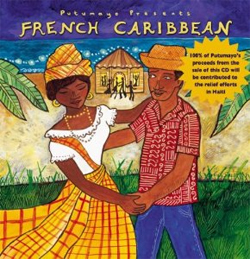 New York, USA – Putumayo takes listeners on a musical cruise of the French Caribbean with a selection of zouk, compas, twoubadou, biguine and more. With French Caribbean, released on May 20, 2003, Putumayo revisits the French Creole islands of Haiti, Guadeloupe and Martinique, which have been experiencing a roots revival in recent years.
The French Caribbean is a place where music is imbedded in the landscape: whether it is compas or zouk blaring out of storefront speakers or the variety of sounds that enliven carnival celebrations and street festivals.
Acoustic traditional styles like Haitian twoubadou and Martiniquean biguine have recently earned a place on trendy dance floors alongside flashier zouk and compas.