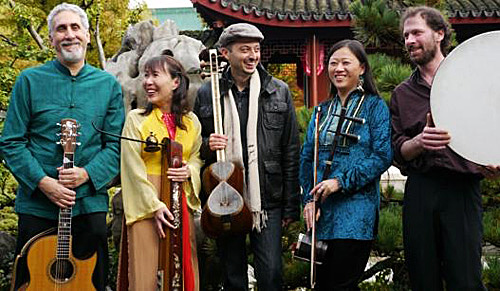 Times are changing. And yet, we still gaze backwards at ancient musical traditions and continue preserving the cultures of our lineages. In British Columbia, Canada, musicians from varying musical and religious traditions share an orchestra and stage. The musicians perform on modern European and traditional instruments from Asia, the Middle East and beyond. We can only wonder the types of non-musical conversations occur as the musicians exchange and share their backgrounds, beliefs, and experiences. They are a microcosm of how the world could become.
Recently, the recording, Mystics and Lovers crossed my path. The album featuring the Vancouver Inter-Cultural Orchestra (VICO) and Vancouver's Laudate Singers (a chamber choir) bridges a large gap between the Islamic and Jewish worldviews via the exploration of ancient music and poetic or prayerful chants. Now, anyone who has listened to "world music" for several years, if not decades, has come across Sufi poetry performed by Iranian musicians and heard Jewish prayer songs and chants. We have heard fusion groups featuring songs from major religions. VICO goes beyond these scenarios in that you will find a Chinese zither player sitting next to a Middle Eastern dulcimer player.
Recently, as part of my new YouTube channel, Whole Music Experience, I interviewed Moshe Denburg who plays an integral role with VICO. In fact, he composed Ani Ma-amin (I Believe) which appears on the recording. It is based on the Jewish faith tradition. However, Denburg spoke of more than his composition or religious upbringing. I'm including the podcast of that appears on the Whole Music Experience channel. You can also find it on the Whole Music Experience blog.
Similar to VICO, I have a mission to unite musicians and musical practitioners (as in music therapists and sound healers, ethnomusicologists and researchers) to join together and usher in peace on the planet. I also have a Go Fund Me campaign to get the ball rolling. You can learn about this on my YouTube channel and blog.