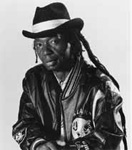 A variety of world music will be presented at the 16th Annual Finger Lakes GrassRoots Festival of Music and Dance, to take place July 20-23 at the Trumansburg Fair Grounds in Trumansburg, New York.
Among the 70 bands and artists who will be performing on four stages over the four days are Thomas Mapfumo & Blacks Unlimited, Musafir, Michael Franti & Spearhead, Aurelio Martinez, Cherish the Ladies, Son de Madera, Folklore Urbano, Inner Visions Reggae, Mamadou Diabate, Conjunto Los Pochos, Preston Frank & His Zydeco Family Band, Walter Mouton & The Scott Playboys, Cyro Baptista & Beat The Donkey, Samite of Uganda, and Keith Frank & The Soileau Zydeco Band, among others. These musicians hail from Zimbabwe, India, Honduras, Ireland, the U.S. Virgin Islands, Colombia, Mexico, Mali, Brazil, Louisiana and Uganda, and they will bring their divergent cultures and music to the GrassRoots festival, in the tiny town of Trumansburg.
Thomas Mapfumo, of Zimbabwe (formerly Rhodesia) is a musical revolutionary, in all senses of the word. He combined the traditional music of his own culture with modern sounds of American R&B, and added strong political elements to his songwriting. This got him jailed, and eventually he had to leave the country to settle in the United States, but he won the hearts of his countrymen just the same… Thomas Mapfumo is the biggest celebrity in Zimbabwe, being even better-known than the Zimbabwean President. (Saturday, 7/22, 10:30 PM)
Mamadou Diabate, of Mali, plays the kora, a 21-stringed lute-harp made from a calabash gourd. Listeners often remark at the surprising elegance and beauty of the instrument and the style in which he plays. Mamadou is a cousin and student of Grammy-winner Toumani Diabate, and Mamadou was honored in 2006 to receive his first Grammy nomination, a spot in the "Best Traditional World Music" category for his album "Behmanka". (Saturday, 7/22, 7:45 PM; Sunday, 7/23, 6:00 PM)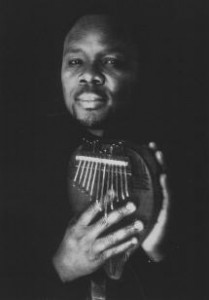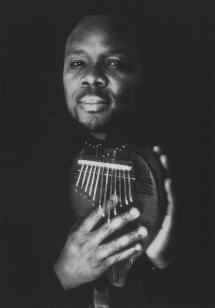 Samite of Uganda plays the flute and the thumb piano (kalimba), as well as the marimba and the seven-stringed litungu. He has toured the United States, Europe and Africa, and he is a tireless advocate involved with the issues of African peace, world poverty and the scourge of AIDS. Samite is also a documentary filmmaker, best known for his PBS documentary, "Song of the Refugee". (Saturday, 7/22, Midnight).
Musafir hails from Rajasthan, an arid region in Northwestern India that linguistic and genetic evidence shows to be the ancestral home of the Gypsies (Roma). Musafir's music combines ancient Rajasthani traditions with European Romany traditions, imagining what cultural niche the Roma may have filled when they still lived in India. (Saturday, 7/22, 6:00 PM)
Michael Franti & Spearhead are a highly political band who combine funk, reggae and hip-hop to create a unique sound that is eminently listenable and powerfully message-driven. His upcoming CD, "Yell Fire", will not be released until July 25, yet is already being lauded by critics as one of the best albums of 2006. (Friday, 7/21, 10:00 PM)
While the U.S. Virgin Islands are best known for calypso and soca music, they are also home to one of the world's most renowned reggae bands, Inner Visions. They have shared the stage with legends like Bunny Wailer and Burning Spear, and they bring their own unique soca-kissed sound to the genre. (Thursday, 7/20, Midnight)
Cherish the Ladies was the first all-female traditional Irish band in the world, but instead of being a novelty act, they established themselves as being some of the finest musicians ever to play the genre. They were chosen Best Musical Group of the Year by the BBC, Group of the Year by the Irish Voice Newspaper, and they received a Grammy nomination for a record they made with the Boston Pops orchestra, "The Celtic Album". (Thursday, 7/20, 9:45 PM)
Aurelio Martinez is the voice of the African-Amerindian community in Honduras, taking the music of his culture (the Garifuna) around the world. He is a virtuosic musician and composer, and has a stunningly penetrative voice and lyrical style. (Friday, 7/21, 8:00 PM)
Folklore Urbano is a Colombian band, blending traditional Colombian music with the more modern sounds of urban jazz. Bandleader Pablo Mayor is a professor of music, at one time heading up the jazz program at the Universidad Javeriana in Bogotá, and brings his expertise to the arrangement of the band's songs and is the driving force behind their unique and eminently danceable sound. (Sunday, 7/23, 4:00 PM)
Son de Madera is the premier group of the Son Jarocho movement, a music and dance genre from the area around Veracruz, Mexico. They are folklorists and deft arrangers, and they make clear the fact that Son Jarocho music is truly dance music. (Friday, 7/21, 6:30 PM)
Cyro Baptista & Beat the Donkey are a polyethnic mishmash of percussion, dance and melody, combined with humor and intriguing onstage antics. Cyro Baptista, from Brazil, is one of the music world's most sought-after sidemen, and he has played on dozens of award-winning albums. Beat the Donkey is his unique vision, though, and he has assembled a team of crackshot musicians to help him get that vision across. It's a very visual stage performance that one must see to believe. (Saturday, 7/22, 9:30 PM; Percussion Workshop Sunday, 7/23, 10:00 AM)
Los Pochos are a conjunto band from Los Angeles, California. Conjunto is a genre of Mexican-American music that blends traditional Mexican music with elements of polka and Texas swing. Los Pochos are one of the premier bands in the genre, and frontman Otono Lujan is perhaps the best young accordion player in his milieu. (Thursday, 7/20, 10:00 PM; Friday, 7/21, 10:00 PM; Sunday, 7/23, 6:45 PM)
Preston Frank and Keith Frank are two generations of Zydeco royalty, from Southwest Louisiana. Keith Frank is credited with being one of the progenitors of the "nouveau zydeco" movement in Louisiana, while Preston's style is somewhat older, with a more rural sound. (Keith: Thursday, 7/20, 7:00 PM; Saturday, 7/22, 11:00 PM; Preston: Friday, 7/21, 3:15 PM; Sunday, 7/23, 3:00 PM)
Walter Mouton & the Scott Playboys are a legendary Cajun dance band, hailing from near Lafayette, Louisiana. The band is the house band at the off-the-beaten path traditional Cajun dancehall La Poussiere, where they play every Saturday night, except for once a year, when GrassRoots steals them away to perform in Trumansburg. (Friday, 7/21, 9:00 PM; Saturday, 7/22, 4:00 PM)
The Finger Lakes GrassRoots Festival is hosted by roots rockers Donna the Buffalo. Donna the Buffalo blends reggae, zydeco, country and rock and roll to create their unique and highly danceable sound. (Thursday, 7/20, 11:30 PM; Saturday, 7/22, 8:00 PM; Sunday, 7/23, 8:15 PM)
From far and wide, these amazing talents will diverge upon Trumansburg, bringing world flavor to their appreciative audience. Joining these bands and artists at the Finger Lakes GrassRoots Festival will be Country singer John Anderson, Grammy-winning country singer-songwriter Jim Lauderdale, modern acrobatic dance troupe Galumpha, rising young folk bands like the Duhks, the Avett Brothers and the Red Stick Ramblers, old time bands such as Mac Benford with Up South, the Bubba George Stringband and the Turtle Duhks, a chamber orchestra concert, and many, many more.
For more information go to: www.grassrootsfest.org.