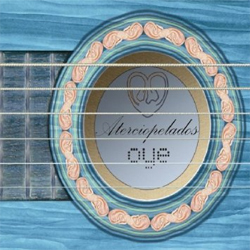 Aterciopelados' Oye, comes calling out from the hiatus of 5 years. The hibernation the Aterciopelados had taken allowed them some individual space to create their own projects.
Andrea Echeverri and Hector Buitrago are by far excellent in their own pursuits, and the combination of their efforts, births a beautiful piece of work, crowned in the album Oye, a creation all their own, like a child full of wonder, beauty and imagination.
The collection of songs in Oye remind me of the faith in the better parts of humanity. Much like their previous albums. Of looking in the face at difference without judgement in the song Cancion de Protesta. Of calling out to the the objectifiable woman in Oye Mujer to find in herself a soul. Singing in reverence to mother earth in Majestad better known as Pacha Mama this song brings peace to me, with the super conscious lyrics, and the mellow, but danceable sounds, well endowed with a variety of rhythms coming from their native Colombia.
Definitely an audible feast in variety and one that makes you feel good about what you feasted upon, kind of like a good organic fresh meal. Don't miss out on listening to Oye.
Buy Oye.
More information at: myspace.com/aterciopelados">Aterciopelados.