Boston University has announced the second annual BU Global Music Festival to be held October 4th and 5th, 2019 on the Boston University Charles River Campus. The festival will be free, open to the public and is intended for all ages.
The festival will include traditional and contemporary international musicians, as well as local world music artists.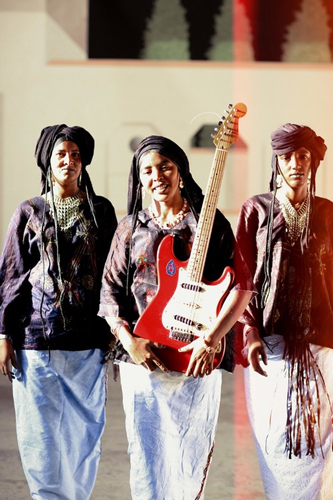 The lineup includes Les Filles de Illighadad (Niger) who will bring to the festival the music of rural Niger called "tende" featuring compositions built from vocals, handclaps, and percussion; 47Soul (Palestine/UK) celebrated for inventing their own genre Shamstep, which fuses dub synth sounds with rock elements, hip-hop and pop lyrics in English and Arabic.
Also featured: Gamelan Cudamani (Bali, Indonesia) known for their outstanding creativity; Frontera Bugalú (Mexico/Texas) who perform a combination of high-energy "cumbia" mixed with other traditional Mexican and Latin American rhythms.
Saraswathi Ranganathan (India/US) will treat festival goers to a diverse presentation of the ancient veena; and Congolese band KOKOKO! (Democratic Republic of Congo), known for building their own instruments and blending Congolese and modern music.
Local artists Grooversity (Boston/Brazil) and Eastern Medicine Singers (Algonquin, Rhode Island) will also perform.
The festival is produced by the BU Arts Initiative – Office of the Provost and the College of Fine Arts Department of Musicology and Ethnomusicology through the Karbank Fund for Global Music. Musician and BU ethnomusicologist Marié Abe continues to serve as artistic director. Additional support comes from BU Global Programs, BU College of Fine Arts, and BU Dean of Students' Office, the New England and American Studies Program. WBUR will serve as a media sponsor.
"BU is very proud to host this festival and to welcome so many talented artists from around the world. Such events have transformative power. They expose us to different experiences, perspectives, and artistic expressions, while helping to break down barriers and bring us closer together," said Jean Morrison, Provost and Chief Academic Officer of the University.
 "The BU Global Music Festival creates community and inspires greater understanding and respect through our shared passion for music and the performing arts," expressed Harvey Young, Dean of the College of Fine Arts.
In addition to workshops and demonstrations offered to the public during the festival, this year, the BU Global Music Festival and BU Music Education Department have developed a new opportunity with the Boston Public Schools Office of the Arts, which will connect Boston's music educators with visiting international musicians for a professional development credit in global music.
"The Boston University Music Education Department and students are excited to partner with Boston Public School music educators for a collaborative professional development opportunity centered around the world music traditions represented at this year's Global Music Festival," said Tawnya Smith, BU Assistant Professor in Music Education and member of the BU Provost's Arts Council.
In addition to music, the Global Bazaar featuring artisan goods for purchase from international and immigrant communities continues this year. On Saturday afternoon guests can also take part in a Cultural Vendor Fair where they can peruse more than a dozen regional cultural and ethnic organizations that offer arts related programming throughout the year.
More information at www.bu.edu/gmf/ and www.bu.edu/arts
Author:
World Music Central News Department
World music news from the editors at World Music Central