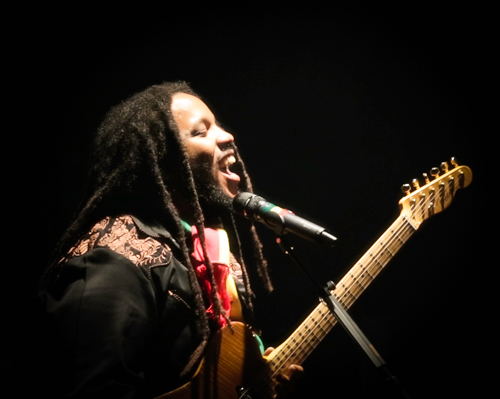 Following two acoustic U.S. tours over the last year, GRAMMY-winning reggae musician Stephen "Ragga" Marley is back on the road again, this time accompanied by a full band. His Babylon By Bus Tour started yesterday (July 5) in Ormond Beach, Florida and will continue until September 12.
Stephen aptly titled his tour after his father's iconic 1978 live album with The Wailers. "Just as my father did so many times, this summer I will criss-cross the country — appearing in cities near and far, bringing our music and message of love and unity to people from all walks of life, reaching out through the universal power of music which unites us all…And we are coming to a city, town, or festival near you — by bus," says Stephen.
Throughout the set, fans can expect him to perform hits from his four solo studio albums, all of which hit #1 on Billboard Reggae's album chart, as well as cover some of his father's classics. The family's music lineage spans generations, Stephen will also share the musical stylings of his daughter DJ Shacia Päyne and son and reggae artist Jo Mersa Marley, who will open on select dates.
As a part of this tour, a dollar from each ticket purchased will be donated to the Ghetto Youths Foundation. Founded by Stephen, Damian and Julian Marley, the non-profit organization provides aid, assistance, resources and opportunity to communities in need.
Fans in key cities of the tour can directly support by purchasing a ticket to the official after party, where they can attend DJ Shacia Päyne's 90's dancehall party vibes and get a chance to mix and mingle with Stephen Marley after the show. 100% of all these proceeds go directly to the Ghetto Youths Foundation's programs. Currently Trenchtown, Jamaica, is the site of some of the Ghetto Youths Foundation's most exceptional work. With plans to open its doors at the end of 2019, the Ghetto Youths Foundation Homework Center will be in the heart of Trenchtown – a sanctuary and safe haven supporting learning and personal achievement, providing mentorship and opportunity and fostering hope. Tickets to the after party will support this cause and are sold separately, $25 per person and can be secured in advance or day of show at the venue. Visit www.stephenmarleymusic.com and www.ghettoyouthsfoundation.org for most up-to-date after party schedule.
U.S. Tour Dates:
July 6, 2019 Sat in Jupiter, FL @ Abacoa Town Center Amphitheatre ^ +
July 7, 2019 Sun in St. Petersburg, FL @ Jannus Live * ^ +
July 9, 2019 Tue in Columbia, SC @ The Senate ^ +
July 11, 2019 Thu in Silver Springs, MD @ The Filmore * ^ +
July 12, 2019 Fri in Vineyard Haven, MA @ Martha's Vineyard Performing Arts Center ^ +
July 13, 2019 Sat in Baldwinsville, NY @ Paper Mill Island ^ +
July 14, 2019 Sun in Pittsburgh, PA @ Hartwood Acres Amphitheatre ^ +
July 17, 2019 Wedin Hampton, NH @ Bernie's Beach Bar ^ +
July 18, 2019 Thu in Portland, ME @ AURA * ^ +
July 19, 2019 Fri in Cohasset, MA @ South Shore Music Circus ^ +
July 20, 2019 Sat in Westhampton Beach, NY @ Westhampton Beach Performing Arts Center ^ +
July 22, 2019 Mon in Camden, NJ @ Wiggins Park ^ +
July 24, 2019 Wed in Albany, NY @ Empire State Plaza ^ +
July 26, 2019 Fri in Burlington, VT @ Twiddle's Tumble Down Festival ^ +
July 27, 2019 Sat in Scranton, PA @ The Peach Music Festival ^ +
July 28, 2019 Sun in Newport, RI @ Newport Folk Festival ^ +
July 30, 2019 Tue in Ocean City, MD @ Seacrets Night Club ^ +
July 31, 2019 Wed in Kill Devil Hills, NC @ Outer Banks Brewing Station ^ +
August 2, 2019 Fri in Wilmington, NC @ Greenfield Lake Amphitheater ^
August 3, 2019 Sat in Black Mountain, North Carolina @ LEAF Festival ^
August 6, 2019 Tue in Virginia Beach, VA @ Neptune's Park at 31st St ^
August 8, 2019 Thu in Asbury Park, NJ @ The Stone Pony * ^
August 9, 2019 Fri in Raleigh, NC @ Lincoln Theatre ^
August 10, 2019 Sat in Charleston, SC @ Music Farm ^
August 11, 2019 Sun in Richmond, VA @ Richmond Jazz Festival ^
August 13, 2019 Tue in Kalamazoo, MI @ Bells Eccentric Cafe * ^
August 15, 2019 Thu in St. Louis, MO @ The Bootleg at Atomic Cowboy ^
August 16, 2019 Fri in St Paul, MN @ Big River Summer Concert Series ^
August 17, 2019 Sat in Kansas City, MO @ Crossroads KC * ^
August 18, 2019 Sun in Omaha, NE@ Slowdown ^
August 20, 2019 Tue in Oklahoma City, OK @ Tower Theatre * ^
August 23, 2019 Fri in Albuquerque, NM @ KiMo Theatre ^
August 24, 2019 Sat in Aspen, CO @ Belly Up Aspen * ^
August 25, 2019 Sun in Heber City, UT @ Reggae Rise Up ^
August 27, 2019 Tue in Redding, CA @ The Cascade Theatre ^
August 29, 2019 Thu in Seattle, WA @ The Showbox * ^
August 30, 2019 Fri in Portland, OR @ Revolution Hall ^
August 31, 2019 Sat in Cave Junction, OR @ Earth People's Park
September 1, 2019 Sun in Redway, CA @ Mateel Community Center
September 3, 2019 Tue in Felton, CA @ Felton Music Hall
September 5, 2019 Thu in San Francisco, CA @ The Filmore ^
September 6, 2019 Fri in Ventura, CA @ Backyard Bash Discovery Outdoors * ^
September 7, 2019 Sat in San Luis Obispo, CA @ The Fremont Theater * ^
September 9, 2019 Mon in Solana Beach, CA @ Belly Up Tavern * ^
September 10, 2019 Tue in Solana Beach, CA @ Belly Up Tavern * ^
September 11, 2019 Wed in Garden Grove, CA @ Garden Amp * ^
September 12, 2019 Thu in Garden Grove, CA @ Garden Amp * ^
Official After Party for Ghetto Youths Foundation
^ with Shacia Payne
with Jo Mersa Marley
Author:
World Music Central News Department
World music news from the editors at World Music Central