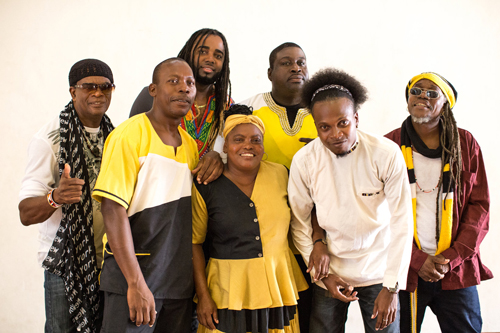 The Garifuna Collective, Belize's acclaimed Afro-Indigenous roots music band will be touring Europe and North America in support of its new album, Aban, this summer. This will be its first major international tour since 2014.
Aban is set for worldwide release June 21st, 2019 on Belize's Stonetree Records. The European part of The Garifuna Collective's tour will begin on June 6th in the Netherlands, with stops at Denmark's Roskilde Festival, Norway's Førde Festival, and YAAM Berlin.
The North American tour will begin on July 12th in Montana, with stops at the Calgary Folk Fest, The Cleveland Museum of Art, and New York City's Summerstage.
The Garifuna Collective released its previous album, Ayo in 2016.
The Garifuna people are descendants of Afro-indigenous people from the Caribbean island of St Vincent who were exiled to Central America by the British in the 18th century.
The Garifuna Collective 2019 Tour Dates:
Europe:
June 6 – Afro-Pfingsten, Winterthur, NL
June 7 – YAAM, Berlin, DE
June 8 – IMMF, Nijmegen, NL
June 15 – Ethno Port Festival, Poznan, PL
June 22 – Wales, UK (Venue TBA)
June 23 – Liverpool, UK (Venue TBA)
June 28 – Lent Festival, Maribor, SI
June 29 – Fusion Festival, Lärz, DE
July 5 – Roskilde Festival, DK
July 6 – Førde Festival, NO
July 7 – Afrika Festival, Hertme, NL
North America:
July 12 – Montana Folk Festival, Butte, MO
July 20 – Grassroots Festival, Trumansburg, NY
July 21 – Schenectady Central Park, Schenectady, NY
July 24 – Cleveland Music of Art, Cleveland, OH
July 25 – Calgary Folk Fest, Calgary, AB
August 2 – Summerstage, New York, NY
Aug 16 – Invermere Festival, BC
Aug 17 – Salmon Arm Festival, Salmon Arm, BC
Aug 22 – Portland, ME – TBA
Aug 23 – Bangor, ME – TBA
Author:
World Music Central News Department
World music news from the editors at World Music Central