Amina, the second album by the Belgium-based world music collective Refugees for Refugees is the number one album in the May 2019 Transglobal World Music Chart.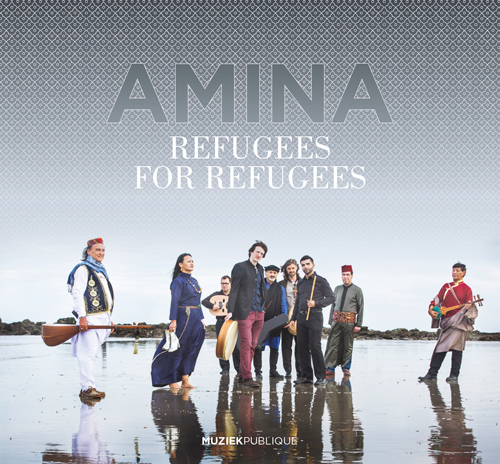 The Refugees for Refugees ensemble includes acclaimed musicians from Syria, Tibet, Pakistan, Iraq, Afghanistan and Belgium. After the debut album 'Amerli' in 2016, 10 of the musicians that took part in the recordings formed a band under the artistic direction of Tristan Driessens.
The line includes Asad Qizilbash (Pakistan) on sarod; Aren Dolma (Tibet) on vocals; Fakher Madallal (Syria) on vocals and percussion; Kelsang Hula (Tibet) on dramyen and vocals; Mohammad Aman Yusufi (Afghanistan) on dambura, vocals; Simon Leleux (Belgium) on percussion; Souhad Najem (Iraq) on qanun; Tammam Al Ramadan (Syria) on ney; Tareq Alsayed Yahya (Syria) on ud; Tristan Driessens (Belgium) on ud.
The complete May 2019 list:
Refugees for Refugees – Amina – Muziekpublique
Kronos Quartet, Mahsa & Marjan Vahdat – Placeless – Kirkelig Kulturverksted
Waed Bouhassoun – Safar: Les Âmes Retrouvées – Buda Musique
Bassekou Kouyate & Ngoni Ba – Miri – Outhere
Alim Qasimov and Michel Godard – Awakening – Buda Musique
Minyo Crusaders – Echoes of Japan – Mais Um
The Gloaming – 3 – Real World
Las Hermanas Caronni – Santa Plástica – Les Grands Fleuves
AKA Trio – Joy – Bendigedig
Kel Assouf – Black Tenere – Glitterbeat
Leyla McCalla – The Capitalist Blues – Jazz Village / PIAS
Le Trio Joubran – The Long March – Cooking Vinyl
Ifriqiyya Électrique – Laylet el Booree – Glitterbeat
Urna Chahar-Tugchi featuring Kroke – Ser – Urna Chahar-Tugchi / UCT
Oratnitza – Alter Ethno – Fusion Embassy
Söndörgő – Nyolc 8 Nyolc – SNDRG Music
Kanazoé Orkestra – Tolonso – Buda Musique
Adir Jan – Leyla – Trikont / BGST
Altın Gün – Gece – Glitterbeat
Coşkun Karademir Quartet – Öz / Essence – Kalan
Olcay Bayır – Rüya: Dream for Anatolia – ARC Music
Aziz Sahmaoui & University of Gnawa – Poetic Trance – PIAS
Xiomara Fortuna – Son Verdad – Ileakwa Producciones
Our Native Daughters – Songs of Our Native Daughters – Smithsonian Folkways
Dobranotch – Merčedes Kolo – CPL-Music
Tartit – Amankor / The Exile – Riverboat / World Music Network
Mary Ann Kennedy – Glaschu: Hometown Love Song – ARC Music
Hama Sankare – Niafunke – Clermont Music
Le Vent du Nord – Territoires – Borealis
Rachele Andrioli & Rocco Nigro – Maletiempu – Dodicilune
Lau – Midnight and Closedown – Reveal
Rodopi Ensemble – Thraki: Thrace, the Paths of Dionysus – ARC Music
Equus – Tailwind Home – Equus
Áššu – Áššu – Bafe's Factory
Black Flower – Future Flora – Sdban Ultra
Umut Adan – Bahar – Riverboat / World Music Network
Rupa & the April Fishes – Growing Upward – Electric Gumbo Radio Music
Yann-Fañch Kemener – Roudennoù / Traces – Buda Musique
Alfredo Rodríguez & Pedrito Martínez – Duologue – Mack Avenue
Dhafer Youssef – Sounds of Mirrors – Anteprima
More at www.transglobalwmc.com
Author:
World Music Central News Department
World music news from the editors at World Music Central