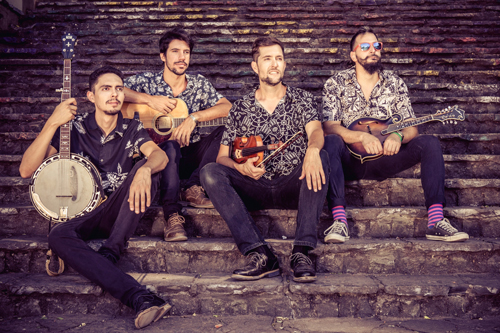 Che Apalache, a remarkable group featuring North Carolinian and Argentine Musicians is currently touring the United States and is set to perform on Friday, April 26th at The ArtsCenter in Carrboro, North Carolina. The current tour includes the East Coast and Midwest and ends in California.
The ensemble's Latingrass style is described as a mix of South American music and bluegrass. Last August they were discovered by renowned banjo player Béla Fleck, who offered to produce their next album. This past February, Che Apalache traveled to Nashville and recorded the album, which will be released in the summer of 2019 on Free Dirt Records. Three more U.S. tours are scheduled for 2019, including major bluegrass festivals, Universities and Performing Arts Centers, along with showcase clubs.
Che Apalache's founder, Joe Troop (fiddle) is from Winston-Salem, North Carolina and moved to Argentina in 2010. While slowly carving out a niche in the local music scene, Joe taught bluegrass and oldtime music for a living. That's how he met Mexican Pau Barjau (banjo), and Argentine musicians Franco Martino (guitar) and Martin Bobrik (mandolin). What began as a band formed between a teacher and his students has evolved into a rich musical collaboration that addresses social issues to bridge the gap dividing the Americas.
The ArtsCenter is located at 300-G East Main St. Carrboro, NC 27510, (919) 929-2787.
Author:
World Music Central News Department
World music news from the editors at World Music Central