Refugees for Refugees – Amina (Muziekpublique, 2019)
It's become fairly standard to sum up a person's life in a single moment. We catch a glimpse of the face as some person crosses a border, disembarks from a ship or jockeys for space in a refugee camp and we sum up that life.
There are some who would chalk up the refugee story by making it part and parcel to tragedy, war or desperate circumstances, while the less sympathetic would see an unwanted burden. But that's never the whole story. We don't see bread bakers, engineers, nurses or store owners where the family's store has successfully existed and operated for and by generation after generation of the same family. We certainly don't see the keepers of traditional craft work like carving or needlework or artists or musicians. We dismiss the back story of the refugee, that life before being uprooted, and perhaps the most precious of that life. It is with some sadness that I think we might be truly missing out.
It's somewhere in here that Muziekpubique, a non-profit organization in Belgium, has seen this missed opportunity. Running a program promoting folk and world music by way of concerts, music lessons and a record label. This clever organization and label has teamed up musicians from Pakistan, Tibet, Syria, Afghanistan, Iraq and Belgium to create Refugees for Refugees, resulting in a second release of the recording called Amina, in support of Muziekpublique and Cinemaximiliaan, a kind of cross cultural crossroads for refugees in a Brussels park where refugees can get information, find friends and even watch a movie or find a creative project.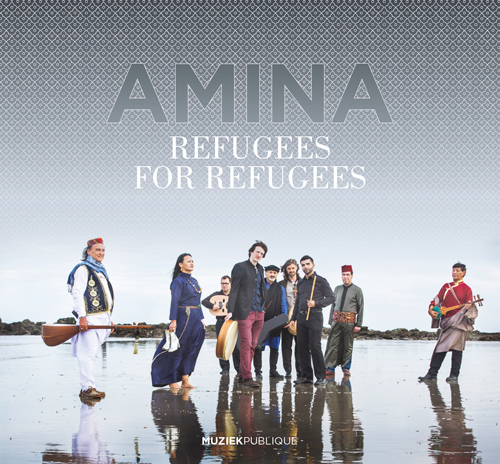 While the good deeds of Refugees for Refugees might be incentive enough to support this project, the better bet is to support this wonderful music. Amina is full of delightful surprises and lush pleasures. Composing and arranging most of the music on Amina by members of Refugees for Refugees, this collaboration where one musical tradition is seamlessly enfolded in another, sometimes in improbable combinations, comes across as wholly organic.
Pooling the talents of Pakistan's Asad Qizilbash on sarod, Tibet's Dolma Renqingi on vocals, Syria's Fakher Madallal on vocals and percussion, Tibet's Kelsang Hula on dramyen and vocals, Afghanistan's Mohammad Aman Yusufi on dambura and vocals, Belgium's Simon Leleux on oriental percussion, Iraq's Souhad Najem on qanun, Syria's Tamman Al Ramadan on ney, Syria's Tareq Alsayed Yahua on ud and Belgium's Tristan Driessens on ud Amina flows free in that otherworldly space where musicians, regardless of their country or tradition, meet and commune, that place where all the good things in music happen.
Hooking listeners from the opening strains of "Perahan," Amina dazzles with a heady mix of vocals, ud and ney. And, the tracks just get better with "Semki Molem" with its rich combination of deep male chorus against the soaring vocals of Aren Dolma. The ud laced "Qad Hijaz" is just as powerfully stunning as "Kesaro Sarko."
Other goodies include the sarod and quanun rich "Punarjanm," "Tonshak" with its scratchy throat singing against Tibetan vocals by Ms. Dolma and musical combination of sarod, dramyen, ud, ney and bendir and all the glorious quanum riches of "Shuq." "Tales of the Mountain" will raise the hairs on the back of your neck it's that good, just as simple pleasures of sarod and dholla will delight on "After the Dust." And still the goodies just keep coming with "Rose Gate," "Wasla Qudud Bayati" "Lhasa" and closing track "Chaman Chaman."
With Amina, supporting a good cause never sounded so good.
Buy Amina
Author:
TJ Nelson
TJ Nelson is a regular CD reviewer and editor at World Music Central. She is also a fiction writer. Check out her latest book,
Chasing Athena's Shadow
. Set in Pineboro, North Carolina,
Chasing Athena's Shadow
follows the adventures of Grace, an adult literacy teacher, as she seeks to solve a long forgotten family mystery. Her charmingly dysfunctional family is of little help in her quest. Along with her best friends, an attractive Mexican teacher and an amiable gay chef, Grace must find the one fading memory that holds the key to why Grace's great-grandmother, Athena, shot her husband on the courthouse steps in 1931. Traversing the line between the Old South and New South, Grace will have to dig into the past to uncover Athena's true crime.