Umut Adan – Bahar (Riverboat Records, 2019)
Crafting a kind of homage recording can be tricky business, especially if you is paying reverence to a dated sound and applying that sound to your own compositions.
Walking that fine line where adoration doesn't cross over into parody or a pale copycat effort has to come with some true convictions, not only to the original sound but also to your own musical chops and whether you have anything new to add. Well as luck would have it Turkish singer, songwriter and guitarist Umut Adan proves rightly he's got the chops and can kick some ass on his international debut recording Bahar (meaning Spring), out on the Riverboat Records label.
Diving deep into the Anatolian rock movement of the late 1960s, Mr. Adan has revived a sound familiar to devotees of the Turkish rock scene and musicians like Cem Karaca, Fikret Kizilok and Erkin Koray. While I am sometimes skeptical about claims of retro-sounding recordings, Mr. Adan has indeed captured the psychedelic rock sound; so much so it's a little eerie and wholly satisfying.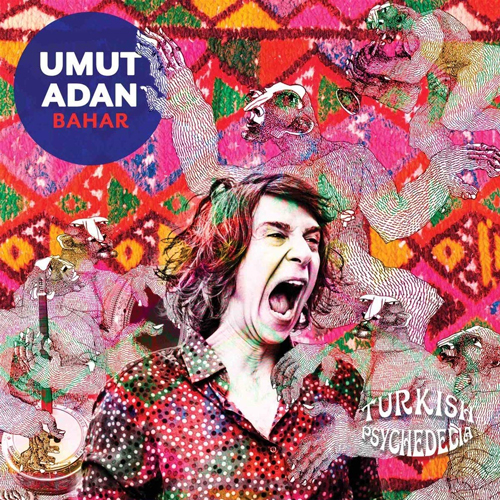 Teaming up with producer and musician Marco Fasolo and producer and engineer Liam Watson, who just happens to be London's Toe Rag studio founder where Bahar was recorded, Mr. Adan breathes a renewed musical life into Anatolian rock's heyday by recording magic and good old fashioned rock compositions. Divvying up the work load, Mr. Adan plays acoustic and electric guitars, percussion, Mellotron and belts out the vocals on Bahar, while Mr. Fasolo takes care of electric and acoustic guitars, bass, drums, percussion, mellotron and piano.
While the political messages of Bahar might be lost on those who don't speak Turkish, the music is meaty and entrancing enough to cross any language barriers. Proof is opening track "Bembeyaz Cananım" Dedicated to Turkish folk musician and composer Muhlis Akarsu, this track embodies all the goodness of 60s Anatolian rock.
Following up with a meaty beat and dishy guitar lines "Şeytanın Aklını Çeldim," Bahar perfects that electrified folk/rock sound. And it just gets better with tracks like "Ortasından Gel," "Güneş" and the folksy love ballad "Zaman Zaman" by Fikret Kizilok.
Bahar get another hit of folk with "Arabam Kaldi'a" by Mahsui Serif. Tracks like "Dünyalardan Şen Bahar" and " Sevdiğimi Seçtim" are as close to time travel as you are likely to get. Closing with a song about "the possibilities for humankind to better itself," "Ana Baba Bacı Gardaş" sticks neatly to not only the sound of the 60s but also the roots of political message in Anatolian rock and folk music, and that's no comfortable feat today in President Erdogan's Turkey.
Bahar's blast from the past psychedelic/rock vibe might seem out of place, but the state of world right now might just feel the need for some solid rock rhythms and protest vocals, dig it? Also, kudos go to Ramazan Can for the wildly rich cover art. The description far out comes to mind.
Author:
TJ Nelson
TJ Nelson is a regular CD reviewer and editor at World Music Central. She is also a fiction writer. Check out her latest book,
Chasing Athena's Shadow
. Set in Pineboro, North Carolina,
Chasing Athena's Shadow
follows the adventures of Grace, an adult literacy teacher, as she seeks to solve a long forgotten family mystery. Her charmingly dysfunctional family is of little help in her quest. Along with her best friends, an attractive Mexican teacher and an amiable gay chef, Grace must find the one fading memory that holds the key to why Grace's great-grandmother, Athena, shot her husband on the courthouse steps in 1931. Traversing the line between the Old South and New South, Grace will have to dig into the past to uncover Athena's true crime.