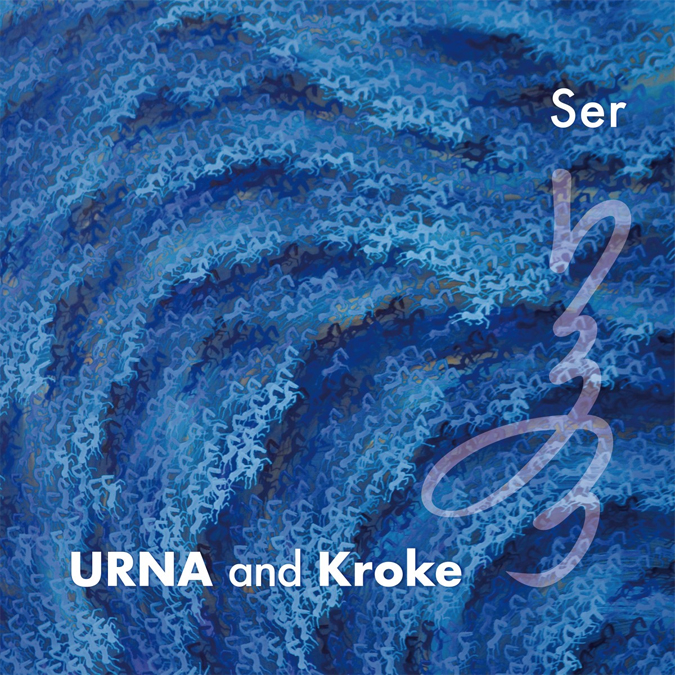 Urna and Kroke – Ser (Urna Chahar-Tugchi / Uct, 2018)
One would think that teaming up a singer born to nomadic herders on the Ordos grasslands of Inner Mongolia and a Polish band known on the world music scene for their forays into Klezmer, Jewish music, folk, jazz and fusion as an unlikely mix or, perhaps, just unadvised. Good thing for us that vocalist Urna Chahar-Tugchi and Kroke band members Tomasz Kukurba (viola, percussion, vocals and flute), Jerzy Bawoł (accordion) and Tomasz Lato (double bass) are cleverer than any of us.
The recording, Ser, out on the Urna Chahar-Tugchi/Uct label is simply stunning. Conjuring up a seamless expanse of evocative musical imagery by way of new takes on traditional songs and freshly penned tracks, the Mongolian singer and the Polish band make for a perfect match.
Ser is an elegant collaboration that opens with the traditional song "Zandan Hureng (My Sandalwood Brown." Framed by the Mr. Kukurba on violin, Mr. Bawoł on accordion and Mr. Lato on double bass, Urna's vocals soar like a bird and adding some equally impressive vocals by Mr. Kukruba makes the track sweeter. Ser just get better with an accordion opening on "Nojiyaa" and Urna's lovely vocals, but one can hardly go wrong with a song where the opening lyrics are "On the banks of the Green River a horse waits."
Title track "Ser" is another stunner in its simplicity of vocals and double bass written by Urna and Mr. Lato. The jazzy simplicity on this track woven out of voice and double bass is achingly lovely. Equally delicious is "Baigal Dalai (Infinite Nature)" another track written by Urna.
Ser further unfolds with traditional song "Undur Uul (On the Summit of a High Mountain) that thrums as if on the back of a horse riding across the grasslands. "Jigder Nana" is a sweetly sassy number that downright catchy with some jazzy interplay between vocals, accordion, violin, double bass and some snappy percussion. It's simply impossible not to wowed by tracks like"Shirdegiin Chaidam (Flowers of the Steppe)" the charming "Altan Altan Jigjuuhai (Golden, Golden Little Bird)" and a capella track "Erdenis (My Wishes for Humanity)."
Finely worked tracks like "Jergelgeen/Kukurna (Fate Morgana)" a piece written by Urna and Mr. Kukurba, where the melding of vocals against a kaleidoscope of viola and electronica proves the power and depth of this collaboration, where the work is done and there is nothing left but to fly. It's an ethereal soulfulness.
Ser is your lush ride across the grasslands.
Buy Ser.
Author:
TJ Nelson
TJ Nelson is a regular CD reviewer and editor at World Music Central. She is also a fiction writer. Check out her latest book,
Chasing Athena's Shadow
. Set in Pineboro, North Carolina,
Chasing Athena's Shadow
follows the adventures of Grace, an adult literacy teacher, as she seeks to solve a long forgotten family mystery. Her charmingly dysfunctional family is of little help in her quest. Along with her best friends, an attractive Mexican teacher and an amiable gay chef, Grace must find the one fading memory that holds the key to why Grace's great-grandmother, Athena, shot her husband on the courthouse steps in 1931. Traversing the line between the Old South and New South, Grace will have to dig into the past to uncover Athena's true crime.