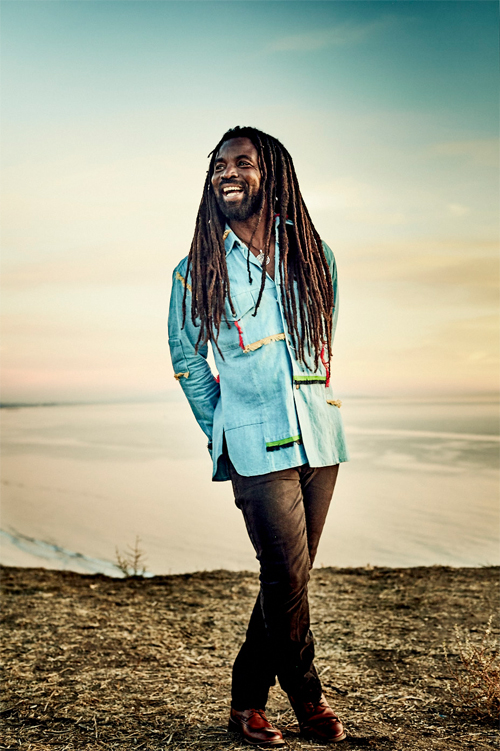 Rocky Dawuni, the international world music and reggae star, global ambassador and humanitarian activist, has announced the release of his 7th studio album Beats of Zion, out March 8th, 2019 through Six Degrees. The thirteen-song recording follows the acclaimed Branches of the Same Tree, and expands Rocky's "Afro Roots" sound to include the diversity of the Ghanaian music scene and its current global outreach.
"Beats of Zion was born out of my desire to use my diverse global musical influences and exposure to various traditions to paint a multi-cultural musical vision of the world that I perceive," says Rocky. "The beginning of the year saw me visit Ethiopia and India. In Ethiopia, I visited Lalibela, witnessing ancient Christian rites and my journeys in India also exposed me to its diverse spiritual culture and the shared similarities I saw to Africa." He adds, "The title Beats of Zion is inspired by a vision of the drumbeat of awareness and elevation of consciousness; a musical call to arms for my audience to be proactive in this day and age as to each person's responsibility to be an active instrument for positive change."
The album was recorded in various studios in Accra, Nairobi and Los Angeles. The title track and lead single "Beats of Zion" came out well from the Village Studios session in Los Angeles, but was missing something on the drum tracking. Rocky states, "We traveled to Zanzibar for a concert shortly after the recording session. At the time, I was still wanting the full African tribal effect that I had imagined. On the eve of my concert at the amazing Sauti za Busara Festival, we saw Batimbo Percussion Magique of Burundi mount the stage and blow the minds of everyone in the audience. I turned to my manager; Cary Sullivan who was also watching and we thought the same – 'these are the guys for Beats of Zion' and so the story unfolded."
The lead single will also have an accompanying video due out January 25th. "Wickedest Sound" is another song that speaks volumes, featuring Ghanaian dancehall star Stonebwoy. The track combines elements of modern Afrobeats with Reggae music. With production paying homage to the organic recordings of classic Highlife music, it also combines a groove driven melodic approach with the traditional call and response style of singing.
Author:
World Music Central News Department
World music news from the editors at World Music Central