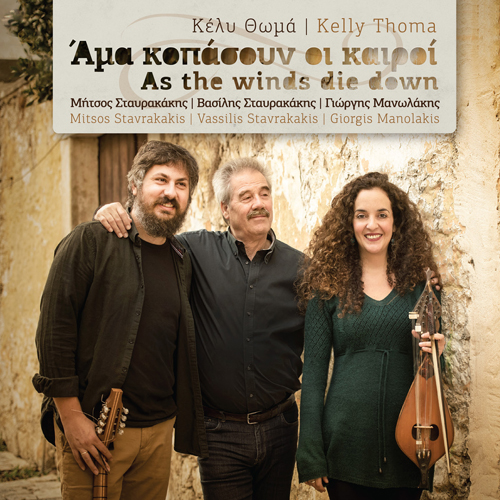 Kelly Thoma – As The Winds Die Down (Kelly Thoma, 2019)
Part and parcel to the group Labyrinth, as well as the Labyrinth Musical Project, member of the Ross Daly Quartet and the Tokso Folk String Quartet, Greek musician and composer Kelly Thoma has added a new recording to her two previous solo works Anamkhara and 7Fish. Music fans looking to dip into the riches of Greece will revel in the musical landscape of As The Winds Die Down.
In addition to composing the music for As The Winds Die Down, Ms. Thoma regales listeners with her incomparable lyra playing. Joined by singer Vassilis Stavrakakis, lauto player and singer Giorgis Manolakis, percussionist Giannis Papatzanis and percussionist, saz and tarhu player Ross Daly, Ms. Thoma conjures up a vibrant sound.
The music of As The Winds Die Down is tapestry of elegant lyra lines, rich percussion and dazzling runs of lauto. Alive with dizzily swirling tracks like opening track "As The Winds Die Down," "Kotylies of Armanogeia" and "Madness and Reason" with slower elegant tracks like "Rain," "The Tree's Song" and "Your Dark Side" As The Winds Die Down shimmers and glows with talents of these musicians.
As The Winds Die Down is equal parts electrifying and poignant. The only unfortunate aspect is that some naughty person provided no translations of the song lyrics other than just the titles. Certainly, there must be some kind of story behind a track titled "Madness and Reason" or "Your Dark Side."  Without a press release or any sort of explanation why this music is meaningful or what the songs are about I'm afraid As The Winds Die Down tells only half the story in its current form.
Author:
TJ Nelson
TJ Nelson is a regular CD reviewer and editor at World Music Central. She is also a fiction writer. Check out her latest book,
Chasing Athena's Shadow
. Set in Pineboro, North Carolina,
Chasing Athena's Shadow
follows the adventures of Grace, an adult literacy teacher, as she seeks to solve a long forgotten family mystery. Her charmingly dysfunctional family is of little help in her quest. Along with her best friends, an attractive Mexican teacher and an amiable gay chef, Grace must find the one fading memory that holds the key to why Grace's great-grandmother, Athena, shot her husband on the courthouse steps in 1931. Traversing the line between the Old South and New South, Grace will have to dig into the past to uncover Athena's true crime.