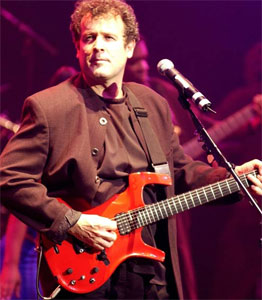 Johnny Clegg, born in Rochdale, England in 1953 was raised in his mother's native land of Zimbabwe before emigrating to South Africa at the age of nine.
At the age of 14, Johnny began to learn to play the guitar. Through his interest he met Charlie Mzila, a Zulu apartment cleaner who played street music near Clegg's home. For two years Johnny learned the fundamentals of Zulu music and traditional Zulu Inhlangwini dancing with Charlie. He was 13 years old when he saw the dancers for the first time. Equipped with his guitar, Johnny accompanied Mzila to all the migrant labor locations, from hostels to rooftop shebeens.
Johnny's involvement with black musicians often led to him being arrested for trespassing on government property and for contravening the Group Areas Act, (an apartheid law forcing different races to keep to their own residential and recreational areas). In this difficult and complex political landscape, Johnny managed to navigate a path, which enabled him to enter the hidden world of the Zulu migrant laborers.
During this period, he developed a reputation as a competent Zulu guitarist in the Masikande (from the Afrikaans "Musikant") tradition. This reputation reached the ears of Sipho Mchunu, a migrant Zulu worker who had come up to Johannesburg in 1969 looking for work. Intrigued, he challenged Johnny to a guitar competition, sparking off a friendship and musical partnership destined to alter the face of South African music.
Clegg co-founded Juluka with Sipho MChunu in the mid-1970s. Together they worked, often subjected to racial abuse, threats of violence and police harassment. As places where they could perform were limited by the apartheid laws, they had to stick to the street and private venues such as church and university halls.
When Johnny finished his schooling he went to University, graduating with a BA (Hons) in Social Anthropology and pursued an academic career for four years lecturing at the University of the Witwatersrand and the University of Natal.
In 1976 Johnny and Sipho secured a major recording deal and had their first hit song titled, "Woza Friday." A period of development followed, during which Johnny worked on the concept of bringing together English lyrics and Western melodies with Zulu musical structures.
The formation of "Juluka", meaning "sweat" in Zulu, as in total contravention of the cultural Segregation laws of the time, which emphasized the separation of language, race and culture. (Juluka was the name of Sipho's favorite bull, because like all migrants, Sipho practiced some cattle farming in the rural areas). Their music was subjected to censorship and banning and their only way to access an audience was through live touring. In late 1979 their first album Universal Men was released.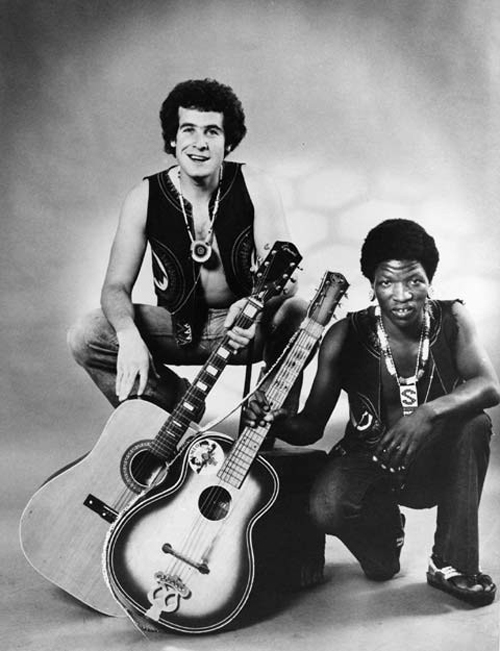 released their second album African Litany in early 1981. Although their work had been largely ignored by the South African Broadcasting corporation due to Juluka's mixing of languages and African and Western music forms, African Litany became a major breakthrough album for the band through word of mouth and live performances.
Ubuhle Bemvelo was their immediate follow-up Album and was entirely in the Zulu language, but mixing Western and African styles of music.
In 1982 and 1983, Juluka toured the USA, Canada, the UK, Germany and Scandinavia. In 1983 they released Work for All and in late 1984 they released Musa Ukungilandela.
Juluka's hits in South Africa included "Woza Friday," "December African Rain," "Scatterlings of Africa," "African Sky Blue," "Universal Men," "Digging for Some Words," "Impi," "Kilimanjaro," "iBhola Lethu," "Afrika (Kukhala Bangcwele)" and scores of other great songs.
Juluka split in the mid-80's and Johnny went on to form Savuka. Their hits included "Great Heart," "Asimbonanga," "Cruel Crazy Beautiful World," "The Crossing," "Third World Child," "Shadow Man," "Dela, Take My Heart Away," "I Call Your Name" and more.
In 1987 – 1989, Johnny Clegg & Savuka became the largest selling non-French band in France, overtaking the likes of Madonna, Prince and Michael Jackson.
In 1996 Johnny reunited with Sipho Mchunu, marking the birth of a new Juluka project. The first major show was at the Standard Bank Arena in Johannesburg. Billed as "The Full Story", this show marked the rebirth of the new Juluka and after 18 months in studio the album Ya Vuka Inkunzi (Crocodile Love) was released.
Johnny Clegg worked on several film soundtracks, including Rain Man, Jock Of The Bushveld, Ferngully (with Thomas Dolby), The Power of One, George of the Jungle and many others. He also collaborated with several other well known artists on various projects such as Sting's "Carnival" project for the Rainforest Foundation.
Johnny received the Ordre de Chevalier des Arts et Lettres from the French Government and was nominated for a Grammy in 1993 for the Heat, Dust and Dreams album.
Up until 1994, Johny Clegg recorded four albums, then withdrew from the rock scene little by little, as he came up against various nationalist movements that he was fighting against. Johnny and Sipho began looking at reforming Juluka. This came to fruition in 1996 when they went into the studio and they commenced recording Crocodile Love, released in 1997.
Crocodile Love is a broad crossover album, reflecting a broad variety of traditional and modern African styles current in South Africa today. Some of the songs are energetic combinations of traditional Zulu guitar styles put to contemporary rock rhythms. Traditional Zulu chants feature prominently on this Album and there is a blending of Zulu and English lyrics which Juluka is famous for.
Over the years Johnny Clegg accumulated a number of songs which could not be incorporated into other albums he was working on at the time. He has collected all of these songs which deal with life in the 21 st century. The songs deal with subjects like genetic engineering, the meeting point between humans and digital information culture, and survival in the new millennium for individuals.
This album, released in 2002, is called New World Survivor and a limited edition of 2000 personally autographed copies were sold off his web site JC.COM.
During this period Johnny began working with a number of AIDS awareness campaigns. He performed concerts on behalf of the Norwegian government in South Korea, Thailand and Cape Town, promoting safe sex and AIDS education
In November 2003 Johnny Clegg performed at the first 46664 Concert for the Nelson Mandela Aids foundation. He has performed for all the subsequent concerts both in South Africa and Norway (2004-2005).
In 2004 he performed in the 10 years of South Africa Democracy celebration in France and the USA. Clegg ushered in 2005 with a spectacular concert on new-years' eve, in Nantes, France, playing an open-air concert for 60 000 people. At the end of the show, the Mayor presented JC with an honorary citizenship of the city.
In 2005 he did his first tour to Australia and New Zealand and began recording his latest album to be released in September 2006.
It was in 2006 that Johnny Clegg made a remarkable comeback to the world stage.
Johnny Clegg died July 16, 2019 of pancreatic cancer.
Discography:
Third World Child (Minc, 1985)
South Africa: Cologne Zulu Festival (Network Medien GmbH, 1992)
A South African Story (Live At The Nelson Mandela Theatre) (EMI, 2003
Best Of Live At The Nelson Mandela Theatre (Capitol Music, 2004)
One Life (Rhythm Dog Music, 2006)
At The Baxter Theatre Cape Town: Best, Live & Unplugged (2006)
Human (EMI Music France, 2010)
King Of Time (Universal Music, 2017)
Author:
Angel Romero
Angel Romero y Ruiz has been writing about world music music for many years. He founded the websites worldmusiccentral.org and
musicasdelmundo.com
. Angel is also co-founder of the
Transglobal World Music Chart
. Angel has also produced and remastered world music studio albums and compilations for labels such as Alula Records, Ellipsis Arts, and Music of the World.