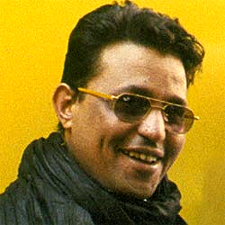 In Baba Salama Said's passport it said he was born in Oran on January 14 of 1969. It was an Algerian passport of convenience, recognized by the UN, in order to give legal support to somebody who lived in a refugee camp. What is certain is that Salama Baba was born on that date, not in Oran but in the Auserd, the real Auserd, occupied by Morocco together with the rest of the territory of the Western Sahara.
As many other Saharawis, he was forced to go into exile when Morocco and Mauritania, with the approval of Spain, divided the territory among themselves and took over the former Spanish colony. He was a boy hardly six years old and he had to witness the horror of the war, the terrible flight, and a life change that he could hardly understand. The only consolation was the comfort provided by his family and his people when they lifted tents amid a stony area in the Algerian Hamada, to create the refugee camps where the Saharawis settled.
The settlement that serves as the entrance to the camps is called Rabouni and is near Tinduf. There are numerous offices belonging to the bureaucracy of the Saharawi Arab Democratic Republic. And it was there in Rabouni where Baba Salama formed his first musical group in which he tried to combine traditional songs with others of more modern inspiration. His band mates were Boika Hassan (Mariem Hassan's brother) also on the guitar, Tayeb on bass, Gringo on drums, and singers Ali Chej and Jalihena. The group was called Naji.
In January of 1998, a crew of Spanish musicians and producers visited the 4 Saharawi camps, carrying out recordings in each one of them. No one noticed Baba Salama because he was not part of any of the official groups of traditional music that worked in each one of the wilayas [administrative subdivision or province].
He was discovered by chance when, as they were packing their suitcases to return to Spain, the team of producers came across him in a shed that his band used as rehearsing space in Smara. Rehearsing with him were Mohamed Salec playing the tidinit (a Saharawi instrument of dug out wood and a leather cover, similar to a four-stringed lute); Husein on a very simple flute; Fatata, a percussionist, playing the tebal (large North African side drum) with one hand and a conga with the other; and Shueta, an exceptional singer who had a sore throat at the time.
Baba's guitar style was very different to what the recording crew had listened to during the two week stay in the desert. Accustomed to Nayim Alal's technique, who had nearly become the official guitarist of the expedition, they found Salama Baba's feel, with his Spanish guitar, extremely sweet and decided to improvise a recording right there. It was an instrumental piece, since the singer, Shueta, could not articulate a word. "Dance of Smara" appeared in the album In spite of the wounds [which is included in the boxed set Music of Western Sahara], dedicated to Saharawi women. Baba's guitar recreated with its rhythm the trot of the camels in the desert. In the recording one can also detect a certain appreciation for Western music that would later show in his future works.
Later, Baba married a Saharawi woman and moved to Seville (Spain). That way he was able to participate in recordings made in Madrid. The Spanish capital was the base for several European tours made by Saharawi band Leyoad. Recording sessions were made little by little, at Axis studios, depending on which musician or singer participated in the corresponding tour. Baba earned the trust of Saharawi singer Mariem Hassan, whom he knew from the Smara camp.
In 2002 an album came out that catapulted Mariem Hassan to stardom. On Mariem Hassan with Leyoad, Baba contributed the majority of the songs and guitar parts. For the live presentations of the album in 2003 and 2004, Mariem Hassan was finally able to form a stable group. By that time Baba Salama, who had gotten a divorce, was devoted in body and soul to the project. The band included Boika Hassan on the second guitar, Mariem on vocals, and a percussionist and dancer, completing the group. Fatta Sadaf performed in the concerts held in Spain, and Vadiya mint el Hanevi, joined the band when they traveled abroad.
Baba Salama had a major influence in Mariem Hassan with Leyoad. He wrote many of the songs and his guitar can be heard throughout the album. He achieved a laid back sound that only old bluesmen dominate.
In 2003, Nar was released. It was the debut album by his friend Nayim Alal. The strong musical personality of Nayim dominates the recording. Baba collaborated with Nayim and enjoyed seeing how Saharawi musicians were finally able to capture many of the ideas that they had pursued for many years.
The following work in which he participated is Medej, released in 2004. For the first time the Saharawis published an album entirely dedicated to the Prophet Mohammed. On this CD, where the desert blues is clearly visible, Baba and Nayim Alal recorded a track together titled "Mijairis." This name corresponds with the instrument Nayim invented. Baba played it and Nayim accompanied him on the tidinit. It is a delightful piece which shows the kind nature of Baba Salama in each note.
By that year, Mariem Hassan's project was finalized. During the more than fifty concerts played throughout Europe, the musicians practiced their new style and perfected the songs. They recovered old songs to which they gave new life. They played a breathtaking version of "The intifada," Mariem Hassan's most famous song. And they rushed without any prejudice to mix the haul with the blues, or whatever they considered appropriate for Mariem?s music.
The recording of Deseos (Desires), was the fruit of the intense work during 2004. Baba Salama assumed the musical direction of the album. A lot of his knowledge and humanity are included there. He gave Mariem everything she needed to feel comfortable and confident. And she sang like she had never sang before.
In March of 2005, Mariem was hospitalized in Spain for breast cancer treatment. Baba Salama took advantage of the sudden tour break imposed by Mariem's illness to return to the camps. He went back whenever he had an opportunity. Upon returning to Spain in the middle of summer, everything happened very fast. Baba was suffering from leukemia in a very advanced phase, which was putting an end to his life.
On August 24, at half past six in the morning, his heart failed. On Sunday, August 28, his body returned to the camps in the airplane in which Saharawi children returned from spending the summer with Spanish families. His son remained in Seville, young Hamad Babas Salama, barely four years old. He has a Spanish passport.
[Biography adapted and translated by Angel Romero from an original by Manuel Dominguez. Courtesy of Nubenegra].
Author:
Angel Romero
Angel Romero y Ruiz has been writing about world music music for many years. He founded the websites worldmusiccentral.org and musicasdelmundo.com. Angel produced several TV specials for Metropolis (TVE) and co-produced "Musica NA", a music show for Televisión Española (TVE) in Spain that featured an eclectic mix of world music, fusion, electronica, new age and contemporary classical music. Angel also produced and remastered world music albums, compilations and boxed sets for Alula Records, Ellipsis Arts, Music of the World.