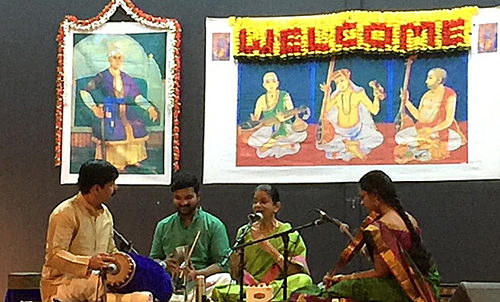 Carnatic Music has a large number of heroes and heroines. But the list of its unsung stars is even larger. This list is crowded with great musicologists and teachers who are responsible for the success of many performing stars. Such people preserve the greatness of our rich heritage alive by their selfless service. They happily pass on their expertise to others, many of whom go on to become performers of repute. More importantly, many such students go on to emulate their teachers, training more students; thus exponentially increasing the spread and reach of Carnatic Music. Geetha Sundaresan is one such teacher of teachers in the field of Carnatic Music.
Geetha was felicitated by a grateful gathering of her students of all ages, parents of many of these students, and admirers, in a special concert organized to honor her on 22 September 2018. She was accompanied by Sudha Ramasubramanian on the violin, who had been flown in from Chennai for the occasion, and local percussionists Sri Rama Mohan and Sri Nandagopal on mridangam and kanjira respectively.
Geetha started her concert with Saveri Varnam (Sarasuda by Kothavasal Venkatarama Iyer) which immediately set the tone for the evening's program. This was followed by the Purandara Dasa kriti Saranu janakana kanaka rupane In Bilahari after a neat alapana. I have heard this sung by MLV in Latangi, but the Bilahari version sounded equally satisfying, including the chittaswarams in anupallavi and charanam. Later, I found out that the kriti has also been sung in Saurashtram. Wonder what raga the great saint sang it in originally?
Next was a brilliant Suddha Dhanyasi alapana, followed by Dikshitar's Subramanyena rakshitoham. Geetha's kalpana swarams were exquisite, yet not excessive. Young Sudha's responses were equally impressive. At this point, the teacher in Geetha surfaced. She announced the details of the kritis she had sung so far, and prepared the audience for the Tyagaraja composition in the rare raga Manoranjani (Atu karaadani). The raga is a janya of the 5th Melakarta Manavati, although in the Dikshitar School of classification, it is itself designated as the 5th Melakarta.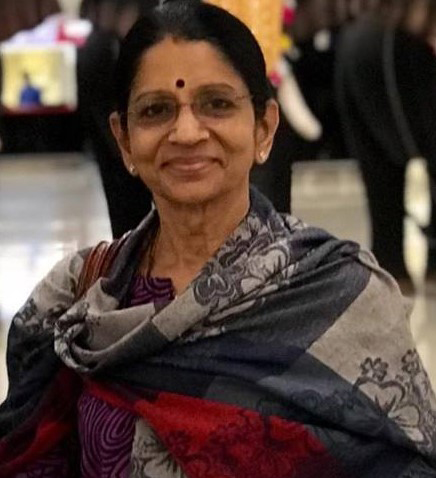 By now, the audience, already very aware of the singer's status in the city, were totally hooked. Here was someone who could make the transition from an oft heard composition to a rarely heard one with consummate ease. The stage had been set by Geetha for a scintillating evening of music.
An elaborate alapana in panthuvarali was followed by Sambo Mahadeva of Tyagaraja. Geetha enlightened the audience with details of this kriti: it is one of the Kovur Pancharatna compositions, which sheds light on Tyagaraja's devotion to Lord Siva. Her interaction with the audience continued with the next piece, Kannan maligaikke marubadi vandeno in Atana where Kuchela, on his way back from visiting his friend Krishna, unaware of the Lord's graciousness, finds his house replaced by a palatial building, and wonders if he has wandered back to Krishna's palace again. She informed the audience about Papanasam Sivan composing this song for the movie "Bhakta Kuchela" in 1961. Geetha then launched into her main piece of the evening – Syama Sastri's "Ni sari evaramma" in Bhairavi, giving it the detailed attention that such a heavy composition deserves. A brilliant thani avarthanam by Sri Rama Mohan and young Nandagopal followed. If the mridangam sounded sweet to the ears, the Kanjeera was no less. Many in the audience declared they had never expected a limited-scope instrument like the Kanjeera to sound so melodious. The local percussion duo once again did all Muscat music lovers proud with their synchronization and laya precision.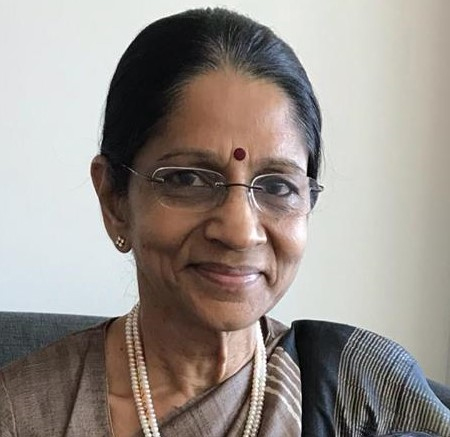 Eschewing an RTP, Geetha rounded off her concert with Kuntalavarali (Bhogeendra Sayeenam, Swati Thirunal), a lilting Bageshwari piece (Madhura Madhura Meenakshi by Swami Dayanada Saraswathi – Geetha mentioned about the honour she had of singing this song in the presence of the great Swamiji) and a Behag (muruganin maru peyar azhagu by Swami Surajananda), and a Kilippandu composed by her grandfather A K Mahadeva Iyer in praise of Tyagaraja. It was befitting that she invited all her students in the audience to join her as a chorus.
Geetha's concert was an enriching experience for students and connoisseurs alike. Though Muscat will be the loser in Geetha's repatriation to India, it was clear to all present that we rasikas here could not allow our selfishness to interfere with her class – she truly belongs in Chennai, where she will be able to rub shoulders with other artistes of her caliber.
Author: Dr (Col) Koduvayur M Harikrishnan with inputs from Mr. Ravishankar Rajamani.
Author:
Dr Koduvayur M Harikrishnan
Surgeon by profession, carnatic music fan by choice.