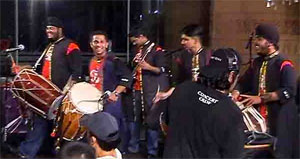 The Malaysian Dhol Federation?s humble beginnings were traced back to the year 1996 in the city of Ipoh, Perak. It all started out when one young lad picked up an interest in the Bhangra drum (dhol) after watching it being played by an actor in a Bollywood movie.
Later in the year, the group?s founder, Kiranjit Singh, bought his first dhol, and from there onwards, embarked on a mystical journey of drumming. At first, Kiran played the dhol at family functions, impressing family and friends, and later got the idea of forming a Bhangra group, aptly named Revolutionary Boy?s of Bhangra, where he would play the Dhol and his friends would dance to the bhangra beat. As time progressed, the dancers took an interest in the drum and Kiran started teaching them how to play it properly. By the end of 1999, Kiran and 9 other drummers formed the Ipoh Dhol Federation.
The Ipoh Dhol Federation first performed at Punjabi weddings and birthday parties, doing escorts and small stage performances. Slowly but surely, the group grew in maturity and started adding acrobatic stunts to its already fantastic playing skills. Ipoh Dhol Federation performed in its first big stage performance outside of Ipoh during the first ever Bhangra Nite in Atmosphere TwelveSI in 2003.
After moving to Kuala Lumpur, Kiran started looking for dhol players to jam with, but unfortunately couldn?t locate any. Hence, he decided to teach the art of dhol drumming to anyone who wanted to learn it, not looking at age, gender, race, religion or caste. His first class, which was at his home, had only 5 students, and these 5 have become his main drummers, as well as teachers, now. During the early part of 2004, Kiran started receiving more and more requests to teach the dhol and decided to open up a centre in Wisma Tatt Khalsa, Jalan Raja Bot. At this time, Kiran was still performing with the Ipoh Dhol Federation.
In August 2004, Kiran was requested to gather a group of 40 dhol drummers for the Aman Peace celebrations in Dataran Merdeka. It was from this event that the idea of evolving into the Malaysian Dhol Federation, combining the drummers from Ipoh with the new ones from Kuala Lumpur, was fueled by his second in command, Ravinderjit Singh and in September 2004, Malaysian Dhol Federation was formed. At that time, the group had 15 core drummers, which has been trimmed down to 7, due to work commitments.
"The federation now has around 45 students of all races, from all over the country, showing that music, and in particular, drumming, really breaks down the barrier of race and caste, bringing all of us closer. We hope to expand our classes to the whole of Malaysia and expose the whole country, if not the world, to the art of dhol drumming."
Small performances under the banner of Malaysian Dhol Federation followed and the group was suddenly in danger of falling by the way side and being labeled as just another Punjabi group.
A change of concept brought new overtures for the group. The idea of combining traditional dhol beats with modern music was brought forward by Ravinderjit and immediately accepted by other members. In came guitarists, a jazz drummer, a keyboardist and a tabla player and soon Malaysian Dhol Federation started churning out some old school funk, jazz, rock and dance numbers, combining them with the sounds of the dhol.
As time progressed, so did the group. The extraordinary musical properties of the dhol was skillfully explored and combined as a whole with modern music and the effect was simply beautiful.
With this new concept, Malaysian Dhol Federation started receiving more attention and due respect in the entertainment industry.
Drummers from the Malaysian Dhol Federation were called in for a special collaboration with local reggae artist, Sasi the Don, on his second album. Due to the popularity of that collaboration, the Malaysian Dhol Federation drummers were then roped in by none other than Reshmonu, Malaysia?s R&B giant, for his big hit, "Hey Waley Waley." Currently, the Malaysian Dhol Federation drummers ?beat away? with him every time he has a performance.
The Malaysian Dhol Federation has been featured on local television and radio shows as well. Their first TV appearance was on TV3's Malaysia Hari Ini (MHI) in 2004. In January 2005, Malaysian Dhol Federation played live on RED104.9?s Spin Local, entertaining listeners with their own brand of funk n? dhol. They later performed on local TV talk show, Latte at 8 (8TV) and was clearly one of the audience's favorites as they moved and danced to the ferocious drumming and rhythms of the group.
The group accepted to join the One World Beat project, a charity organization of drummers from around the world, who raise money for the poor children of the world, in the hope of totally eradicating poverty.
In August 2005, the Malaysian Dhol Federation hosted its first ever project, called Drum Circles. This event was a community based project, aimed at bringing people from different ethnic backgrounds together through the beat of the drum, bonding relationships and forging ties among all Malaysians, taking up the challenge from the government of creating Bangsa Malaysia.
The group disbanded in 2006.
Author:
Angel Romero
Angel Romero y Ruiz has been writing about world music music for many years. He founded the websites worldmusiccentral.org and musicasdelmundo.com. Angel is also co-founder of the Transglobal World Music Chart.
Angel has also produced and remastered world music studio albums and compilations for labels such as Alula Records, Ellipsis Arts, and Music of the World.