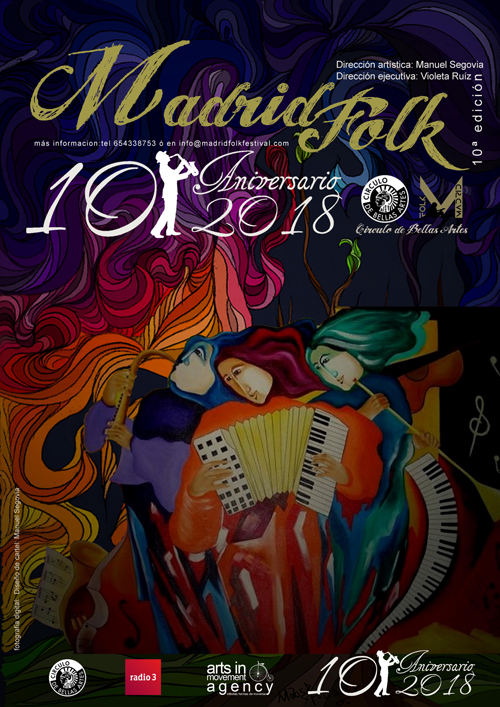 Madridfolk 2018, a festival of Spanish contemporary folk music, will take place on Saturday, September 15 and Sunday, September 16, 2018 at Circulo de Bellas Artes (CBA) in Madrid. The festival is celebrating its 10th anniversary with "an eye on the future, enjoying the present and not forgetting our past," said Manuel Segovia, Director of MadridFolk.
Festival Program
Saturday, September 15
12:00 to 13:30
Dance Class Neofolk – Raquel Ruiz
Price: € 5 (free, if you show the ticket to the Hispania Tribal concert)
8:30 p.m. Concert
Eliseo Parra Band & Ibérica De Danza
Tribal Hispania
Price: €15, CBA member: €12
A retrospective of the origins of the Festival with Eliseo Parra Band, on Saturday the 15th, with the Hispania Tribal concert. He will be accompanied by Ibérica de Danza, a company that is also celebrating its 25th anniversary.
Sunday, September 16
12:00. Didactic Concert and Projection
Joaquín Sánchez (Vibra-tó) & Uninstrumented
Price: €10 CBA member: €8
Do we know how the things we throw in the trash sound? In this educational concert for all audiences, Joaquín Sánchez (Vibra-tó) will show that music can be made with the most amazing objects. It's the Landfill Folklore! And they will also project the short film Desinstrumentados. The magic of unusual instruments.
Joaquín Sánchez goes deeper into the surprising world of rare instruments through unusual artists who, beyond creating original and fun proposals, defending alternative paths, creativity, values ​​and musical magic.
Uninstrumented, the magic of unusual instruments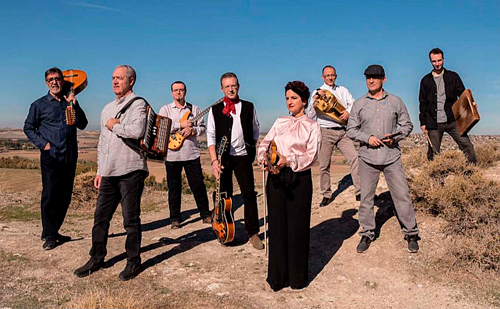 7:30 p.m. Concert
Aljibe
Water. Traditional music of the Tagus basin
Disc-book presentation
Price: € 15 CBA member: € 12
The group Aljibe, based in Guadalajara, will present their latest work, the album and book with a very suggestive name, Agua.
This project aims to unite, around the Tagus River, "traditional music, its history, its traditions and legends forming an authentic travel guide and developing a journey that leads from its source in the Sierra de Albarracín, to its mouth in Lisbon" .
Circulo de Bellas Artes
Calle de Alcalá, 42 – Madrid
More at www.circulobellasartes.com
Author:
World Music Central News Department
World music news from the editors at World Music Central