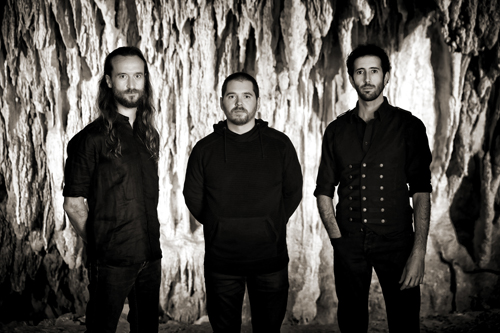 Kalakan is a band from the northern Basque country (France) featuring Thierry Biscary, Jamixel Bereau and Xan Errotabehere. Its style consists of minimalist arrangements (vocals, percussion) of Basque traditional songs. After touring Europe with pianists Katia and Marielle Labèque, the trio became known to a larger audience when they collaborated with Madonna during The MDNA Tour.
Kalakan was formed in 2009 by Paxkal Indo and Thierry Biscary, a chalaparta duo. They invited percussionist Frédéric Chambon to join them to form a trio. Before initiating their first artist in residence program to prepare their first album, Chambon was replaced by vocalist and percussionist Jamixel Bereau.
The Kalakan album was recorded at Laguna Records in Biarritz and mixed in Paris in 2010.
Paxkal Indo was later replaced by vocalist and percussionist Xan Errotabehere. Kalakan won the song contest 2011 at the Transhumances musicales festival in Laàs.
During the summer of 2011, Kalakan were introduced to Madonna by Katia and Marielle Labèque during her vacation at their house on the coast of the northern Basque country. On Madonna's 53rd birthday, August 16, 2011, Kalakan performed their version of Ravel's Bolero and some of their songs. Madonna liked Kalakan and asked the trio to accompany her on tour in 2012. After a workshop in New York City in February 2012, participation of Kalakan in The MDNA Tour was confirmed.
In Basque, Kalakan means "chatting". The band members arrange Basque traditional songs to give them a contemporary sound, incorporating pop and rock structures. The percussion techniques used by the trio are inspired by world music bands as Dakha Brakha (Ukraine), Barbatuques (Brazil) and Berrogüetto (Spain).
Kalakan plays percussion instruments (pandereta, chalaparta, tobera, ttun-ttun, atabal), body percussion and handcrafted large drums.
Discography:
Kalakan (2010)
Elementuak (2015)
Author:
TJ Nelson
TJ Nelson is a regular CD reviewer and editor at World Music Central. She is also a fiction writer. Check out her latest book, Chasing Athena's Shadow.
Set in Pineboro, North Carolina, Chasing Athena's Shadow follows the adventures of Grace, an adult literacy teacher, as she seeks to solve a long forgotten family mystery. Her charmingly dysfunctional family is of little help in her quest. Along with her best friends, an attractive Mexican teacher and an amiable gay chef, Grace must find the one fading memory that holds the key to why Grace's great-grandmother, Athena, shot her husband on the courthouse steps in 1931.
Traversing the line between the Old South and New South, Grace will have to dig into the past to uncover Athena's true crime.