Senegal is in mourning. Not only have they lost a beloved man, but a hero who changed forever their musical landscape. Habib Faye was a virtuoso bassist. He was a gifted composer, arranger, and a Grammy nominated producer. Think African traditional drumming meets Jaco Pastorius's funk and you begin to capture the sound. He was a multi-instrumentalist who played the piano and owned it, while other musicians might claim it as a secondary instrument. He was a highly creative mind who could transform a piece of music from failure to success in moments.
Habib was born in 1965, in Dakar, the capital of Senegal. It's a bustling and crowded city on the west coast of Africa, and its citizens have a strong tradition of hospitality. It's also a deeply musical city, rooted in tradition, yet open to modern music. Habib grew up in a musical family: his father and his five brothers were all outstanding musicians. He didn't attend music school, but listened to jazz, rock, and salsa, absorbing it and teaching himself to play it all. He worked hard at music, perhaps in part because he was a Mouride – a follower of the Sufi tradition in Senegal and devotee of Sheikh Ahmadou Bamba, who installed both non-violence and hard work into his followers.
He was only a teenager when he was plucked up to join a young band, Super Étoile de Dakar, whose lead singer was the fiercely ambitious Youssou N'Dour. Youssou with his soaring, heartfelt vocals and good looks was the obvious leader for the group, and he captivated many female fans. His father had forbidden him to play music, but his mother's people were griots, and music was in his birthright. In the short film, Youssou N'Dour: Eyes Open, he says: "I sing about things which are important to me, I sing about real life in Dakar as it is today." But his singing could go only so far. He needed a great band to make the music fly, and that's why he chose Habib as his bassist.
At this time, a new musical genre was created in Dakar: Mbalax. The word means rhythm. Three drums lay down a polyrhythmic mosaic whose origin is in the music of the Serer people. The percussion section has a lead drum (the nder), a rhythm drum (the sabar), and a talking drum (the tama). In Super Étoile de Dakar, Mamadou Jimi M'Baye on electric guitar and Habib Faye were among the first Senegalese musicians to incorporate this highly rhythmic pulse and give it a new spin. Habib also brought elements of percussion into his bass playing.
Part of his power was in the variety of rhythms in his playing. His outstanding technique allowed him to make rapid interchanges between funk and indigenous rhythms. He was also one of the first to introduce marimba keyboard playing into Senegalese popular music. This was a participatory music, Super Étoile knew how to start with slow numbers, and then to accelerate the tempo, and to increase the intensity of their rhythm and energy as the night progressed. The rapid fire percussion caused sparks to fly. The group redefined Senegal's music. Never before had the traditional and the modern been played alongside one another. Dakar was electrified.
In the 1980s, Super Étoile de Dakar, Youssou N'Dour, and Habib, caught the attention of Peter Gabriel, the famed British pop musician and producer. And he introduced them to international audiences and to critical acclaim.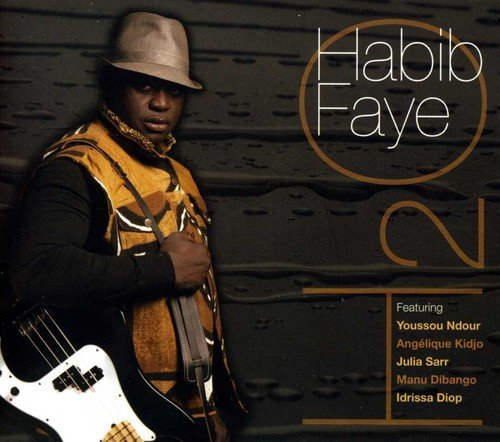 After Habib had played for twenty-eight years with Youssou N'Dour, he at last formed his own quartet. And, in 2012, he released a significant solo work in the album entitled H20. It is a thoughtful, meditative work, and when the music slows down in a lament, listeners can hear the full expressiveness of his bass line.
Ashley Maher, an American musician, speaks of the more recent years, "If I am to speculate, his international travels expanded Habib's appreciation for jazz and funk. He became a master of bass 'slapping' in his solos. And he also collaborated with a wide range of star jazz masters such as Stanley Clarke and Lionel Loueke. There was also a period of time that he toured with Angelique Kidjo. In my view, the world was never as aware of his incredible talent as they should have been."
His final project was with Ablaye Cissokho, the kora player. For one more time, he brought traditional Senegalese instruments and rhythms to work together with the modern music that so inspired him.
Habib Faye died of a lung infection on Wednesday, April 25th, 2018. He was only fifty-two years old. He is survived by his wife and their children. The name Habib means beloved in Arabic, it is a fitting name for a man not only beloved to his family, but to his friends, fellow musicians and fans around the world who have been irrevocably touched by his music.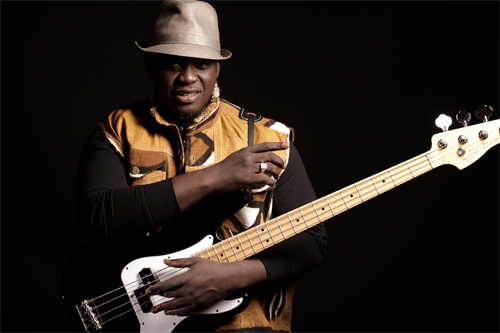 To give readers a feel for how his Senegalese contemporaries thought about him, I interviewed several of them, and here's what two of the most important of them had to say.
Etu Dieng, musical director and bassist with the vocalist Kiné Lam, said, "His bass playing caught my attention. I lived not far from him. There was a stadium nearby and once Super Étoile played there. I was too young to go to the concert, I was about five years younger than him, but I sat outside to listen and I cried because of that bass. He was one of the first African musicians to be successful in incorporating advanced electric bass playing into our native music.
He inspired people. And I realized that the bass can be fun: we can do a lot with the instrument. He was already naturally percussive, but when he started to listen to Jaco Pastorius, his sound developed as you can hear in the progression of his work with Youssou N'Dour. He incorporated more funk into our music, as in the song 'Hey You' recorded by Youssou in the 1990's. It was a new way of playing."
Cheikh Ndoye, a younger bassist who plays for Baaba Maal, said, "Habib's bass lines were so original, melodic, and harmonically rich. They were very rhythmic. He was the only bass player to come up with that style of playing, Mbalax. He changed the way we young Senegalese musicians created music. We've lost one of the most respected African musicians, multi-instrumentalists and composers. He's no longer here, but his music lives on. And younger musicians will continue to play his music to keep it alive.
He had an incredible vision and an original sound — the hardest thing to find in musicianship. He was unique, and anything he touched in music became stronger. You can recognize him both in his bass playing and in his compositions. We loved him as a musician and as a person. He inspired all of us."
Headline photo: Habib Faye by Bill Farrington