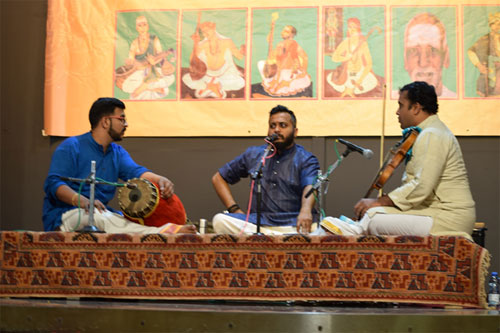 It is a common complaint that fine Indian brains get drained off to America. Probably true. But Sandeep Narayan's concert on 28th April at the Sri Krishna Temple in Muscat, Oman, was an outstanding, and very satisfying, example of the reverse.
Nadopasana Muscat, in its mere second year of existence, arranged this demonstration of how an American born, American educated young Indian has returned home to India to pursue his passion for music. And how passionate his music was!
The temple hall reverberated to some pristine Carnatic Classical Music for over three hours, drenching the sizeable audience with music that was all at once traditional and original.
Sandeep stuck to the traditional format, and yet he sang soulfully in a style that could (should) soon be referred to as Sandeep Bani. There was no blind imitation of his illustrious Gurus, but a clear demonstration of his having imbibed the essence of their musical wisdom.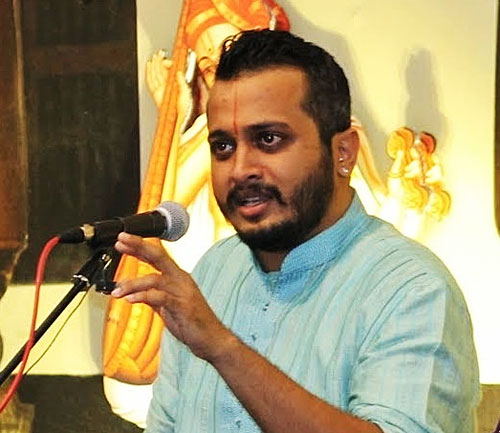 Sandeep started his concert by paying tribute to his first Guru, the famous Sri Calcutta Krishnamoorthy, with a varnam in Kathanakuthoohalam. He mentioned that he started learning from the great teacher at the age of 11, adding that his main interest was to escape school! But once smitten, he rapidly discovered the treasure he was introduced to, and has now staked claim to its legacy. He later honed his skills under the redoubtable Sangeetha Kalanidhi Sanjay Subrahmanyam, a trail blazer himself. In his subtle, yet appropriate use of brigas, Sandeep constantly reminded the listener of Sanjay's tutelage.
His choice of keertanas for the concert was impressive. Behind him on the stage was the banner of Nadopasana Muscat, featuring the giants of Carnatic music. He sang compositions of them all, showing a keen presence of mind. Not only that. He had gently inquired about the local rasikas, this being his maiden trip to Oman. And made it a point to sing in all four major South Indian languages, besides, of course, Sanskrit, the favorite of many vaggeyakaras.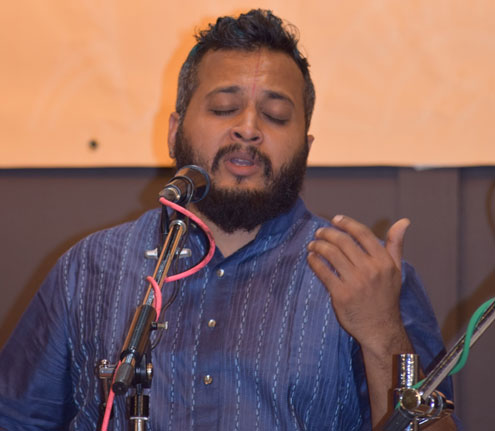 Giving center stage to the greatest of them all, Tyagaraja, he chose his masterpiece Upacharamulanu in Bhairavi; a detailed Santhana Gopala Krishnam Upasmahe by Dikshitar, which would have gladdened the celestial Maharajapuram Santhanam, had we been fortunate to still have him terrestrial. In this piece, he took up for niraval the usual phrase "Sri Rukmini Satybhama sametham", which refers to the two wives of Lord Krishna.
Listening to the pure combination of laya and melody it crossed my mind that never before had bigamy, even by a God, sound so melodious! He remembered to honor the memory of one of 20th century's great composers, Ambujam Krishna, with her composition in Ranjani. Every piece that preceded or followed these, deserves to be praised. But I will simply provide the full list below for the reader to conjure up the magic we the lucky ones in the hall experienced.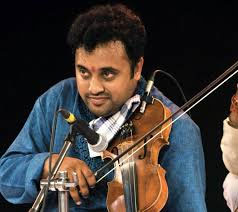 Any concert is only as successful as its teamwork. Sandeep was truly lucky. He had the brilliant H N Bhaskar on the violin, a complete disciple of the great king of melody, Sri MS Gopalakrishnan. Bhaskar's delineation of ragas, and his rejoinders to Sandeep's brigas and swarams, reminded this writer of the genius of MSG. I have no doubt we will continue to experience the MSG effect for as long as Bhaskar wields the violin and the bow. On the mridangam, the last minute entrant, local lad Nandagopal, sent clear signals that he ought to be the first choice for percussion accompaniment, not a substitute. The audience gave its affirmation with thunderous applause after his thani avarthanam.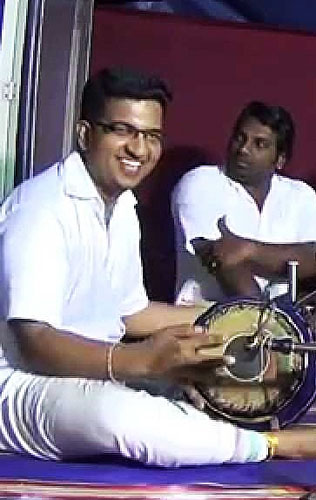 Oh, Sandeep endeared himself to the audience not just with his melodious voice and musical acumen. He communicated most effectively with the audience with well-chosen comments and anecdotes about the kritis – an increasingly common trait among today's generation of musicians. May they flourish and prosper!
Varnam – Kathanakuthuhalam – Calcutta Krishnamurti
Mahaganapathe palayasumam – Natanarayani – Dikshitar
Polla puliyinum – Mayamalavagaula – Papanasam Sivan
Santhana gopala krishnam upasmahe – Kamas – Dikshitar; niraval at "Sri rukmini satyabhama sametham".
Kaadiruvenu naanu Sri Rama – Ranjani – Ambujam Krishna
Upacharamulanu – Main piece Bhairavi – Tyagaraja
Thani by Nandagopal
Panimathi mukhe bale – Ahiri – Swati Tirunal
Parvati ninnu ne – Kalgada – Shyama Sastri
Durga RTP, (pallavi -Sri durge, sukhe, sangeetha rasike)
Gopala gokula – Vallabhi – Tulasidas
Thillana – Bindumalini – N Ramani
Karpagame – Madhyamavati – Papanasam Sivan
Author:
Dr Koduvayur M Harikrishnan
Surgeon by profession, carnatic music fan by choice.