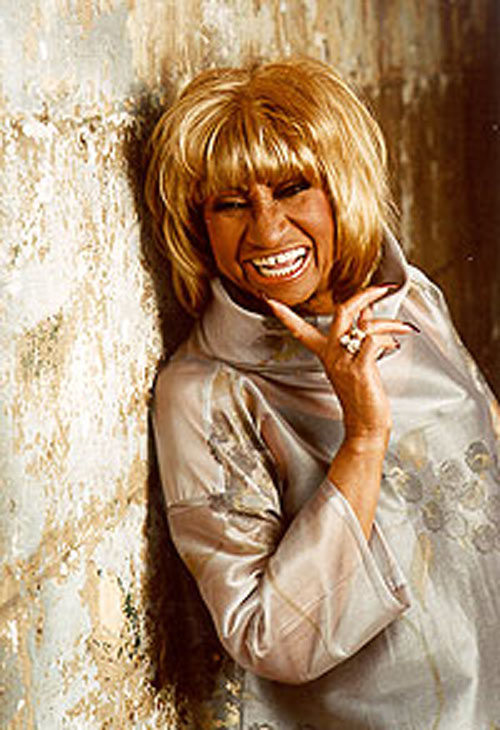 A native of Cuba, Celia Cruz was the legendary queen of salsa. Her more than 50 albums showcased her talent, intensity and determination. Cruz's fans reached over four generations breaking down racial and cultural barriers. She collaborated with an eclectic group of musicians, ranging from Puerto Rican salsa and jazz celebrity Tito Puente to pop star David Byrne.
In a field so powerfully dominated by male singers and musicians alike, Celia Cruz won global recognition, numerous tributes, a Yale University doctorate, the admiration of her peers, a Hollywood star, a Grammy, a statue in the famous Hollywood wax museum, movie and theater appearances, the key to numerous cities, and the key to the hearts of music lovers everywhere.
Born on October 21, 1925 in the humble neighborhood of Santo Suarez in Havana, Cuba, she was one of 14 children. Her mother, however, knew that this was a special child telling Celia that she earned her first pair of shoes by singing to a tourist who bought them for her. At home, Celia's chores included singing the younger children to sleep. Yet, like the pied piper, the adults would gather to listen, annoying the young songbird that would close the door on them confusing their admiration for surveillance.
Since then, those shoes became prophetic in taking the vocalist around the globe and into the most prestigious music and concert halls.
As a teenager, she began singing in school programs and community gatherings. Her aunt would periodically take her and her cousin to cabarets and nightclubs where the impressionable talented songsters got a first-hand view of the local talent. Yet, while her family supported her musical abilities, her father encouraged her to continue her studies and become a schoolteacher. However, it was one of her own professors who told her to take a chance with music because "You could earn in one day what it takes me a year to make."
Celia Cruz began entering the local radio talent shows winning fancy cakes and more opportunities to compete and sing with the popular orchestras of the time. Her big chance came in 1950 when the regular singer with Cuba's popular Sonora Matancera returned to her native Puerto Rico and the band took on an unknown and slightly rough around the edges Celia Cruz. Singing with Cuba's La Sonora Matancera was tantamount to singing with the Duke Ellington Orchestra. The popular group was known and loved throughout the country. Consequently, the public was not used to unknowns trying their talents with the greats, and so it did not fare well for Celia at the very beginning. The public began to call the radio station complaining about the young singer. Executives in the industry also did not believe that female singers could sell albums. But the band believed in Celia. She had the feeling, the timing, and the inspiration. She had swing.
Celia?s perseverance overcame the obstacles, and Celia eventually became permanent "featured added attraction" of La Sonora Mantacera, traveling extensively throughout Latin America and Mexico with the orchestra while accompanied by a chaperone. Her golden era with La Sonora spanned fifteen years where she and the band became known as "Caf? con Leche" (coffee with milk).
By 1960, Celia Cruz left Cuba permanently to pursue a career in the United States. She became a permanent citizen by 1961 with a contract to perform in the Hollywood Palladium. It was during that time that she fell in love with the tall, dark and dashingly handsome first trumpet of the orchestra. His was the first friendly face she grew to search for. He was attentive, caring about her feeling toward the arrangements, the timing and the music. And for Celia, he was truly her guardian angel. Celia Cruz and Pedro Knight married in 1962. By 1965, he decided to step back from his own career to manage the wife he adored.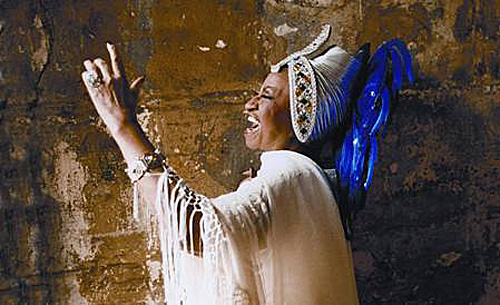 "Afro-Cuban music is the root of today's Salsa", Celia stated. "It is steeped in cultural identity and embraces the folklore of every town and province of the tropics. It is a source of pride, of happiness, of being alive. It is what I bring to the people."
Celia Cruz combined forces with Tito Puente in 1966 recording eight albums with him for Tico Records. However, the power of these two great musical did not reach the music peak that these two giants inspired. Celia signed with the Vaya label (a subsidiary label of Fania Records), eventually teamed up with Larry Harlow, accomplished pianist and band leader who wrote the tune "Gracia Divina", for the Latin music operetta, Hommy (adapted from The Who's rock opera Tommy). It was 1973. Young Hispanics in New York hungered for identity, for roots and for heroes. They discovered Celia Cruz. She burst unto the Carnegie Hall stage wrapped in the flamboyant costuming that has now become her signature style. She drove the crowd into a united, unprecedented rolling wave of human enthusiasm. Celia Cruz was electrified, revitalized. She was back.
By 1974, Celia was riding a high tide of success. She hit the market hard with a concept album where she teamed with Johnny Pacheco. His love of Afro-Cuban and charanga rhythms made him an innovator in producing updated arrangements of classic tunes. The LP, Celia and Johnny, went gold. Salsa was re-born and Celia was on her way to becoming its most shining star. After two more record-breaking hits with Pacheco, Celia was featured with the Fania All-Stars, a star-studded ensemble composed of band leaders signed with the label. She traveled on international tours with the group that covered England, France and Zaire (now known as the Democratic Republic of Congo). Celia visited all of Latin America. She recorded twenty gold LPs and has received more than 100 awards from various countries' institutions, magazines and newspapers. She appeared in a special segment of the Grammies in 1987 where she performed with her old time collaborator, Tito Puente.
Celia carved out her niche in the 1980s on the strength of many other collaborations joining forces with young and elders, cutting anniversary recording with her first associates, La Sonora Matancera while appearing in movies such as Salsa, and in 1992 in the Hollywood feature film, The Mambo Kings. Her voice can be heard on the soundtracks of such films as Something Wild and Invasion U.S.A..
Notwithstanding the music's 20-year on-again off-again romance with American publics, Celia Cruz survived the musical droughts and intends to keep on singing until her very last note. She managed to capture the attention of the American press who, not having a point of reference for comparison, insisted on equating the inimitable Celia Cruz to jazz greats, trying to similarities between the Latin "soneo" (phrasing) and the jazz scat.
Celia's style was incomparable. Rhymed/timed, rapid-fire staccato bits of witty wisdom, social commentary and general observations in tune to tunes, were not easily attained by even the best of contemporary song stylists. Celia Cruz cut her teeth on the music that has moved the world and she had, in the process, carved out a special niche reserved only for her. "Azucar" was her calling card and sugar is what she sprinkled over her audiences wherever she went. She was a monumental figure in a musical form reserved once only for men.
Celia Cruz saw the music grow from small, scattered areas in shops where flamenco music was sold next to Xavier Cugat records, to the special sections now marked "Salsa". Despite her vast success, Celia Cruz remained a humble servant of God, wanting only simple pleasures in life. She confided that her ultimate wish was not a fancy car or mansion, or even her own jet. What Celia most wished for was to be able to return to her native Cuba to visit her mother's grave.
"Music is the only gift I have that was given to me by God. Unless He takes it away, I will continue to share my gift with everyone. It is what gives me pleasure. It is what brings me happiness. And that is my purpose in life. In a sense, I have fulfilled my father's wish to be a teacher as, through my music I teach generations of people about my culture and the happiness that can be found in just living life. As a performer, I want people to feel their hearts sing and their spirits soar."
In 2000, at the age of eighty, Celia was still performing, singing and dancing, and did not plan to retire. Her year 2000 CD was dedicated to Tito Puente and includes the song "Oye Como Va" that was composed by Tito. It was finished before he died and the idea was to have Tito Puente play a solo, but it was too late. The album also features a tango and a song by Gloria Gaynor, in additional to her usual fiery salsa.
Celia's 2001 recording came out in October and it featured three music directors: Sergio George, Isidro Infante and Johnny Pacheco, with their respective bands. In addition to Celia's characteristic son montuno, there is also Puerto Rican bomba.
On December 5th of 2002, the 78 year old singer, was hospitalized in New York. She underwent surgery to alleviate a brain injury that affected her nervous system. She was released a week later with her husband Pedro Knight by her side. Her physician advised her to take 2-3 months to rest and limit all of her engagements during that time.
Celia Cruz, the most popular salsa singer, died from cancer July 16, 2003, 5 p.m. EST at her home in New Jersey, with her husband, trumpet player Pedro Knight, and family friends, by her side. Celia Cruz had been in a coma since Tuesday, July 15.
Discography:
Canciones que yo quería haber grabado primero (1965)
Cuba y Puerto Rico son (1966)
Son con guaguancó ( Tico Records, 1967)
A ti México (1967)
Bravo (1967)
Quimbo Quimbumbia (1969)
Etc., etc., etc (1970)
Nuevos éxitos de Celia Cruz (1971)
Algo especial para recordar (1972)
Celia & Johnny (Fania, 1974)
Tremendo caché (1975)
Recordando el ayer (1976)
Only they could have made this álbum (1977)
The Brilliant (1978)
Eternos (1978)
A todos mis amigos (1978)
La ceiba (1979)
Celia, Johnny & Pete (1980)
Celia & Willie (1981)
Feliz encuentro (1982)
Tremendo trío (1983)
De nuevo (1986)
La candela (1986)
The Winners (1987)
Ritmo en el corazón (1988)
Azúcar negra (1993)
¡Azúcar! (1993)
Boleros (1993)
Irrepetible (Sony Latin, 1994)
Mi vida es cantar (RMM, 1998)
Hoy y ayer (1999)
Siempre viviré (Sony Latin, 2000)
La negra tiene tumbao (Sony Latin, 2001)
Regalo del alma (Sony Latin, 2003)
Dios disfrute a la reina (2004)
Books:
My Name is Celia by Monica Brown, Rafael Lopez (Illustrator). Rising Moon Books; Bilingual edition (October 30, 2004)
Celia by Celia Cruz, Ana Cristina Reymundo. Rayo (July 1, 2004)
Azucar! the Celia Cruz Biography by Eduardo Marceles. Reed Press (August 30, 2004)
Celia Cruz, Queen of Salsa by Veronica Chambers. Dial (June 16, 2005)
Presenting Celia Cruz by Alexis Rodriguez-Duarte. Clarkson Potter; Bilingual edition (October 26, 2004)
Azucar! La Biografia De Celia Cruz by Eduardo Marceles. Reed Press (August 30, 2004)
Author:
Angel Romero
Angel Romero y Ruiz has been writing about world music music for many years. He founded the websites worldmusiccentral.org and musicasdelmundo.com. Angel produced several TV specials for Metropolis (TVE) and co-produced "Musica NA", a music show for Televisión Española (TVE) in Spain that featured an eclectic mix of world music, fusion, electronica, new age and contemporary classical music. Angel also produced and remastered world music albums, compilations and boxed sets for Alula Records, Ellipsis Arts, Music of the World.