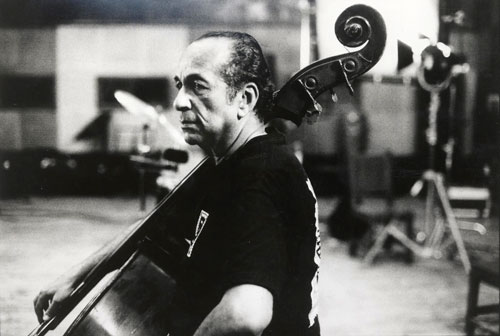 Bassist Candelario Orlando López Vergara, better known as Cachaíto, was born on February 2, 1933 in Havana, Cuba. He was best known worldwide as the pulse of the Buena Vista Social Club. Cachaíto was the one musician who played on every track on every album in the World Circuit Buena Vista Social Club series of albums.
He was featured in the Wim Wenders's documentary Buena Vista Social Club and was a constant member of Ibrahim Ferrer's and Rubén González's worldwide touring groups. Cachaíto was considered to be one of the finest bass players in Cuba and in the world.
Cachaíto was the son of Orestes López (bassist, pianist, cellist and composer) and the nephew of Israel 'Cachao' López (bassist, composer and founding father of the descarga). These two brothers were at the forefront of the major revolutions in Cuban music that took place from the 1930s to the 1950s.
It was their introduction of the ritmo nuevo in the late 1930s that transformed the danzón and sent shock waves through Havana by pushing African rhythms to the forefront of Cuban music, thereby paving the way for the mambo. A crucial part of the López legacy was the tradition of the bass. For generations, the family had made the instrument their own.
Born in Havana in 1933, Cachaíto found himself in an extraordinary musical environment. Music was all around him. Every family member played and instrument, most at the top of their profession. His earliest memory was of carrying his father's manuscript case to radio sessions by the Havana Symphony.
As a small child, Cachaíto was favored by his father and was taken to many session and rehearsals where he sat and watched his father's generation of players at work. It was clear from the beginning that his path was mapped out, and that he would become a musician. Cachaíto never considered that he would do anything else. While his early desire was to play the violin, tradition in the form of his grandfather, Pedro, dictated that he take up the bass.
He began studying the bass as a child, after first using the cello (because of his size) and adapting the fingering. Throughout his youth, he was encouraged by his aunt, Coralia, who made sure that he studied hard.
Cachaíto enjoyed the hard work, despite occasional frustrations. His aunt's house was the family's musical laboratory where the López brothers and their colleagues congregated to compose and try out new ideas.
The first piece that Cachaíto ever learned was 'Isora,' composed by Coralia, who directed the danzón orchestra for weekend dances at the Isora Society club. At the age of 13, Cachaíto composed his first piece, a danzón, called "Isora Infantil." Cachaíto witnessed an important revolution in Cuban music.
His father kept him by his side almost constantly and he regularly attended sessions at the various social clubs, including Isora Club and the Buena Vista Social Club. At the clubs, he saw such legendary bands as Arcaño y sus Maravillas (presenting their first public performances of the 'nuevo ritmo') and Arsenio Rodriguez's group.
His enduring memory of Arsenio was the sheer power of his band, with the leader's unamplified tres achieving a drive beyond its natural volume. It was the López brothers who composed the theme songs to many of these clubs. Cachaíto quickly developed an easy mastery of the classical Cuban style of bass playing: a big, powerful, precise tone, with an ability to change keys quickly to accompany exceptional soloists, as well as the ability to sight read. Most importantly, he developed a powerful rhythmic drive and a sense of swing and groove.
From his early training, Cachaíto learned not to play too many notes but to focus instead on being the foundation of the band, and a constant for the dancers. By the time he was 17, Cachaíto had taken over from his uncle as Arsenio's bass player. By 1952, he was playing bass with the cabaret orchestra Bambú, and by 1957 with the popular Havana big band Riverside.
In 1960, he followed his father and became a bassist with the National Symphony, taking a number of master classes with Czech bassist Karel Kopriva. "I remember once I was playing with the orchestra and I had to appear on the country music TV program 'Palmas y Cañas' (Palms and Sugar Cane). So as soon as the orchestra was finished, I jumped in a taxi with my bass and my DJ and before I knew it I was playing on the set. The orchestra had a visiting conductor from abroad and, as chance would have it, he happened to see the program. The next day at rehearsal, he said to me, 'Was that you I saw playing yesterday evening on the TV?' And I said, 'Yes.' He was astounded and kept asking me, 'How can you play such different styles?' And I told him, 'I always had!'"
In addition to his dual career playing classical and popular music, Cachaíto was also playing late night jazz. He played with different musicians at descargas (jam sessions) lasting until the early morning in clubs all over Havana. He played for 'fílin' singers like Omara Portuondo at the Rincón del fílin, and for bolero singers such as César Portillo de la Luz at hot spots like El Gato Tuerto.
At the invitation of musical director Manuel Galbán, he played bass on the albums of Los Zafiros (The Sapphires), one of the most iconoclastic and experimental vocal groups of the 1960s. As well as being a part of the city's bohemian night life, 'Cachaíto' participated in the opening up of classical music to popular influences.
He prized a photo of him playing bass solo in 'Arioso,' Leo Brouwer's 1965 homage to Charlie Mingus, for the Jazz Combo which formed a part of the National Symphony Orchestra. This quintet included pianist Chucho Valdés and saxophonist Paquito D'Rivera, who were to become a key part of the influential award-winning Orquesta Cubana de Música Moderna. Chucho Valdés went on to found the innovative Afro-Cuban Jazz group, Irakere.
In 1996, Juan de Marcos González brought Cachaíto to Egrem studios to record on the first Afro-Cuban All Stars Project. Cachaíto went on to record on the now legendary Buena Vista Social Club and Rubén González albums. It was these seminal sessions and his meeting with Nick Gold that established Cachaíto as an essential figure in these World Circuit recordings.
The thrill of improvised jazz remained Cachaíto's passion. As a result, his debut album 'Cachaíto' celebrated the spirit of the tumbaos (the name given to the key bass patterns of Cuban popular music, most often used to launch descargas) of his father and uncle.
"When I was young I watched them working together so closely, it was almost impossible to say who contributed what to which tumbao; they seemed to be two heads working as one. I remember how people would come up to the windows of the house and listen in."
Because of this influential family experience, listening and close interaction were his basic premises. This is what he has passed on to the students he taught for over thirty years at the Guillermo Tomás Conservatory. He said, "When I played with Orchestra Riverside, I had to follow the style of the pianist. Cuban music is very syncopated and he played wild, unexpected, dissonant chords we call 'moña.' In a sense, music-making is all listening and watching. As a bassist, I think of myself as a colchón (mattress) – always there supporting everything that is happening, always there for the soloists to fall back on."
His connection with pianist Rubén González was uncanny. "It's a matter of not leading or going ahead and yet responding immediately to all changes however small. On the one hand, the bass line gives everything cohesion and makes it all work, so you maintain the bass line like a time line; on the other, you respond to the inspiration of whoever has the melody, which depends very much on their personal style. With Rubén, I can see it from the way his hands move and sometimes he gives me a look or a move of the head. When he is really moving, he likes a lot of bass so you get this bass-piano dynamic. With Omara, there's lots of 'fílin;' she gives me a phrase, I respond, and she gets inspired against that. She plays a lot with rhythm; one minute she moves slightly behind than in front, moving around my line. With Ibrahim, it is different again."
Cachaíto died on February 9, 2009.
[Text edited from an original essay by Jan Fairley and Nick Gold. Courtesy of Nonesuch Records.]
Solo Discography:
Cachaíto (World Circuit, 2001)
Author:
Angel Romero
Angel Romero y Ruiz has been writing about world music music for many years. He founded the websites worldmusiccentral.org and musicasdelmundo.com. Angel produced several TV specials for Metropolis (TVE) and co-produced "Musica NA", a music show for Televisión Española (TVE) in Spain that featured an eclectic mix of world music, fusion, electronica, new age and contemporary classical music. Angel also produced and remastered world music albums, compilations and boxed sets for Alula Records, Ellipsis Arts, Music of the World.