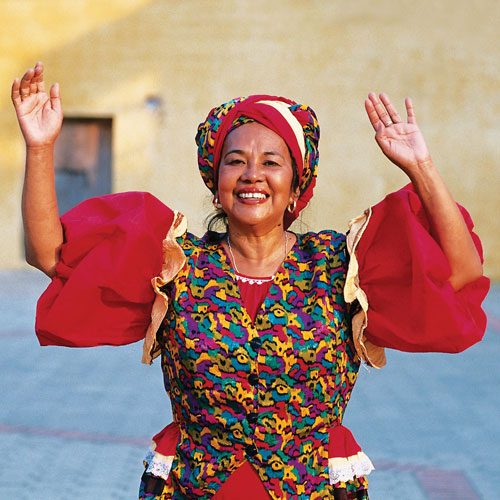 Sonia Bazanta Vides, better known as Totó La Momposina, is a remarkable singer and dancer. She has earned respect and admiration in many parts of the world for the power and spontaneity of her performance. Drawing on the music and dance of the Colombian Caribbean, her work is rooted and inspired by a rich cultural mix that combines elements from African, indigenous and Spanish traditions.
On stage, Totó's dynamic set of songs and dances is accompanied by a range of traditional instruments, but she also performs with three generations of her own family, her daughter Eurídice, and her granddaughter, María del Marpero, both of whom also since and dance. Totó presents rhythms from Colombia's Caribbean coast alongside Cuban son, guaracha, rumba and bolero.
Totó La Momposina was born in the small village of Talaigua, on the island of Mompos, in Colombia's Atlantic coast, off the Great Magdalene River. This island was at one time a sanctuary to fugitive African slaves from Cuba. As a result, Totó La Momposina's music, like most of the music from the Caribbean, is heavily influenced by African music in addition to its European and indigenous roots. Born into a family of musicians spanning 5 generations, Totó learned to sing and dance as a child. She used to sing a cappella at parties and festivities in Colombia.
As a young woman, Totó traveled from village to village researching the lore of her people. She became a cantadora. A cantadora (singer) is more than someone who sings songs. It means she has a certain social position of responsibility. Traditionally cantadoras grow yucca, plantain and pumpkins on their land. They supply marital advice and herbal medicine, prepare authentic foods and drinks and participate and sing traditional music in its original form at public functions.
Totó has been performing cumbia music professionally for over thirty years. The music is the result of the fused influences of her culture. It is music to be appreciated, but also, as she is quick to remind her audiences, it is music which should be danced.
Her performances are a living catalog of the traditional music and dances found in the Caribbean. Totó La Momposina and her ensemble Sus Tambores, (her drummers) perform more than 10 styles of Caribbean music. During the course of their show, elements of cumbia, gaita, porro, bullerenge, garabato, mapale and chalupa are performed.
On stage she performs the songs the villagers sing to accompany them while they perform their chores. Her song Pilandera for example is a song with a rhythm that is used to pace the pounding of corn. Another song contains lyrics which are meant to break the monotony of scrubbing cloths in the river.
Rapidly gaining a reputation for her impressive voice and presence she began to appear outside Colombia in the 1970s touring everywhere with her 12-piece band in a conscious effort to preserve her people's music. "I feel a brotherhood with the drums from Senegal and Cuba," she says. "They play a universal language with which Colombians are well acquainted." In 1991 WOMAD took her to Europe and she performed at their festival. Since that period, she is still performing all other the world.
In 2011 she received the National Life and Work Award from the Ministry of Culture of Colombia. In 2013, she received a Lifetime Achievement Award from the Latin Grammy.
Discography:
Cantadora (MTM, 1983)
Colombia – Totó La Momposina y sus Tambores (Auvidis 4513, 1989)
La Candela Viva (Realworld Records, 1992)
Carmelina (MTM, 1995)
Pacantó (MTM/Europe:Nuevos Medios/USA: World Village, 2000)
Evolución: 20 Años de Toto La Momposina (Astar Artes, 2009), anthology
La Bodega (Astar Artes, 2009)
El Asunto (Sony Music, 2014)
Tambolero (Real World Records, 2015)
Author:
Angel Romero
Angel Romero y Ruiz has been writing about world music music for many years. He founded the websites worldmusiccentral.org and musicasdelmundo.com. Angel is also co-founder of the Transglobal World Music Chart.
Angel has also produced and remastered world music studio albums and compilations for labels such as Alula Records, Ellipsis Arts, and Music of the World.