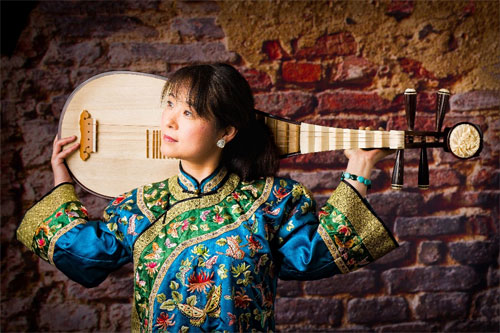 Pipa master Wu Man and Huayin Shadow Puppet Band are set to perform on Saturday, March 17, 2018, at New York Society for Ethical Culture in Manhattan. The show is presented by World Music Institute.
Recognized as one of the world's leading performers, Wu Man has developed a career as a soloist, educator and composer who has given her lute-like instrument (which has a history of over 2,000 years in China) a new role in both traditional and contemporary music.
Wu Man's work as a member of Yo Yo Ma's Silk Road Ensemble and her prevalent role in the recent documentary on the ensemble titled The Music of Strangers has brought her work to the attention of larger audiences.
Wu Man is collaborating with the remarkable Huayin Shadow Puppet Band (formerly known as the Zhang Family Band) for performances of old tune traditional music with shadow puppetry. Along with vocal performances, the Huayin Shadow Puppet Band uses the yueqin, banhu, erhu, lute, fiddle and a variety of percussion instruments (including clappers, gongs, cymbals and a wood bench) to tell lively stories of rural life in remote China and draw the audience into places and sounds rarely heard in the West.
Starting in 2007, as part of her planning for the "Ancient Paths, Modern Voices" Festival at Carnegie Hall, Wu Man began traveling regularly to China's remote regions to uncover the country's ancient musical traditions that are in danger of being lost, including the traditions of the Huayin Shadow Puppet Band, seen in her 2012 documentary Discovering a Musical Heartland. The Band comprises farmers from Shaanxi Province's Huayin County in a rural village at the foot of Mount Hua in northwest China. For more than 300 years the Huayin Shadow Puppet Band has toured the countryside, bringing its rugged shadow puppet plays that call to life the mythical heroes and gods of the oral folk culture of Shaanxi, often evoking famous battles of the Tang dynasty (618-907), to temple fairs and rituals.
Wu Man is bringing the Huayin Shadow Puppet Band to the United States for only the second time in an effort to not only preserve this traditional art form, but also show its relevance in our 21st century.
The program features Wu Man performing both solo and with the Band.
Saturday, March 17, 2018, 8:00 p.m.
Wu Man & Huayin Shadow Puppet Band
New York Society for Ethical Culture
2 W. 64th St, Manhattan
Author:
World Music Central News Department
World music news from the editors at World Music Central