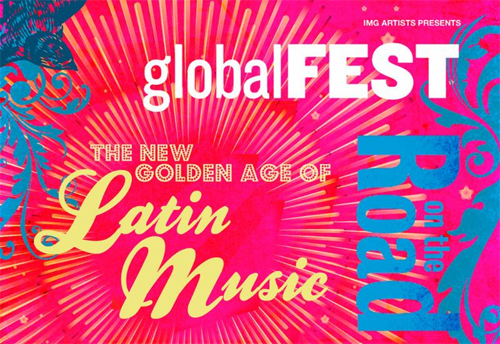 American world music showcase producers globalFEST have announced a tour featuring some of the finest young Latin music artists based in the United States. The tour, called globalFEST: The New Golden Age of Latin Music is part of globalFest On The Road's productions. The artists featured include Las Cafeteras from East Los Angeles (California), Orkesta Mendoza from Tucson (Arizona) and Flor de Toloache from Brooklyn (New York).
The tour is divided into two sections: February 1 – March 3 concerts will feature a double bill with Las Cafeteras and Orkesta Mendoza; and March 7 – March 15 shows will include a double bill with Las Cafeteras and Mariachi Flor de Toloache.
Las Cafeteras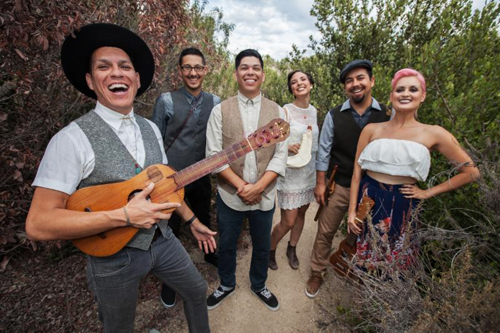 The six-member ensemble Las Cafeteras began as a group of students at Eastside Cafe, a community space in East Los Angeles, where they learned to play son jarocho, a traditional music style from Veracruz rooted in Spanish, African and indigenous traditions. Veracruz is a state in the Gulf of Mexico. All of the band's members are children of immigrants.
Las Cafeteras features traditional Mexican folk instruments including the jarana, an 8-string guitar; the quijada, a donkey jawbone (which serves as a percussive scraper) and a tarima, a wooden platform for dancing. While rooted in son jarocho, Las Cafeteras incorporate other music elements. It's a combination of styles and sources that serves to deliver socially conscious lyrics, in both English and Spanish.
"We're organizers. We're movement kids," said band member David Flores in a recent interview. "But we don't say we're political. We say we're storytellers. It's just not the mainstream story."
They have released two recordings. Their song "La Bamba Rebelde", a politically-charged remake of "La Bamba" (perhaps the most famous son jarocho) from their CD It's Time (2012) became a theme song for the telenovela Bajo El Mismo Cielo on the Telemundo network. Las Cafeteras' second album, Tastes Like LA, featuring the song "If I Was President", was released in April 2016.
Las Cafeteras includes Daniel French on vocals, jarana; Enrique Chi on guitar; Denise Carlos on vocals, jarana, zapateado; José Cano on drums, cajón; Hector Flores on vocals, jarana, zapateado; Gloria Estrada on bass. From 2/11 through 2/18 concerts, Enrique Chi will be replaced by Chrisol Lomeli (vocals) and Xocoyotzin Moraza (requinto). For the 3/15 concert, Enrique Chi will be replaced by Jorge Mijangos (requinto, vocals).
Orkesta Mendoza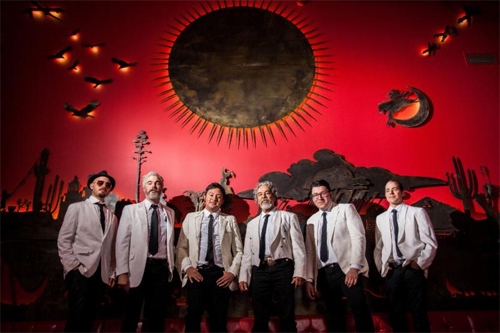 Orkesta Mendoza, originally founded by singer and guitarist Sergio Mendoza in 2009 to play a 20-minute tribute set honoring Cuban mambo king, Dámaso Perez Prado, is an elegant sextet that plays a high-energy combination of mambo, cumbia, psychedelia and rock. The Orkesta´s music, arranged to suggest a big band with a touch of lo-fi electronics, speaks of a borderless world in which US culture and Hispanic traditions come together.
"I think it has to do with being near the border," explained Mendoza, who also toured and recorded with Calexico, in an interview with the online magazine Rhythm Passport. "I grew up in Nogales, Sonora. Living in Mexico exposed me to cumbia and many regional styles of Mexico, such as mariachi and norteño. When I was 7, I moved to Nogales, Arizona. I started getting into American music and that is where the mixture of cultures begins."
"From about 12 to 24 I completely forgot about Latin music. I studied a bit of many styles of music during that time. A little jazz, salsa, ska and a lot of classic rock and roll. I took a little bit from all the styles I had played and that's how I started Orkesta Mendoza. Today we just want to rock more. Of course, it is Latin-based, but we like turning up our amps and consider ourselves a rock band."
¡Vamos a Guarachar! (Let's Party!) is the band's most recent release and an invitation to dance with a mix of styles that goes from surf rock to mambo and pop rock.
Orkesta Mendoza includes Sergio Mendoza on vocals, guitar, keyboards; Brian López on vocals, electric guitar; Sean Rogers on bass, vocals; Marco Rosano on trombone, clarinet, accordion, keyboards; Quetzal Guerrero on violin, electric guitar, vocals; Jaime Peters on drums, programming.
Flor de Toloache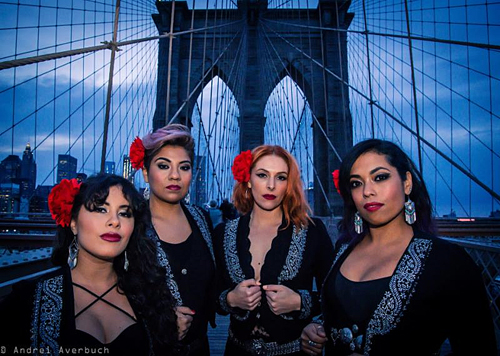 Winners of a 2017 Latin GRAMMY for their album Las Caras Lindas (The Pretty Faces), the all-female Flor de Toloache will partner with Las Cafeteras for the final segment of the tour, beginning March 7th in Salt Lake City, Utah.
The band was founded in 2008 by Mexican-Dominican violinist, vocalist, composer and arranger Mireya Ramos, who grew up in Puerto Rico listening to her father's mariachi records, and Cuban-American vocalist and vihuela-player Shae Fiol. It started as a trio featuring harp, violin and vihuela (a small guitar-like instrument) before becoming a full ensemble. The members hail from diverse cultural backgrounds including Mexico, Puerto Rico, the Dominican Republic, Cuba, Australia, Colombia, Germany, Italy and the United States.
In 2015, they were nominated for a Latin GRAMMY for their self-titled debut, which paid their respects to traditional mariachi music while also adding their own R&B influences. The name Flor de Toloache, (toloache flower) alludes to the white flower of the Datura, a toxic plant known as a love potion in Mexican folk legend.
Flor de Toloache includes Mireya Ramos on violin, vocals; Shae Fiol on vihuela, vocals; Julie Acosta on trumpet, vocals; TBC on guitarrón, vocals.
Tour schedule: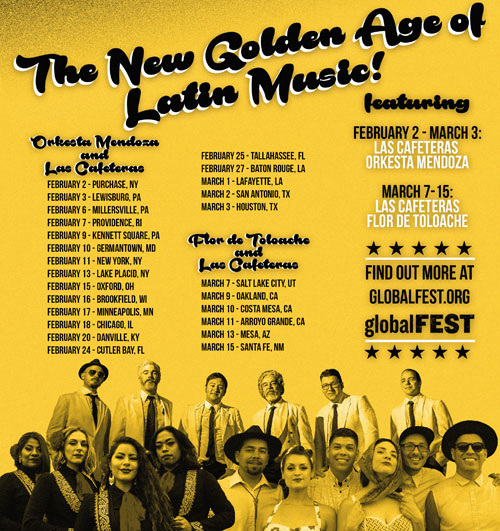 Author:
World Music Central News Department
World music news from the editors at World Music Central