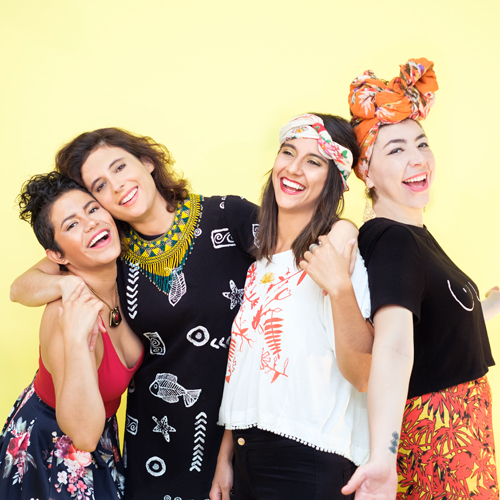 Are you looking to continue the holiday season's festivities into 2018? You can consider purchasing the band LADAMA's self-titled album that was released in Fall 2017. The words La dama are Spanish for the lady and here the four women do step up. On this album, South American musical genres such as the cumbia and maracatu dance with rock and blues.
Acoustic instruments join together with non-traditional instruments, the electric guitar and rock drum. The musicians are from four countries, Mafer Bandola on bandola llanera is from Venezuela; Sara Lucas on guitar and vocals is from the United States; Lara Klaus on drums and vocals is from Brazil; and Daniela Serna on tambor alegre and vocals, a cheerful percussive drum, is from Colombia.
The band's name comprises several first initials of the musician's first names, La for Lara Klaus, Da for Daniele Serna and Ma for Mafer Bandola.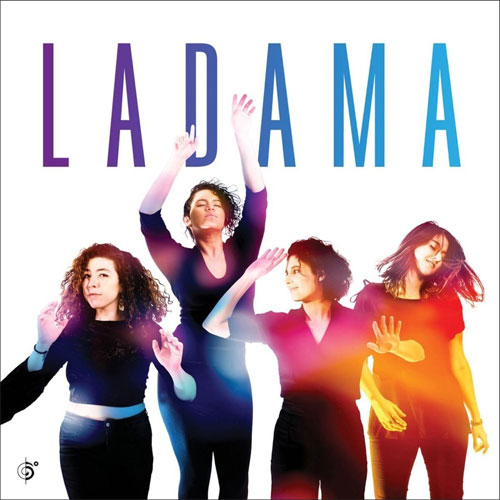 What stands out on this album though are the vocals. Sara Lucas's deep voice is persuasive on "Compared to What" and "Night Traveler." The former is a protest song from the 1960's, and the vocals are direct and forceful, reminiscent of Nina Simone's. The melody is simple, punctuated by horns. Lara Klaus's vocals are playful and soft on "Elo." Here the subtle, Brazilian rhythm ripples through, taking the listener back to the gentle, acoustic feeling of Antônio Carlos Jobim's "Girl from Ipanema."
A highlight is the track "Cumbia Brasilera" which is folk with a strong and steady undercurrent of drum. "Cumbia Brasilera" features the masterful, elaborate playing of Mafer Bandola on acoustic bandola llanera; a pear shaped guitar-like instrument. This is a lively song with the interplay of the women's vocals coming together. It could keep dancers on their feet for a long time.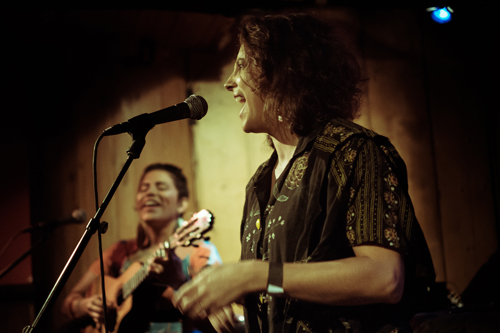 Recently, I interviewed Sara Lucas about LADAMA's album and their work together as a band. Sara lives in New York City. She writes songs, and sings them to the accompaniment of her guitar.
DJL: Where are you from and what music did you grow up listening to?
SL: I am originally from St. Louis, Missouri. As a child I was exposed to a lot of jazz, blues, rock n' roll and gospel. I grew up listening to the American songbook and folk music. I am also a classically trained guitarist.
DJL: You had your own band prior to LADAMA.
SL: Yes, I am a cofounder of a group with Ryan Seaton – Callers. We have toured internationally and released three albums.
DJL: LADAMA met in 2014 at OneBeat while touring on the road. OneBeat is a one month gathering that brings together twenty-five young musicians from across several countries, not only to collaborate, produce and perform music, but also to see how the arts can impact and engage with society. What was it like meeting at OneBeat?
SL: OneBeat is a great experimental incubator of musicians and gives them the opportunity to compose. We as women cherished the time spent together, there was a bond, a tremendous excitement in our making music together.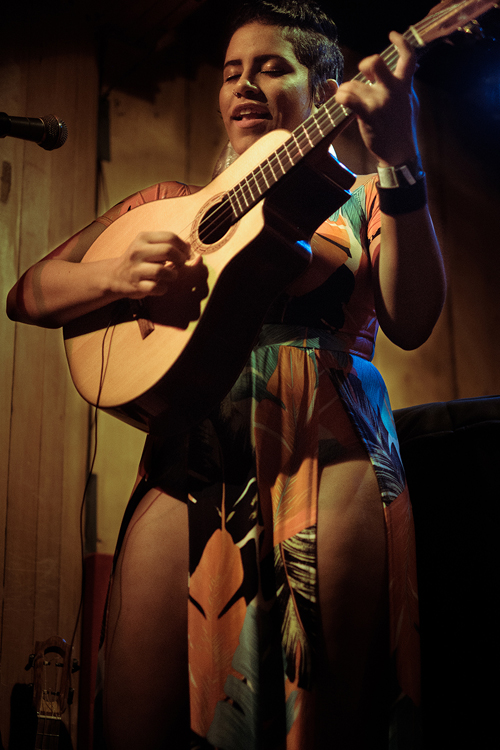 DJL: Why this album now?
SL: We felt compelled to record the album as our music grew organically out of our experience of working together. Half of the album was recorded in four days. The music happened as we went on tour — one month in Brazil, one month in Colombia, two and half weeks in Venezuela and then one month in New York.
DJL: LADAMA's mission is to empower women in the community, how do you do that?
SL: We are operating on two levels, one is to tour our own music and the other is by bringing music workshops to the communities that we visit like, for example, high schools. We see music as life affirming – to hear and to see is really to believe. We are four women touring across four countries, and when other women and girls see that, we hope that it will inspire them.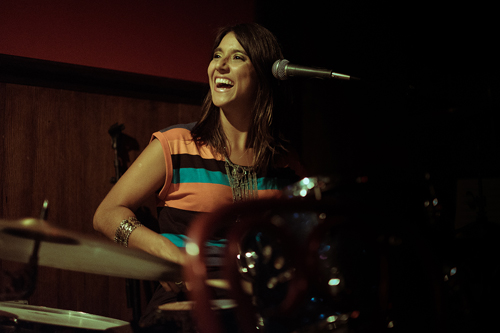 DJL: Is audience participation important to you?
SL: Yes, 100%. Our performances are sometimes didactic and always a celebration. We want people to have fun. But we want people who come to the show to leave with something too.
DJL: The track "Compared to What" is bluesy in feel, but it also has a heightened, driving rhythm. Can you tell us about that song?
SL: Yes, it was written by Gene McDaniels, and Roberta Flack sang it first in the 1960s. It dealt with the realities of that time, the Vietnam War, the President and systemic, institutionalized racism – it is a protest song that rings true today. I grew up singing in this vocal tradition and wanted to incorporate it into the music of LADAMA.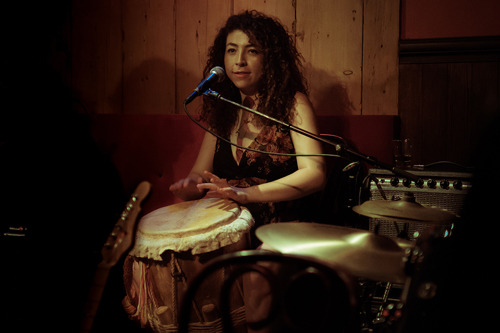 DJL: What is your hope for this album and for the band?
SL: We hope that people will take the album home and have their own individual experience with it, responding to it on their level. We would like the album to reach as many people as possible and hope that the band can continue to record in the United States and in each musician's country.
–
It is true that these women come from distinct cultural and musical backgrounds, yet there is a genuine feeling of unity on this record. Each could stand alone as a good musician in her own right, yet they seem to have more fun playing together. They generate a certain electricity that would not be as strong if they worked independently. Their presence as a collective conveys the power that music has to unite.
Discography:
Ladama (Six Degrees, 2017)
Website: www.ladamaproject.org