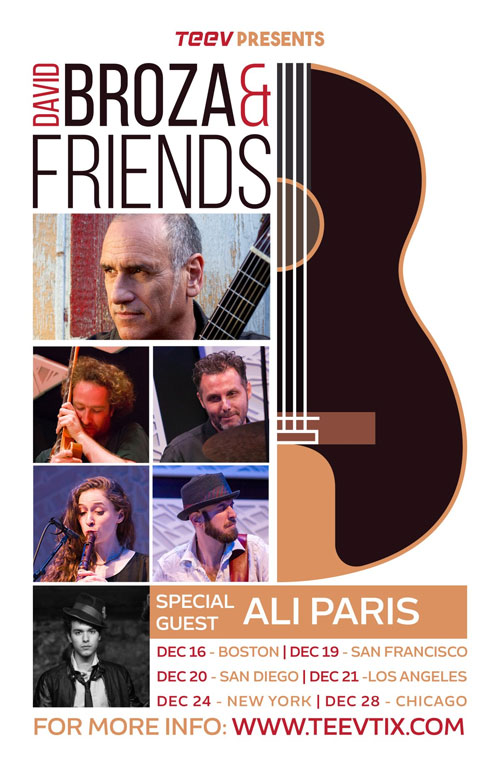 Acclaimed Israeli singer-songwriter and UNICEF goodwill ambassador David Broza will be touring the United States in December 2017. Broza, who sings in Hebrew, Spanish, English, and Arabic, will be celebrating the 40th anniversary of his best-known song, "Yihye Tov" (Things Will Be Better). The popular composition was written in 1977 during the Arab-Israeli peace talks between Egyptian President Anwar Sadat and Israeli Prime Minister Menachem Begin, and has become an anthem of the Israeli peace movement.
Joining Broza on stage is a group of outstanding musicians: Berklee School of Music graduate and qanun virtuoso Ali Paris (Palestine); Jonathan Levy (Israel) on guitars; Shaul Eshet (Israel) on piano and keyboards; Berklee graduate Tali Rubinstein on recorders (USA); Yuval Lion (Israel) on drums; and on Uri Kleinman (Israel) on bass.
The tour follows the release of Broza's album titled The Set List, a collection of studio and live recordings celebrating David Broza's career as one of Israel's most important cultural icons. "Yihye Tov" is represented on The Set List with a live version recorded in 2007 at Broza's annual concert held at the symbolic fortress of Masada, and features special guests Shawn Colvin and Jackson Browne.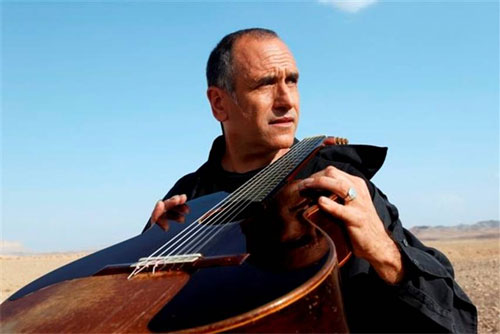 Broza garnered widespread acclaim for his 2013 album East Jerusalem West Jerusalem, produced by Steve Earle, and recorded in its entirety in the Palestinian Sabreen Studio in East Jerusalem. The work, featuring a band of both Israeli and Palestinian musicians, resulted in a wonderful, intimate documentary of the same name.
The Set List also includes "The Long Road", featuring Irish singer Maura O'Connell. The song, written by Cliff Eberhardt, was recorded in 1998, but was shelved along with the ensuing album after Broza sustained serious injuries following a car crash.
David Broza & Friends Winter 2017 Tour:
December 9, 2017 Baltimore, MD Gordon Center for Performing Arts
December 16, 2017 Boston, MA Berklee Performance Center
December 19, 2017 San Francisco, CA Regency Ballroom
December 20, 2017 La Jolla, CA Lawrence Family JCC
December 21, 2017 Santa Monica, CA Broad Theater
December 24, 2017 New York, NY 92nd Street Y
December 28, 2017 Skokie, IL North Shore Center for the Performing Arts
Author:
World Music Central News Department
World music news from the editors at World Music Central