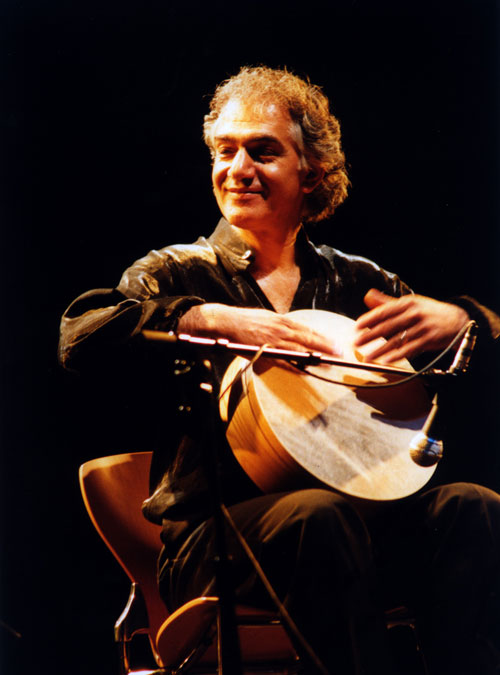 Omar Faruk Tekbilek was born in 1951 in Adana, Turkey to a musical family who nurtured his precocious talents. At the age of eight he began his musical career by developing proficiency on the kaval a small diatonic flute. "My brother was a born musician," Faruk recalls. "He was really my guru my inspiration." His brother Hadji played the flute but as he grew up Faruk found himself drawn to other instruments as well.
At the same time, Omar studied religion with thoughts of becoming a cleric or Imam. His musical interests were being nurtured by his older brother and by a sympathetic uncle who owned a music store and who provided lessons. "He had a music store and he also had another job during the day. So he told me to come after school open the store and – in exchange – he gave me lessons."
While working in the store Omar Faruk learned the intricate rhythms of Turkish music how to read scales and other rudiments. He was trained on and eventually mastered several instruments: ney (bamboo flute), zurna (double-reed oboe like instrument with buzzing tone), the baglama (long-necked lute), the ud (the Middle Eastern lute), as well as percussion. By the age of twelve he began performing professionally at local hot spots.
"Because it was a border town," Faruk recalls, "Philosophers artists actors and all other members of the cultural intelligentsia were attracted there. This explains why so many great musicians have come from my town. My city was rich with cultural opportunities so I was very lucky."
In 1967, upon turning sixteen he moved to Istanbul where he and his brother spent the following decade as in-demand session musicians. Omar Faruk stayed true to his folkloric roots but during this period of frenetic session work in the metropolitan music scene he explored Arabesque, Turkish and Western styles and the compositional potential of the recording studio. In Istanbul he also met the Mevlevi Dervishes, the ancient Sufi order of Turkey. He did not join the order but the head Neyzen (ney player) Aka Gunduz Kutbay became another source of inspiration. Omar Faruk was profoundly influenced by their mystical approach and fusion of sound and spirit. During that time he was introduced to Hatha Yoga and eventually to Tai Chi and Chi Qong which he continues to practice daily.
Omar Faruk's skills in the studio blossomed in Istanbul playing with some of the leading Turkish musicians of the day including Orhan Gencebay flute and saxophone player Ismet Siral percussionist Burhan Tonguc and singers Ahmet Sezgin, Nuri Sesiguzel, Mine Kosan and Huri Sapan to name a few.
After establishing himself as one of the top session musicians in Turkey he began touring Europe and Australia. By 1971 at the age of 20 he made his first tour of the United States as a member of a Turkish classical/folk ensemble. It was while touring in the USA that he met his future wife Suzan and in 1976 he relocated to upstate New York to marry her.
Omar Faruk found very few options for a Turkish musician in the USA so he formed a band called the Sultans with an Egyptian keyboardist, a Greek bouzouki player and his brother-in-law on percussion. It started as a pop band but very quickly turned into a sort of Pan-Near Eastern ensemble. They began to attract some attention within the circle of Middle Eastern dance fans. They managed to record five albums during this time but Omar Faruk was still unknown outside his local musical community.
This was all about to change with the fateful meeting with Brian Keane in 1988. Keane released an album in 1988, Suleyman the Magnificent. A film was being made about the Ottoman emperor Suleyman to coincide with the opening of an exhibition at New York's Metropolitan Museum of Art and Brian Keane was hired to do the soundtrack. "I knew I wanted to incorporate Turkish instruments and players," he recalls, "but the Met saddled me with a bunch of professors; all intellect and no emotion."
Desperate to move the recording along, Keane called Arif Mardin, the legendary Turkish producer of the Bee Gees, Aretha Franklin and so many others and asked if he knew any Turkish musicians. Mardin didn't. "But two or three days later he called and said his cooks went to Fazil's, a belly dance club in Manhattan. So I went for five nights and suffered through really bad belly dance music. Then one night Faruk shows up looking like he was right off the boat. (In fact he had just driven down from Rochester, New York, over 33 miles away.) You could tell immediately that he was different. His playing was so emotional; he really stood out."
Keane had already seen the opening of the film and knew what he wanted, the mystical sound of the Sufi flute or ney added to his own synthesizer. As far as he knew, this combination hadn't been done before, but Keane invited Tekbilek to his studio to try it. "When Faruk started playing," he said, "the hairs on the back of my neck stood up. It was magic from the start." Their very first take became the opening of the movie and the recording. Faruk brought in some of his friends and the soundtrack was soon finished. In the following years, he and Keane would produce another six recordings, together launching Omar Faruk boldly into the world music scene.
Omar Faruk Tekbilek has since established himself as one of the world's foremost exponents of Middle Eastern music. A multi-instrumentalist par excellence, he has collaborated with a number of leading musicians of international repute such as jazz trumpeter Don Cherry, keyboard player Karl Berger, former Cream rock drummer Ginger Baker, Ofra Haza, Simon Shaheen, Hossam Ramzy, Glen Velez, Bill Laswell, Mike Mainieri, Peter Erskine, Trilok Gurtu, Jai Uttal and Steve Shehan among others. He has contributed to numerous film and TV scores and to many recordings, including world sacred music albums and has been touring extensively throughout the Middle East, Europe, Australia, North and South America.
Alif (2001) was produced by Steve Shehan. Alif is the first letter of the Arabic alphabet and it also signifies the first letter for Allah. The seventh song and title track is a Sufi masterpiece of devotional love in all its forms – divine love romantic love and love of life. This is the theme running through the album's 12 songs. The album includes Hadji Atmet Tekbilek, Mamak Khadem and Flamenco guitarist Jose Antonio Rodriguez Muñoz.
In 2005 he released The Tree of Patience which features Flamenco legend Enrique Morente, percussion master Arto Tuncboyaciyan, Ara Dinkjian, ambient music innovator Steve Roach and Hansan Isakkut. "I have a picture I carry in my mind," Omar Faruk Tekbilek revealed. "I call it The Tree of Patience."
Omar Faruk is the recipient of the Best Artist of the Turkish Music Award 2003 from the Turkish Writers Association. He is also the recipient of the US Golden Belly Musician-Of-The-Year-Award for 1998 and again for 1999.
Discography:
Suleyman The Magnificent (Celestial Harmonies, 1988)
Fire Dance (Celestial Harmonies, 1990)
Whirling (Celestial Harmonies, 1994)
Gypsy Fire, with Hagopian (Traditional Crossroads 1995)
Mystical Garden (Celestial Harmonies 1996)
Crescent Moon (Celestial Harmonies 1998)
One Truth (Hearts of Space 1999)
Dance into Eternity (Celestial Harmonies 2000)
One with Yuval Ron Yair Dalal (Magda 2003)
Alif – Love Supreme (Narada World Select 1198 2002)
The Tree of Patience (White Swan, 2005)
Rare Elements (Remixes) (5 Points Records 2009)
Kelebek – Butterfly soundtrack (Celestial Harmonies 2009)Love Is My Religion (Alif Records, 2017)
Author:
Angel Romero
Angel Romero y Ruiz has been writing about world music music for many years. He founded the websites worldmusiccentral.org and musicasdelmundo.com. Angel produced several TV specials for Metropolis (TVE) and co-produced "Musica NA", a music show for Televisión Española (TVE) in Spain that featured an eclectic mix of world music, fusion, electronica, new age and contemporary classical music. Angel also produced and remastered world music albums, compilations and boxed sets for Alula Records, Ellipsis Arts, Music of the World.