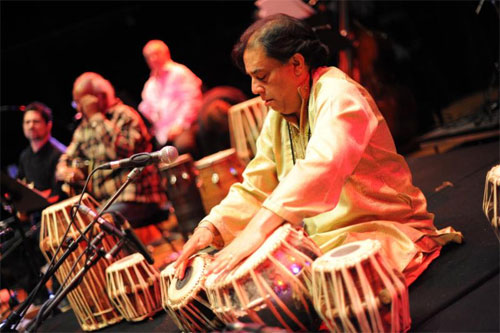 Pakistani 10-piece Sachal Ensemble will be touring the United States for the first time during October and November 2017. The group, formed by philanthropist and music producer Izzat Majeed, mixes typical Western instruments like piano, bass and drums with traditional South Asian ones, such as tabla, dholak and sarangi.
The Sachal Ensemble's repertoire on this 2017 tour will combine traditional Sufi music, ragas and treasured Pakistani cinema songs (like "Ranjha Ranjha," from the movie Raavan) with distinctively South Asian versions of Western classics, including The Beatles' "Eleanor Rigby," R.E.M.'s "Everybody Hurts," Michel Legrand's "The Windmills of Your Mind," and, their unique recreation of Dave Brubeck's hit "Take Five" that became a YouTube sensation with over 1 million views.
The international phenomenon created by the "Take Five" video led to an invitation in 2013 for the Sachal Ensemble to collaborate with trumpeter and composer Wynton Marsalis and the Jazz at Lincoln Center Orchestra. The musicians' remarkable journey from Lahore to Lincoln Center was captured in Song of Lahore, a documentary film by Award-winning director Sharmeen Obaid-Chinoy and Andy Schocken.
An album released in the United States soon followed, Song of Lahore (Universal Music Classics, 2016), featuring the Sachal Ensemble collaborating with Wynton Marsalis, Meryl Streep, Jim James of My Morning Jacket, Nels Cline of Wilco, Madeleine Peyroux and Sean Lennon.
A recent Pakistan-only release, titled Jazz and All That, includes Sachal Ensemble 's versions of Brubeck's "Blue Rondo A La Turk," and songs such as Stevie Wonder's "You've Got It Bad Girl", Antonio Carlos Jobim's "Wave" and Henry Mancini's "The Pink Panther."
The current lineup includes:
Baqar Abbas – bansuri
Nadeem Abbas – bass
Rafiq Ahmad – daff
Asad Ali – guitar
Danish Ali – piano
Najaf Ali – dholak
Zohaib Hassan – sarangi
Ijaz Hussain – tabla
Ali Shaiba – drums
Nijat Ali – conductor
Sachal Ensemble 2017 North American Tour
Friday, Oct. 27 – Vienna, VA at The Barns at Wolf Trap
Sat, Oct. 28 – Schenectady, NY at PrOct.or's Theatre
Sun, Oct. 29 – Cambridge, MA at Berklee Performance Center
Mon, Oct. 30 – Saratoga Springs, NY – Saratoga Performing Arts Center
Thu, Nov. 2 – Easton, PA at Lafayette College / Williams Center
Sat, Nov. 4 – Miami, FL at Miami Dade College / Olympia Theater
Sun, Nov. 5 – New York, NY at NYU Skirball Center
Tue, Nov. 7 – Calgary, AB, Canada, Arts Commons / Jack Singer Concert Hall
Thu, Nov. 9 – Markham (Toronto), ON, Canada at Flato Markham Theatre
Sun, Nov. 12, Phoenix, AZ at, Musical Instrument Museum
Tue, Nov. 14, Northridge, CA at CSU Northridge / VPAC
Wed, Nov. 15, Stanford, CA at Stanford University / Bing Concert Hall
Sat, Nov. 18, Folsom, CA at Harris Center / Stage 1
Author:
World Music Central News Department
World music news from the editors at World Music Central