The annual Rainforest World Music Festival (RWMF) in Kuching, Sarawak (Malaysia) featured a special lineup of performances, workshops and cultural activities on the occasion of its 20th anniversary. The scenic Sarawak Cultural Village, located between Mount Santubong and the South China Sea, hosted the performances on two outdoor stages and one indoor theatre.
The 2017 lineup of 22 international and 5 local groups included Abavuki (South Africa), Achanak (UK/India), Ba Cissoko (Guinea), Belem (Belgium), Bitori (Cape Verde), Calan (Wales), Cimarron (Colombia), Dom Flemons (US), Hanggai (China), Huw Williams (Wales), Kelele (South Africa), O Tahiti E (Tahiti), Okra Playground (Finland), Pareaso (Korea), Radio Cos (Spain), Romengo (Hungary), Saing Waing Orchestra (Myanmar), Spiro (UK), Svara Samsara (Indonesia), Taiwu Ancient Ballads Troupe (Taiwan), The Chipolatas (UK/Australia), and The Paradise Bangkok Molam International Band (Thailand).
The Malaysian lineup featured Ilu Leto, At Adau, Lan E Tuyang and Sekolah Seni Malaysia Sarawak from Sarawak, as well as Maliao Maliao Dance Troupe from Malacca.
See also my coverage of earlier editions of RWMF from 2016 (25 bands covering 5 continents), 2015 (Global Sound, Diversity and Celebration) and 2013 (Collaboration, Creativity and Community), as well as interviews with some of the performers (eg. Rafly wa Saja, Drew Gonsalves, ShoogleNifty).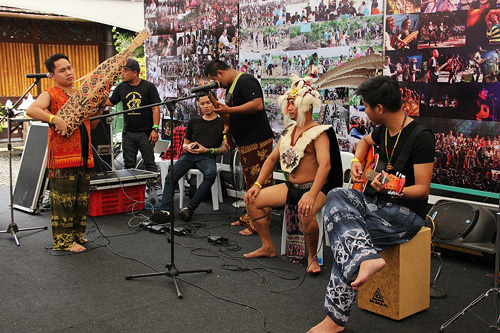 Festival previews
Before the festival, some of the bands held preview concerts in local pubs and cafes, such as the Culture Club in downtown Kuching. Two bands – Romengo (Hungarian gypsy group) and O Tahiti E (percussion-dance troupe from Haiti) – gave the audience a tantalising taste of what was to come during their workshops and performances in the coming days.
In keeping with its usual tradition, the Sarawak Tourism Board also had a tree-planting ceremony the day before the festival. Members of the media and some performers together planted about 200 mangrove saplings at the Kuching Wetland National Park.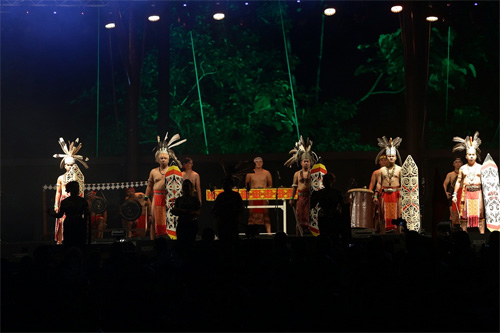 The stage was also being set for the festival workshops to follow, on yoga, meditation, tai-chi and martial arts. The festival had a crafts bazaar and food court as other highlights, along with stalls on aromatherapy and environmental recycling.
Each morning of the festival began with a media meet between journalists and musicians; see my earlier articles on artiste insights: World music bands help urban audiences connect with nature (2017), Fusion without confusion – how world music bands blend multiple influences (2016), How world music bands build collective vision, promote indigenous culture and yet adapt to changing times (2015), World music bands address the importance of heritage, messages and innovation (2014) and World music bands address their role in social change, cultural preservation and creativity (2013).
Day One
The morning media meet each day was followed by an afternoon of indoor performances and jam sessions. The indoor theatre performances on Day One kicked off with Pareaso (South Korea), followed by Huw Williams (Wales) and Lan E Tuyang (Malaysia).

The four youthful musicians of Pareaso featured traditional music from Ulsan, Korea, with instruments such as daegeum, geomongo, saenghwang,  janggu, and gayageum. Huw Williams showcased clog dancing along with trademark Welsh wit and humour while playing along on guitar. Lan E Tuyang featured three sape masters of Sarawak from the Kayan and Kenyah communities: Mathew Ngau Jau, Salomon Gau and Jimpau Balan. They also showcased the nose flute, along with traditional dance moves.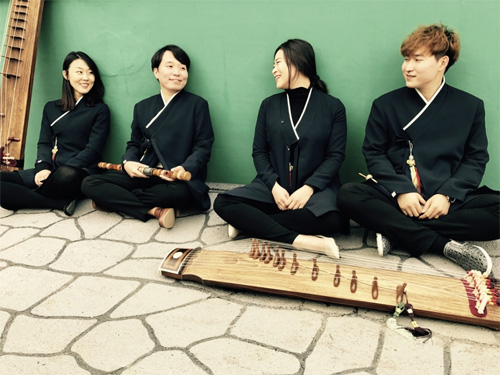 Each afternoon ended with an outdoor drum circle facilitated by Malaysia's 1Drum, followed by night-time performances on two adjacent stages set in the picturesque rainforest. Traditional ceremonies to bless the festival were conducted by local cultural groups and musicians.
The six-member all-women band Ilu Leto from Sarawak, Malaysia kicked off the outdoor performances on Day One. The group, anchored by Alena Murang, keeps alive the traditional music of the Iban, Kelabit and Kenyah tribes while also challenging other customs (the sape is usually not played by women).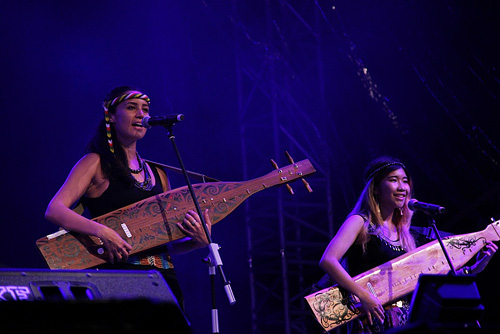 Okra Playground from Finland then delivered a hypnotic set of electro-folk. They featured ancient instruments like the kantele and bowed lyre (jouhikko), along with solid grooves by bassist Sami Kujala – a perfect foundation for the three female vocalists (Päivi Hirvonen, Maija Kauhanen, Essi Muikku). Their debut album, Turmio was released in 2015.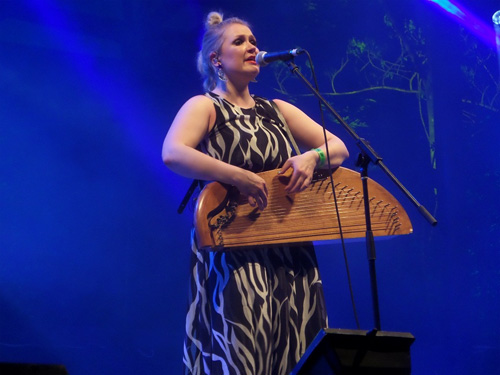 The adrenaline picked up with gypsy music by Romengo from Hungary, who played a rousing set of danceable numbers along with ballads (I also caught their performance last year at the Forde Festival 2016 in Norway). Vocalist Mónika Lakatos has won a range of awards including the Parallel Cultures award; she was joined on stage by singer Veronika Harcsa for soaring duets. The group's first album is titled Kétháné, and the talented lineup includes Mihály "Mazsi" Rostás (guitars), Misi Kovács (violin), János "Guszti" Lakatos (oral bass, tin can), and Tibor Tibi Balogh (percussion).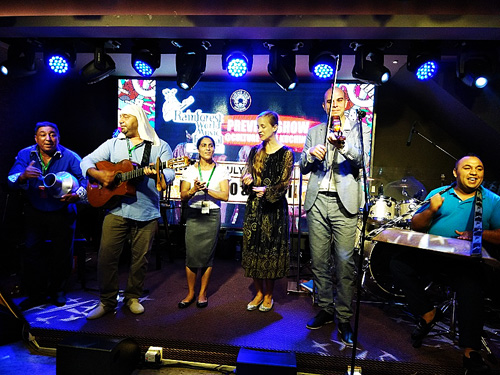 The next group was pure percussive explosion: Svara Samsara from Indonesia. The quintet is inspired by the work of legendary Indonesian drummer Innisisri, and showcased a range of traditional instruments in contemporary styles. The high-energy poly-rhythms and call-and-response segments drew loud applause from the audience. The group is based in the Rumah Kahanan art space, and features instruments such as talempong, sarunai, taganing, hadrah, kancil, and kendang drums. Their first album was released last year.
Bhangra with a touch of bass and drums was featured by the UK-based band Achanak, whose members are of Punjabi origin. The group has released seven albums and has toured extensively.
An absolutely outstanding band on Day One was Abavuki from Capetown, South Africa. The group's name means 'Wake up, early birds!' in the Xhosa language. South African rhythms blended with kwaito, samba and jazz, and the multi-instrumentalists wowed the audience with their prowess on a wide range of percussion (especially Mkhokheli Masala, Thulani Mtyi and Thando Sishuba).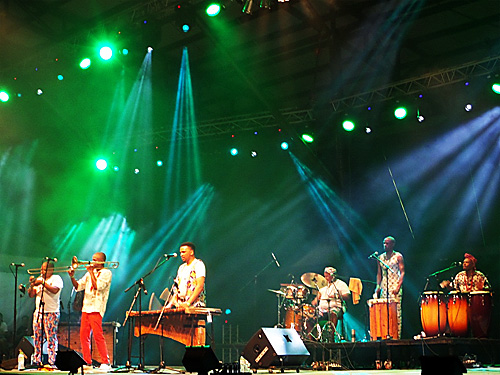 Founded in 2001, the band showed their years of experience and expertise with a superb set of high-energy afro-beat music and dance, blending everything from marimba to a brass section. Their albums include Decade and African Rhythms.
Day Two
The indoor performances on Day Two were kicked off by the Sang Waing Orchestra from Myanmar, playing a set of Burmese folk music. The musicians from Yangon and Mandalay performed on a range of traditional instruments, including saung (Burmese harp), clappers, cymbals, gongs, short drums and oboe.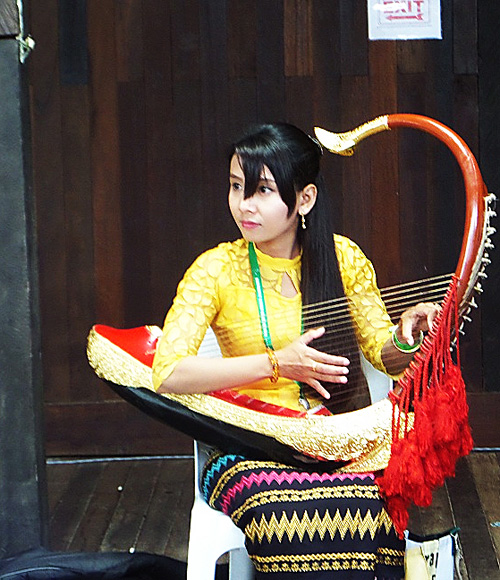 Grammy Award-winner Dom Flemons featured a set of American roots, ragtime, blues, folk, and spirituals. The singer-songwriter and slam poet's most recent album is Prospect Hill; Dom is also the co-founder of the Carolina Chocolate Drops, an African-American string band.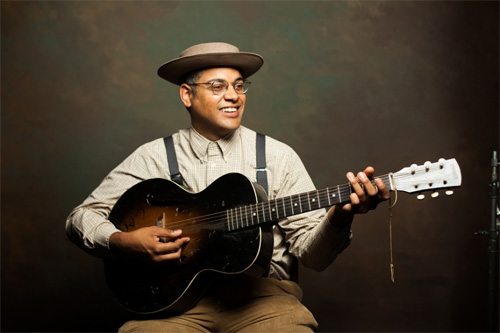 English folk band Spiro wrapped up the indoor performances. Violin, mandolin and electronic sounds mixed together with the lineup of Jane Harbour, Alex Vann (drums), Jon Hunt (guitar), and Jason Sparkes (accordion). Their albums include Pole Star, Lightbox and Kaleidophonica.
The talented young band At Adau from Kuching kicked off the outdoor performances, with an experimental blend of Sarawak sound with world music. They featured Borneo sounds of the sape and the perutong, along with congas and djembe. Their first album is titled Journey, with the lineup of Ezra Tekola (sape), Jackson Lian Ngau (zither, drums), Meldrick Bob Udos (cajon), Ju Hyun Lee (conga), Alfonso McKenzie (bass), Cerdic Riseng (guitar) and Luke Wrender David (sape, guitar).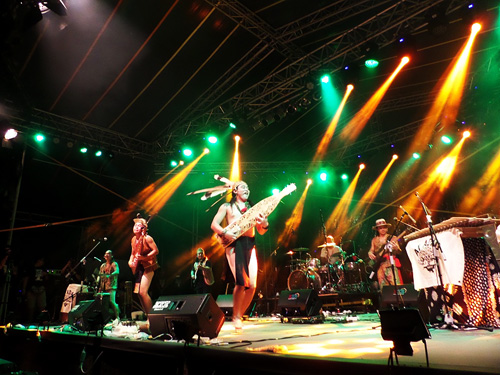 The most beloved band of the festival took the stage next: O Tahiti E, a sizzling percussion and dance troupe from Tahiti, who had already wowed the audience through three afternoon workshop sessions. Founded in 1986 by choreographer Marguerite Lai, they showcased spectacular costumes and sensual dance moves. The youthful dancers roused up so much energy that the heavens opened up with thundershowers at the end of their set!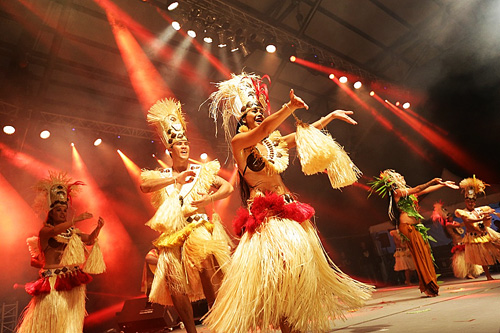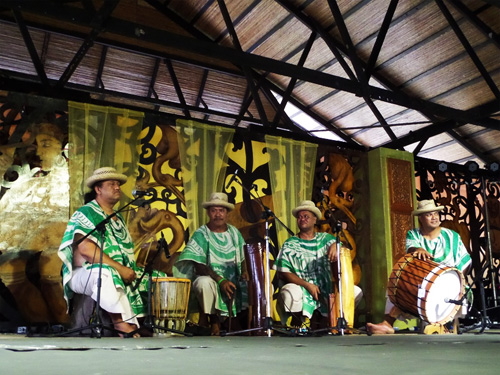 The rain would continue through the next performances, reducing the lawns to a mudbath, but the hardy festival-goers were well prepared. Spain's Radio Cos entertained them with an energetic set of Galician music. The driving rhythms on pandeiro and tambourine kept the crowd on their feet, ably anchored by Xurxo Fernandes and Quique Peon. The musicians have been researching traditional music for over three decades, and the five-member band brought the pride alive for an audience half-way round the world.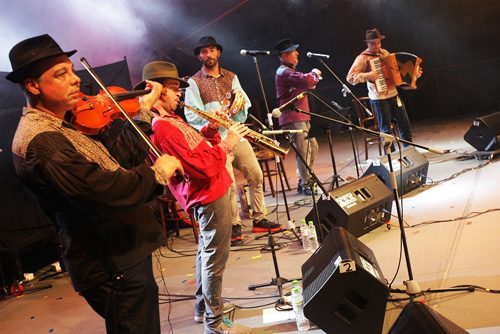 The energy picked up several notches with the Inner Mongolia band Hanggai from China, with an unbelievable mix of traditional instruments and rock music. The folk-rock blend, anchored by throat singer Batubagen and vocalist Ilchi dressed in a full-length traditional coat, kept the audience engaged right through gusts of wind and rain. The band has also performed at Rosklide, Lowlands, Fuji Rock, Chicago World Music Festival, Sziget, and WOMAD.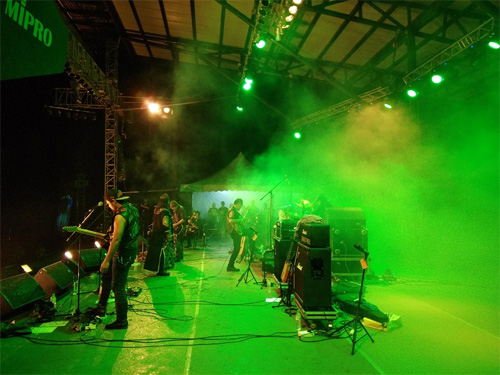 An absolutely stellar set followed next, by Ba Cissoko and his band from Guinea. The son of the famous kora maestro M'Bady Kouyaté performed on guitar and kora, and sang in Malinke, Wolof, Pulaar and French. West African sound fused with salsa, funk and jazz, in a superb set by the five-member group. Their albums include Electric Griot Land, Djeli, Sabolan, Nimissa, and Séno.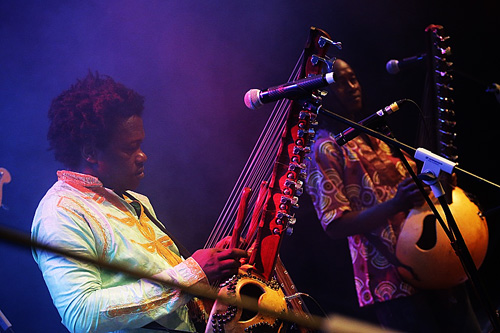 Another amazing folk-rock band rounded up the performances of Day Two: the Paradise Bangkok Molam International Band. They played instruments and rural tunes from northeast Thailand, blended with high-energy drums and power bass. Chris Menist, Kammao Perdtanon, Maft Sai, Phusana Treeburut, Piyanart Jotikasthira and Sawai Kaewsombat played a hypnotic set showcasing the khaen (multi-reed mouth organ) and phin (string instrument).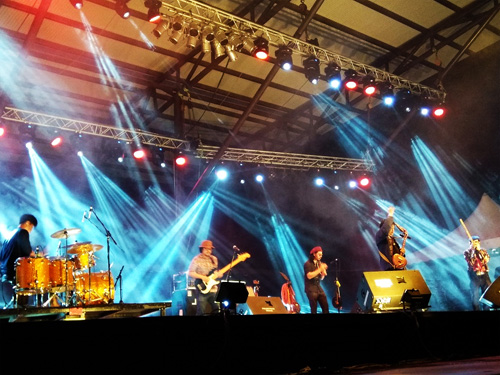 In terms of musical highlights, most festival attendees would later agree that this was one of the best nights at any world music festival ever. The crowd stayed on their feet through the rain and thunder – and there would be more come on Day Three!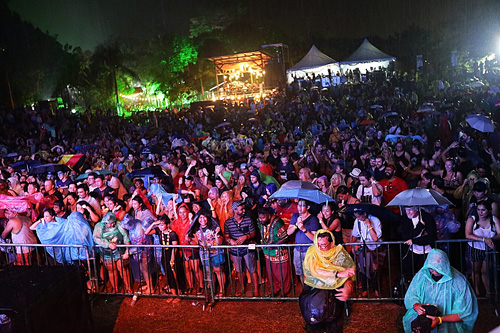 Day Three
The indoor performances on Day Three kicked off with the Taiwu Ancient Ballads Troupe from Taiwan. They played the music of the Paiwan tribe from southern Taiwan. Anchored by Camake Valaule, they explained their culture and dances, and showcased instruments such as the twin-pipe nose flute.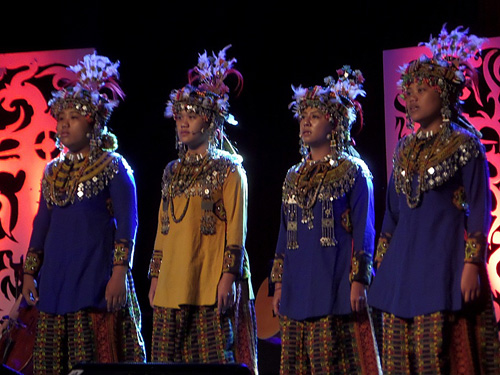 Folk music from Belgium followed next, performed by Belem (Didier Laloy on accordion, Kathy Adam on classical cello). The indoor performances finished in fine style with the vocal harmonies of Africa, performed by Kelele from South Africa. Their members also form the band Abavuki, thus constituting an unusually creative combination and presentation of musical talent.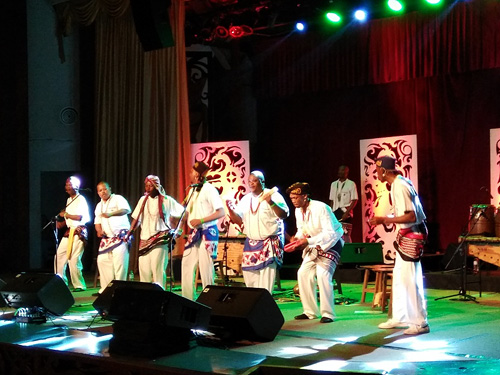 Their range of melodies and harmonies kept the audience spell-bound in a session of oral storytelling. Traditional instruments were also showcased, such as the mbira (finger piano), uhadi (bow instrument) and talking drum.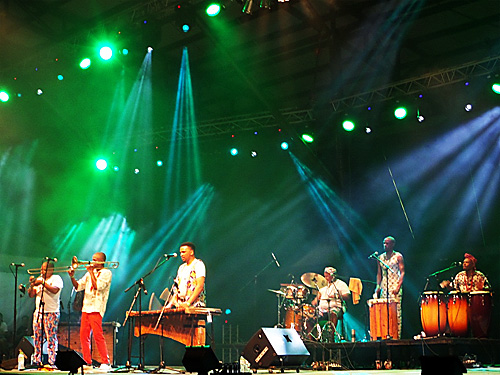 The outdoor performances were kicked off by the Maliao Maliao Dance Troupe from Malacca, Malaysia. They presented a blend of Portuguese and Malaysian dance.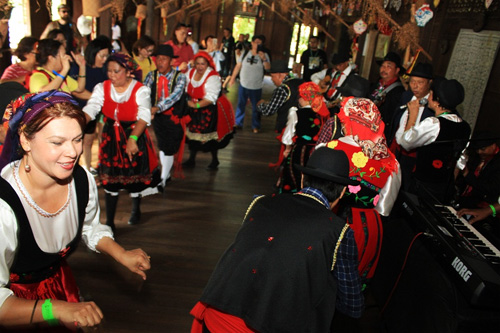 Thunderous rains picked up again as the youthful performers of Sekolah Seni Malaysia next took to the stage. They have performed the folk dances of Sarawak at festivals across Asia and Europe, and won awards in Bulgaria, Romania and Spain.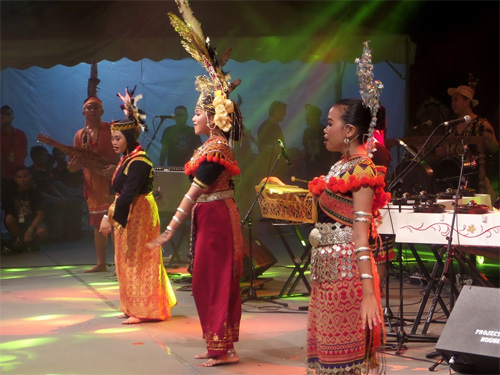 Welsh band Calan showcased foot tapping tunes and step dancing, with the five member band reinterpreting lively as well as haunting songs. Their debut album is titled Bling, and the band has played at the Cambridge Festival, Celtic Connections, Shrewsbury Folk Festival and Whitby Folk Festival.
The most sensational band of the evening was Cimarrón from Colombia. They performed the festive dance music of joropo, with soaring melodies and catchy rhythms of the Orinoco river region combining Andalusian, indigenous South American, and African roots.
Anchored by harpist Carlos Rojas Hernandez and vocalist-dancer Ana Veydó Ordóñez, the set blended bandola, cuatro, bass, and high-energy percussion. The 'competitive jams' between the youthful percussionists were hilarious and drew loud applause. The group has released a number of award-winning albums, including one aptly titled Orinoco.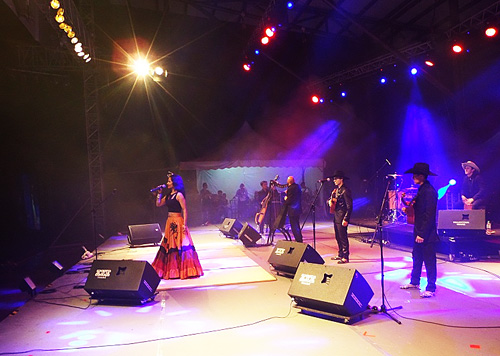 Indonesian percussion band Svara Samsara took to the stage again for another set, followed by the closing act: Bitori from Cape Verde, playing funana music. This raw yet infectious dance music form was banned during the Portuguese rule, but is alive and thriving now. Anchored by lead accordionist Bitori (Victor Tavares) who is now almost 80 years old, the group performed an upbeat set with Creole vocals and unique instruments such as the ferrinho (iron scraper).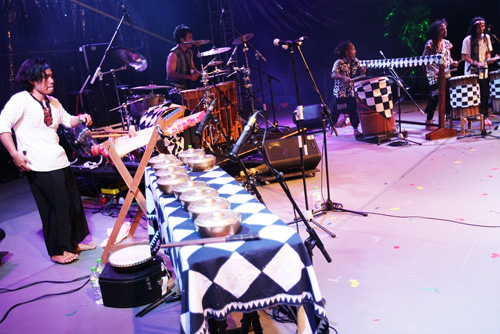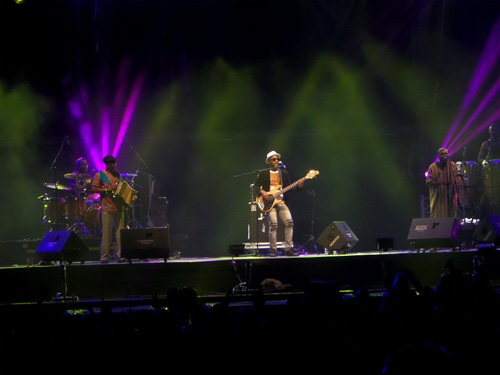 The five-hour performances, accompanied by five hours of rain, culminated in an unforgettable grand finale with most of the bands from the three days of the festival coming together on stage to take their final bow. The festivities carried on with a jam at the musicians' hotel bar, and I departed the next morning with a stack of the bands' CDs gathered over the three days of the festival.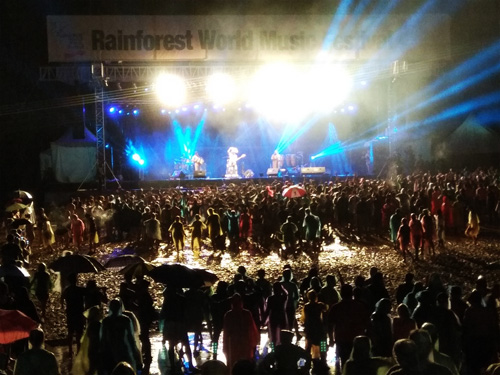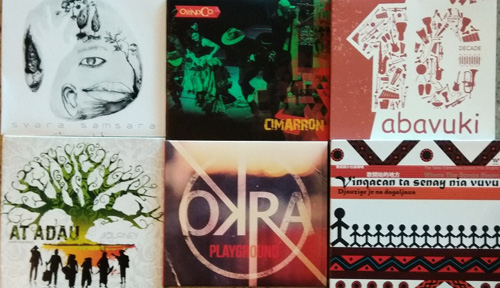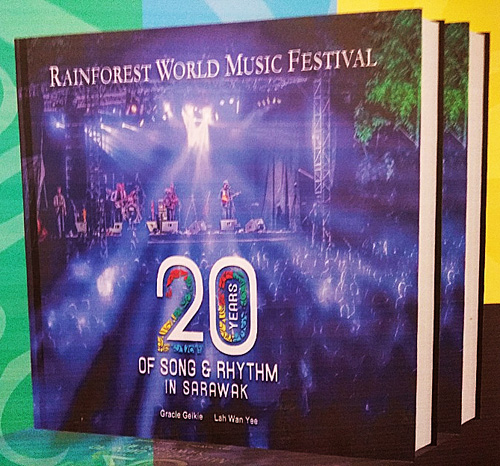 We already look forward to the next Rainforest World Music Festival in 2018, with its unbeatable combination of legendary bands, emerging artistes, jam sessions, interactive workshops, media meets – and a bit of occasional rain! After all, what's a festival in the rainforest without some rain?
Author:
Madanmohan Rao
Madanmohan Rao is an author and media consultant from Bangalore, and global correspondent for world music and jazz for World Music Central and Jazzuality. He has written over 15 books on media, management and culture, and is research director for YourStory Media. Madan was formerly World Music Editor at Rave magazine and RJ at WorldSpace, and can be followed on Twitter at @MadanRao.