The 20th Rainforest World Music Festival (RWMF) in Kuching, Sarawak (Malaysia) delivered a special four-day delight of preview showcases and evening performances. There were also interactive discussions between media and musicians each morning, followed by afternoon workshops and jam sessions.
The 2017 lineup of 22 international and 5 local groups included Abavuki (South Africa), Achanak (UK/India), Ba Cissoko (Guinea), Belem (Belgium), Bitori (Cape Verde), Calan (Wales), Cimarron (Colombia), Dom Flemons (US), Hanggai (China), Huw Williams (Wales), Kelele (South Africa), O Tahiti E (Tahiti), Okra Playground (Finland), Pareaso (Korea), Radio Cos (Spain), Romengo (Hungary), Saing Waing Orchestra (Myanmar), Spiro (UK), Svara Samsara (Indonesia), Taiwu Ancient Ballads Troupe (Taiwan), The Chipolatas (UK/Australia), and The Paradise Bangkok Molam International Band (Thailand). The Malaysian lineup featured At Adau, Ilu Leto, Lan E Tuyang and Sekolah Seni Malaysia Sarawak from Sarawak, as well as Maliao Maliao Dance Troupe from Malacca.
During media interactions over three days, and in separate interviews, members of these 27 bands described their connection with nature, local and diaspora influences, traditional instruments, industry careers, political messages, and music impacts.
See also my writeups on performer insights from earlier editions of RWMF: 2016 ('Fusion without Confusion'), 2015 ('Collective Vision'), 2014 ('Heritage and Messages') and 2013 ('Cultural Preservation'). The commemorative book 'Rainforest World Music Festival – 20 Years of Song and Rhythm in Sarawak' was also released at RWMF. The book is edited by Gracie Geikie and Lah Wan Yee, and I am honored and delighted to have a chapter in it on the role of the media at the festival.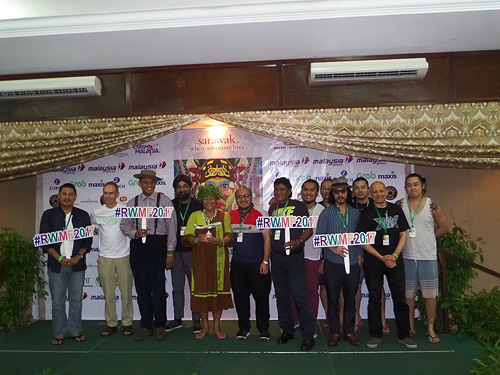 Connecting with nature
"In cities, we are separated from rural life and the natural world. I hope that we can honor nature while living in the city, it's our responsibility," said Jon Hunt from UK-based Spiro.
Landscapes are an influence and inspiration in their music as well.
"We are nature. We are part of our land. All our costumes are taken from nature," said Marguerite Lai, founder of dance troupe O Tahiti E. For example, women wear red as the color of life.
"We really appreciate nature. The jungle is our playground in Sarawak. Our music reflects our love for nature," said Meldrick Anak Udos from Kuching band At Adau. The band is named after the root of the tree used to make the sape string instrument. "Nature is very personal for us," he added.
"Our music mimics the sound of wind blowing under coconut trees, farmers chasing cows, and bees humming around flowers," said Nattapon Siangsukon of the Paradise Bangkok Molam International Band from Thailand, whose music reflects the culture of the north-east. "One of our musicians grew his own tree for 10 years to make his instrument," he explained.
Cimarron from Colombia features the rural music and dances of peasants. "Our instruments are made from local woods from the rainforest of South America. We mention local animals in our songs, such as crocodiles and regional birds. The sounds of milking of cows are also in our songs," explained Carlos Rojas from Cimarron.
RWMF itself sends out strong messages about nature and conservation by conducting a mangrove tree-planting ceremony at Kuching Wetland National Park the day before the festival. "The tree-planting ceremony was one of the most memorable experiences," said Monika Lakatos, singer from Hungarian gypsy band Romengo.
Local and diaspora connections
A number of artists showcased unique instruments from their regions, such as bamboo mouth organ khaen and two-string guitar (Thailand); cuatro, bandola, maracas and tambora (Colombia); Burmese harp (Myanmar); twin-pipe nose flute (Taiwan); and kantele (Finnish cordophone). Others performed dances and rhythms from their region, such as the clog dance (Wales) and funana (Cape Verde).
Some world music bands play traditional music without modification, while others adapt it to new surroundings and audiences. "We are an experimental world music band. We are neither fully traditional nor fully contemporary," explained Meldrick Anak Udos from Kuching band At Adau. Their influences include the cultures of the Iban, Bedayu, and Orang Ulu tribes.
Some musicians said they make their own instruments as well. "I make my own sape. I can play better with an instrument I make myself," explained Mathew Ngau from Sarawak's Lan E Tuyang.
"We learn traditional rhythms from villagers, and then adapt the music to our times," said Gihon Siahaya, percussionist with Svara Samsara from Indonesia. "Our music is based on traditions but can't be called traditional music," he explained.
"Our music is rooted in folk but we also add our own lyrics," said Sami Kujala, bassist with Finnish electro-folk group Okra Playground.
Many diaspora populations in the West have kept alive their homeland music and fused it with their new base culture as well. "Previous generations of our communities came to the UK from northwest Punjab in the 1950s and 60s," said Ninder Johal, tabla player of UK-based bhangra fusion band Achanak. "We combine Punjabi folk music with Western instrumentation, and have been performing for 20 years," he said.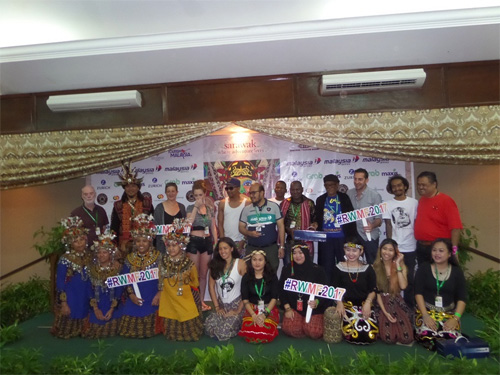 Political awareness, social change and diplomacy
Many of the bands also had messages about global dialogue and local social change. "It used to be taboo for females to play the sape," said Alena Murang of the all-female six-member group Ilu Leto ('We The Ladies').
The group is breaking away from such traditions – but also keeping alive other traditions such as the chants of the tribes Iban, Kelabit and Kenyah (there are over 50 tribes in Sarawak). "We are from six different ethnic groups. Social media has helped us connect and collaborate," explained Alena.
"Countries and people need to talk to one another, not just make assumptions. Music festivals may be the last channel of diplomacy. They are going to become more important," said Huw Williams from Wales.
The creative community needs to engage with the larger issues and challenges confronting our world – this includes visual artists, musicians, writers and more. "Musicians are in an industry which involves traveling around the world. It is our duty to inform others about what is happening where we travel and share these messages back home," said Siyabulela Jiyani of Pan-African vocalists group Kelele.
"Protest music exists in multiple styles. South African music is well-informed of the challenges of the time, and is not just about good times," said Siyabulela from the Capetown-based group.
Many musicians also expressed support for unity in diversity, and found commonality among the various cultures represented. "We are people of the world. We are different but so similar," said Marguerite Lai, founder of dance troupe O Tahiti E. She pointed to the similarities in some words in Malay and Polynesian languages.
"I am a world citizen representing a larger cause," added Don Flamins, songster and Grammy Award Winner from the US.
RWMF highlights
The performers agreed that one of the unique features of RWMF is the multiple opportunities for the bands to get to know one another and collaborate. "We made many good contacts and want our music from Guinea to go further around the world," said kora virtuoso Ba Cissokho.
"Extreme commitment of the audience to stay and enjoy the performances even during heavy rains adds to the joy," said Monika Lakatos, vocalist with Hungarian gypsy band Romengo.
"We don't like rain during performances, except in the Rainforest," joked Tristan Glover from music-humour trio Chipolatas.
The afternoon workshops and jam sessions are a major highlight of RWMF. "It was amazing to play together with people you have never met before. It was a magical experience for us to play with the Chinese horse fiddle player," said Sami Kujala from Finland's Okra Playground.
"At first we were very nervous about the workshops. But after the first workshop we relaxed and did very well," said Hwang Dong Yoon from South Korea's Pareaso.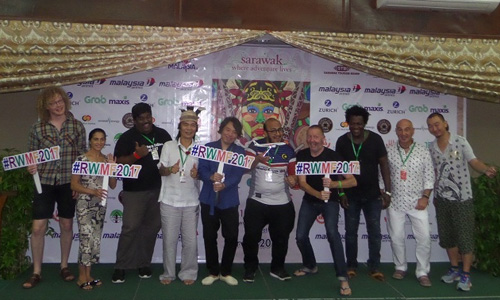 The lighter side
Many performers also shared humorous anecdotes from their concerts around the world. "Our funniest experience was being in an Italian village where no one spoke English! It's a great experience for all of you to be in such a situation – have fun," joked Jay Tilag, director of Sekolah Sani Sarawak from Malaysia.
Finnish audiences may appear expressionless but show their emotions through texts, joked Sami Kujala from Okra Playground. For musicians it is better to have feedback right away, so such reserved behavior can be a challenge!
Tristan Glover of The Chipolatas shared another unusual experience during a performance in a Middle Eastern country. Men and women were seated separately, and there was absolutely no applause during the event – but a huge crowd gathered outside later for autographs and selfies!
Festival impacts
Other than 'feel good' sentiments and global geography tours, world music festivals do have notable impacts as well. Many supporting anecdotes and trends were shared by the performers and organizers.
"A visible local impact of RWMF is the rise of awareness and pride in local culture and instruments among youth in Sarawak, such as the sape," said June-Lin Yeoh, RWMF artistic director. "Youth are seeing foreigners play their sape with pride – and getting recognition, fame, and money as well," she explained. Now many youth are making their own sape and forming traditional and fusion bands.
Another impact of the festival is closer cooperation and collaboration between the musicians from different countries. In many other festivals, the musicians just "load in, play, load out, leave," said Jun-Lin. But at RWMF they make friends with each other and with locals as well. Interestingly, this year there were bands from China as well as Taiwan!
The setting of the festival is also unique. "Jungle, mountain and sea – all three are here," said Jun-Lin proudly. The festival also highlights some instruments which one may never see anywhere else even by world music standards.
World music festivals do help preserve and promote local cultures from around the planet, affirmed Betham William-Jones from Welsh group Calan. Ethnic music is not just something taught in school or described in official documents.
In Taiwan, the government did not allow some tribes to use their own language. "Now kids ask their parents about how to sing our melodies," said Camake Valuaule from the Taiwu Ancient Ballads Troupe, Taiwan. "Traditional music is forever. We sing forever," he affirmed.
"Traditional music need not sit in museums and archives, it can be made alive and contemporary," said Alena Murang of Sarawak group Ilu Leto; RWMF gives such groups a chance to showcase their music to local as well as global audiences.
"With music you can change someone's life. Welsh music saved my life," said Huw Williams from Wales. "I actually wanted a normal job with a regular check, but due to mass employment in my youth I was forced to become a musician," said Huw Williams from Wales. "I have been reduced to travelling the world and singing songs," he joked.
Ironically, some world music bands are more known outside their home country than within. "We need people like you," said Andile Makubalo from South African band Kelele. Overseas audiences and international festival appearances also help keep alive local music traditions and cultures.
Airlines should also be playing music on board from world music festivals, given how many international passengers they carry, joked Kevin Nila Nangai, communications manager at RWMF.
–
headline photo: Achanak
Author:
Madanmohan Rao
Madanmohan Rao is an author and media consultant from Bangalore, and global correspondent for world music and jazz for World Music Central and Jazzuality. He has written over 15 books on media, management and culture, and is research director for YourStory Media. Madan was formerly World Music Editor at Rave magazine and RJ at WorldSpace, and can be followed on Twitter at @MadanRao.