In addition to being widely acknowledged as the United States' finest dobro players Jerry Douglas is a freewheeling recording artist whose output draws upon a bottomless well of musical inspiration incorporating elements of bluegrass, country, rock, jazz, blues, and Celtic into his distinctive musical vision.
The Ohio-born Douglas was seduced by music early in life. At the age of eight he was taken by his father-a steelworker who played bluegrass in his spare time-to a Flatt and Scruggs concert where he was immediately attracted to the sound of the dobro. He began playing the instrument in earnest soon after. "I just liked the sound it made, he recalls.,It can be real lonesome or it can be really brash and percussive. It's such a vocal instrument; you can do so many things on it because of the sustain, and because there's all these different voices you can get out of it."
After several years of playing with his dad's group the West Virginia Travelers the 17-year-old Douglas joined the pioneering newgrass band the Country Gentlemen in 1973. The following year he became a member of the seminal J.D. Crowe and the New South which also included future stars Ricky Skaggs and Tony Rice. In 1976 Douglas and Skaggs co-founded the now-legendary bluegrass combo Boone Creek. In 1979 Douglas launched his solo career with his LP Fluxology and became a full-time member of the beloved family group the Whites. He remained with the Whites until 1985 but still found time to play on such now-classic albums as Emmylou Harris' Roses in the Snow and Ricky Skaggs' Don't Get Above Your Raising.
By the time he left the Whites Douglas had become Nashville's busiest session dobro player while continuing his solo career with such albums as 1982's Fluxedo (for which he won his first Grammy for Best Country Instrumental) Under the Wire (1986) Changing Channels (1987) Everything Is Going To Work Out Fine (1987) Plant Early (1989) and Slide Rule (1992). In the late '8s he formed the seminal acoustic supergroup Strength in Numbers with Sam Bush, Bela Fleck, Edgar Meyer, and Mark O'Connor; the quintet debuted with 1989's The Telluride Sessions.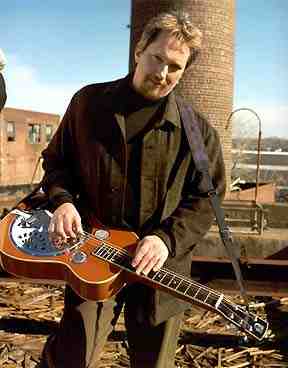 Jerry Douglas formed a trio with Russ Barenberg and Edgar Meyer to record the 1993 album Skip Hop and Wobble. The next year Douglas co-produced and performed on the all-star multi-artist project Great Dobro Sessions for which he won a second Grammy for Best Bluegrass Album. In 1996 Douglas joined Edgar Meyer and Indian musician Vishwa Mohan Bhatt for the genre-bending experiment Bourbon and Rosewater and collaborated with singer-songwriter Peter Rowan on the album Yonder. Douglas released his next solo effort Restless on the Farm in 1998.
It was around that time that Douglas chose to abandon his lucrative session career which had ceased to offer new musical challenges. "I did so many sessions for so long and it wasn't really doing anything for me anymore," he explains. "I was making a fine living playing on people's records but the music changed and I didn't really like where mainstream country was going. It started to really bother me so I had to stop."
At around the same time Alison Krauss asked Douglas to fill in on a Union Station tour. The shows went so well that Krauss offered him a permanent slot in the group. "I really love playing with Alison; it's a creative atmosphere and the music is coming from all of us so it's a dream gig." Since then he's managed to balance his Union Station work with his solo career and a variety of collaborative efforts. One such project was the surprise smash O Brother Where Art Thou? soundtrack for which Douglas helped to recruit musicians and played on three songs including the Soggy Bottom Boys' "I Am a Man of Constant Sorrow." He also made a brief onscreen appearance in the film.
In 2002 Douglas released the solo album Lookout for Hope and won three Grammy Awards for his work with Union Station and Earl Scruggs as well as receiving five Grammy Award Acknowledgements for the O Brother soundtrack and its live sequel Down from the Mountain. He was also named Musician of the Year by the Academy of Country Music and the Country Music Association's Musician of the Year as well as the Americana Music Association's Instrumentalist of the Year.
Summer 23 found Douglas on stage with Norah Jones and her band for sets at the Montreal Jazz Festival and at the Tennessee Performing Arts Center. That fall he was honored with his second Instrumentalist of the Year title from the Americana Music Association. In 2004 the National Endowment for the Arts awarded Douglas a National Heritage Fellowship.
When New York hosted Country Music's Biggest Night in November 2005 the Country Music Association honored Jerry Douglas with his second Musician of the Year Award. Douglas also performed with Alison Krauss + Union Station during the Awards Ceremony from Madison Square Garden which was broadcast worldwide to over 36 million viewers.
Grammy Week 2006 was a busy one for Douglas. With his fellow NARAS Board Members Douglas honored his friend James Taylor MusiCares' 2006 Person of the Year. Douglas teamed with Alison Krauss to deliver Carolina In My Mind during the musical tribute and at the honoree's request joined Taylor and band to finish out the show. Douglas also was on the Who's Who list of guitar slingers invited to perform at a concert paying homage to legendary guitar player Les Paul at the Gibson Amphitheatre.
Capping off the week was the Grammy Awards Show with Jerry Douglas receiving three Grammys for his work with Alison Krauss + Union Station on Lonely Runs Both Ways. The band picked up the prestigious Best Country Album Award as well as winning Grammys for Best Country Instrumental Performance for the Douglas composition Unionhouse Branch and Best Country Vocal Performance Duo or Group for Restless.
In addition to his solo releases Douglas' stellar fretwork has graced over 1 albums encompassing a dizzying range of musical styles. As a sideman he's recorded with artists as diverse as Garth Brooks, Ray Charles, Emmylou Harris, Reba McEntire, Dolly Parton, Paul Simon, Ricky Skaggs, James Taylor, Randy Travis and Trisha Yearwood as well as performing on the landmark O Brother Where Art Thou? soundtrack. As a producer he's overseen albums by such esteemed acts as the Del McCoury Band, Maura O'Connell, Jesse Winchester and the Nashville Bluegrass Band. He's been part of such notable groups as the Whites J.D. Crowe and the New South the Country Gentlemen and Strength in Numbers. Since 1998 he's been a key member of Alison Krauss and Union Station touring extensively and playing on a series of platinum albums.
The Best Kept Secret Douglas' eleventh solo album and his first for the Koch label features a set of original instrumentals that seamlessly merge Douglas' far-flung influences. The material ranges from the jazzy bluegrass workout "Who's Your Uncle?" to the funky country-rocker,She Makes Me Want To Sing" to the jazz-inflected title song to the haunting reflective,Sir Aly B." The latter track references legendary Celtic fiddler Aly Bain with whom Douglas collaborated on the all-star roots-music summit Transatlantic Sessions series for British TV. In addition to Douglas' own compositions the album features a haunting reading of the vintage Weather Report number A Remark You Made, underlining Douglas' instinctive affinity for jazz.
"This record ended up being a surprise to me, states Douglas,and it wasn't until I was halfway through it that I realized it was gonna be different. For a minute I worried about what the bluegrass people would think and what the country people would think but I know better than to think too much about that stuff."
Along with the current lineup of Douglas' band the Brickbats-guitarist Keith Sewell bassist Derek Jones drummer Shannon Forrest and violinist Gabe Witcher better known to rock fans as bassist for Eve 6-The Best Kept Secret features a typically varied array of guest musicians. The cast includes young axe hero Derek Trucks who plays bracing slide guitar on "She Makes Me Want to Sing"; revered jazz guitarist Bill Frisell who lends his trademark touch to the languid bluesy,Lil' Ro Ro"; noted bassist Viktor Krauss who also plays on the latter song; and longtime Douglas pals Sam Bush and Bela Fleck whose world-class mandolin and banjo respectively are featured on "Who's Your Uncle?"
The Best Kept Secret also includes a pair of vocal numbers featuring two notable guest singers. Alison Krauss delivers Back in Love Again, while roots-rock legend John Fogerty participates on the rollicking,Swing Blues #1." Those tunes follow in the tradition of Douglas' prior albums which have featured such singers as Steve Earle and James Taylor.
"Backing good singers is what I've made a lot of my living at and I think that it's something that I do well so I like to represent that on my records," says Douglas. "There's a real art to backing singers to staying out of their way and complementing what they're saying."
Douglas originally met Fogerty through their mutual love of dobro.,He came through the South on a dobro-buying trip and he asked to see my collection, he says.,That completely freaked me out because I was such a huge Creedence fan. I found out that we had the same birthday and had all these things in common and we became good friends. Then I played on one of his records not long ago and I sheepishly asked him if he'd be interested in someday doing something on one of mine. He said 'When do you want to do it? ' and I said 'There's one happening now…' We went through the song five or six times and basically got it in one take."
In addition to showcasing his expressive dobro work The Best Kept Secret also features Douglas' equally stellar abilities on lap steel guitar on such tracks as "Ya Ya" and "You Are My Flower." "It's the most lap steel I've played on any record I've ever done, he says adding,Going from acoustic dobro to lap steel is kind of like going from using a handsaw to using a chainsaw. The two instruments are related but they call for two completely different sets of techniques and two different ways of thinking."
Author:
Angel Romero
Angel Romero y Ruiz has been writing about world music music for many years. He founded the websites worldmusiccentral.org and musicasdelmundo.com. Angel is also co-founder of the Transglobal World Music Chart.
Angel has also produced and remastered world music studio albums and compilations for labels such as Alula Records, Ellipsis Arts, and Music of the World.