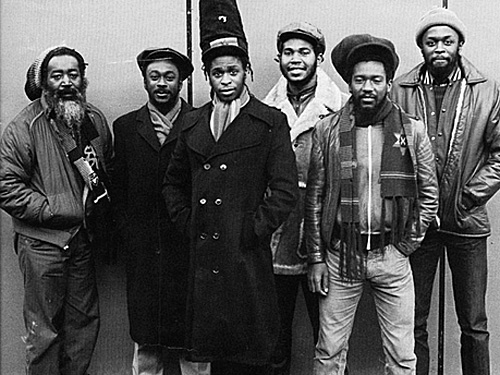 Steel Pulse was formed in 1975 in the UK with a firm commitment to fighting injustice, educating the masses, and promoting positive messages through spiritually uplifting music.
Probably the UK's most highly-regarded roots reggae act, Steel Pulse originally formed at Handsworth Wood Boys School, Birmingham, and featured David Hinds (lead vocals, guitar), Basil Gabbidon (lead guitar, vocals) and Ronnie McQueen (bass).
However, it is Hinds who, as songwriter, has always been the foundation of Steel Pulse, from their early days establishing themselves in the Birmingham club scene onwards. Formed in 1975, their debut release, 'Kibudu, Mansetta And Abuku" arrived on the small independent label Dip, and linked the plight of urban black youth with the image of a greater African homeland. They followed it with 'Nyah Love' for Anchor.
Surprisingly, they were initially refused live dates in Caribbean venues in the Midlands because of their Rastafarian beliefs. Aligning themselves closely with the Rock Against Racism 1 organization, they chose to tour instead with sympathetic elements of the punk movement, including the Stranglers, XTC etc.: "Punks had a way of enjoying themselves – throw hordes at you, beer, spit at you, that kind of thing".
Eventually they found a more natural home in support slots for Burning Spear, that brought them to the attention of Island Records. Their first release for Island was the 'Ku Klux Klan' 45 rpm, a considered tilt at the evils of racism, and one often accompanied by a visual parody of the sect on stage.
By this time their band had swelled to include Selwyn 'Bumbo' Brown (keyboards), Steve 'Grizzly' Nesbitt (drums), Fonso Martin (vocals, percussion) and Michael Riley (vocals). Handsworth Revolution was an accomplished long playing debut and one of the major landmarks in the evolution of British reggae.
However, despite critical and moderate commercial success over three albums, the relationship with Island had soured by the time Caught You (released in the US as Reggae Fever) came out. They switched to Elektra, and revealed their most consistent collection of songs since their debut with True Democracy, distinguished by the Garvey eulogizing 'Rally Around' cut.
A further definitive set arrived in Earth Crisis. Unfortunately, Elektra tried to coerce Steel Pulse into a more mainstream vein, asking them to emulate the pop-reggae style of Eddy Grant. Babylon the Bandit was consequently weakened, but did contain the anthemic 'Not King james Version', which was a powerful indictment on the omission of black people and history from certain versions of the Bible. Babylon the Bandit won the Best Reggae Band Grammy award.
Their next recording was State of Emergency (MCA), which retained some of the synthesized dance elements of its predecessor. Though it was a significantly happier compromise, it still paled before any of their earlier albums.
Spike Lee met Steel Pulse at the group's fund raising concert in Washington DC for the Jamaican victims of 1988's Hurricane Gilbert. This resulted in David's composition 'Can't Stand it' featuring in Lee's Do the Right Thing movie soundtrack.
Rastafari Centennial was recorded live at the Elysee Montmartre in Paris, and dedicated to the hundred year anniversary of the birth of Haile Selassie. It was the first recording since the defection of Fonso Martin, leaving the trio of David Hinds, Steve Nisbett and Selwyn Brown.
In the United States their reputation was growing, becoming the first ever reggae band to appear on the Tonight television show.
Their profile was raised further when, in 1992, the band filed a $1 million class action lawsuit against New York City's Taxi & Limousine Commission. The group charged that cabbies refused to pick up blacks and Rastafarians throughout the streets of New York. This lawsuit initiated a video, Taxi Driver, with a supporting cast that included the Reverend Al Sharpton, Jay Leno, Branford Marsalis, C. Thomas Howell, Robert Townsend and the late Tony Johnson, the inspiration behind Sunsplash.
"We just can't ignore the politics, because every life and soul that's born on this earth is a political maneuver for someone, at some stage", Hinds explained. "From a spiritual aspect, it's really an upliftment through facing reality – what's out there. We deal with positive spirits. It means putting aside the guns, the drugs and all of the things that are ailments of society – especially the black communities right now".
In 1993, at the request of the Clinton Administration, Steel Pulse became the first reggae band ever to perform during the inaugural festivities in Washington DC.
The following year, the group headlined large-scale music events including the US Reggae Sunsplash Tour, Japanslpash, Northern California's Reggae on the River Festival and embarked on a successful tour of South America.
1995 saw an extensive Caribbean tour followed by an appearance in January 1996 at the prestigious Hollywood Rock Festivals in Rio de Janeiro and Sao Paulo which featured Page and Plant, The Cure, Smashing Pumpkins and Aswad amongst others. Later that year Steel Pulse released their derivative best of album titled Rastanthology and followed this up in 1997, with the Grammy nominated, Rage and Fury album.
Extensive worldwide touring throughout the remainder of that year and 1998 included shows at MTV's Boardaid in California and the environmental Waterman's Ball in Los Angeles. December '98 saw the return to Africa for the first time in fifteen years when they played the Ivory Coast. Hind's notes "//it was a tremendous sight to behold and the ecstatic moral boost to our existence was so energizing//".
For 1999, the group was headliner for the world-wide Spirit of Unity Tour and in August 1999 released a second live album titled Living Legacy (Tuff Gong international) that was recorded Live in Paris, Holland and Puerto Rico.
Discography
* Kibudu, Mansetta And Abuku (Dip, 1975)
* Nyah Love (Anchor)
* Handsworth Revolution (Island Records, 1978)
* Tribute to the Martyrs (Island Records, 1979)
* Caught You, also known as Reggae Fever (Island Records, 1980)
* True Democracy (Elektra, 1982)
* Earth Crisis (Elektra, 1984)
* Babylon the Bandit (Elektra, 1986)
* State of Emergency (MCA, 1988)
* Victims (1991)
* Rastafari Centennial – Live In Paris at Elysee Montmartre (MCA, 1992)
* Vex (1994)
* Rage and Fury (1997)
* Living Legacy (Tuff Gong international, 1998)
* African Holocaust (2004)
Videos
* Steel Pulse: Live From the Archive (2003)
* Steel Pulse: Door of No Return (2008)
Author:
Angel Romero
Angel Romero y Ruiz has been writing about world music music for many years. He founded the websites worldmusiccentral.org and musicasdelmundo.com. Angel is also co-founder of the Transglobal World Music Chart.
Angel has also produced and remastered world music studio albums and compilations for labels such as Alula Records, Ellipsis Arts, and Music of the World.