King Sunny Ade was born Sunday Adeniyi in the Ondo State of western Nigeria in 1946, the son of a Methodist minister. Although his father was a church organist and his mother sang in the church choir, his parents rejected his musical aspirations. He was, after all, Nigerian royalty — a prince in fact — and a career in law seemed more appropriate. Sunny Ade started with percussion. At the age of seven, he would follow his mother to church and he liked to be in between those people playing percussion. From there, he started touching the drums.
Sunny Ade began his musical career when he dropped out of school, at the age of 17, first joining the band of a traveling musical comedy troupe. Ade later moved to Lagos, the capital of Nigeria, where he joined a highlife (Nigerian dance music) band. Inspired by the music of Nigerian musician I.K. Dairo and American artists like James Brown, Brook Benton and Jim Reeves, Sunny Ade joined the Rhythm Dandies, led by Moses Olaiya (later known as Baba Sala). As his interest in his own Yoruban culture grew, however, Sunny Ade joined Juju bands. King Sunny was influenced by the legendary Tunde Nightingale (early Juju pioneer) and borrowed stylistic elements from Nightingale's 'So wa mbe' style of Juju.
Until civil war broke out in Nigeria in the 1960s, highlife was king, but as the band leaders, many of whom were from eastern Nigeria, headed home to join their Ibo compatriots, many stages were left to be filled. Juju ascended and Sunny Ade along with it.
In 1966, Ade created his own group called the Green Spots Band and from then on refused to take orders. His first big hit, in 1967, was in honor of the local soccer team, the Stationery Stores Football Club. "Challenge Cup" sold over half a million copies, more than any Juju record had done before. Two and three best-selling albums have followed every year since, until, by 1976, Ade was chosen as best musician in Nigeria and called the King of Juju by his fans. It is a name he has held on to ever since.
After eight years in which the the Green Spots Band recorded 12 LPs for the Nigerian Africa Song label, Ade decided to form his own record company in 1974. At that time he changed the name of his band to the African Beats.
King Sunny Ade and The African Beats tour with a line-up of 20-30 members. They play a spacey, jamming sort of Juju, characterized by tight vocal harmonies, intricate guitar work, backed by traditional talking drums, percussion instruments, and even adding the unusual pedal steel guitar and accordion.
Even though he has released more than 100 records in Nigeria, the King first became known in the United States after a critically acclaimed three-record run on Island Records in the 1980s. Since then, he and his African Beats have become perhaps the leading lights in bringing African pop to the West.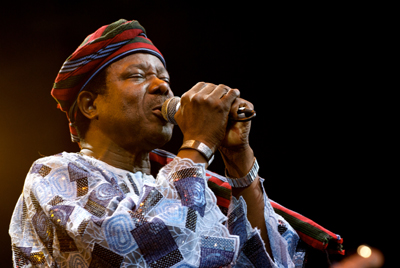 Sunny Ade is known to many Nigerians as the Chairman, a title he earned due to his leading in numerous and diverse businesses. King Sunny has invested the revenues earned as a music superstar into participation in a multitude of companies, including an oil firm, a mining company, a nightclub, a film and video production house, record labels for African artists and a few other enterprises.
About 70% of Sunny Ade's business is about music. The Chairman estimates that over 700 people work for him in one way or another, with 200 of them directly employed in music. Sunny Ade also chairs the Musical Copyright Society of Nigeria, an organization whose mandate is to halt the uncontrolled record piracy that plagues Africa, as well as to protect the intellectual property and international copyrights of his fellow musicians.
In his continuing efforts to support African music, Sunny has also established the King Sunny Ade Foundation, which the Chairman founded with Nigerian civic and business leaders. The Foundation is situated on a large parcel of land donated by the Lagos State Government. It includes a performing arts center, a fully equipped recording studio and housing for young performers and musicians, and offers financial assistance to both the children of dead musicians as well to elderly musicians who can no longer perform.
Selected Discography
* Juju Music (Mango, 1982)
* Live at Montreux (PolyGram, 1982)
* Synchro System (Mango, 1983)
* Vintage (King Sunny Ade Nigeria, 1984)
* Aura (Mango, 1984)
* Explosion (Sar, 1985)
* Togetherness (Sar, 1985)
* Gratitude (Sar, 1985)
* The Truth (Sar, 1985)
* The Return of the Juju King (Mercury, 1988)
* Live Live Ju Ju (Rykodisc, 1988)
* Live at the Hollywood Palace (Sound Wave, 1992)
* E Dide (Get Up) (Mesa, 1995)
* Odu (Mesa/Atlantic, 1998)
* Seven Degrees North (Mesa/Bluemoon, 2000)
* Synchro Series (IndigeDisc, 2003)
Anthologies and compilations
* Best of the Classic Years (Shanachie)
* Gems from the Classic Years 1967-1974 (Shanachie)
Author:
Angel Romero
Angel Romero y Ruiz has been writing about world music music for many years. He founded the websites worldmusiccentral.org and musicasdelmundo.com. Angel is also co-founder of the Transglobal World Music Chart.
Angel has also produced and remastered world music studio albums and compilations for labels such as Alula Records, Ellipsis Arts, and Music of the World.