Hagop Goudsouzian – Armenian Minstrels and Armenian Echoes (Hagop Goudsouzian Productions)
When was the last time you had a hostess sit before a neatly set table, complete with floral china cups, and offered her guests a charming, a cappella folk song while wearing a lime green Nestlé Frutina T-shirt? Probably never would be my guess. But that's exactly what you get and so much more with Armenian and Canadian filmmaker Hagop Goudsouzian's collection of films Armenian Minstrels and the three-part series Armenian Echoes.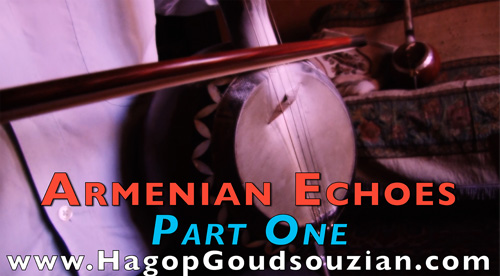 Producer and director of a bevy of television programs, as well as the films Apricot Armenian Gold, Armenian Exile and My Son Shall Be Armenian produced by the National Film Board of Canada, Mr. Goudsouzian has set his sights on capturing Armenia's musical soul by way of Armenian Minstrels and Armenian Echoes. Maybe some have caught these gems on your local PBS stations, but for those who haven't these films they are not-to-be-missed glimpses into the riches of the heart of the often overlooked Armenian people.
Mr. Goudsouzian is generous as he introduces viewers to the Sayat-Nova Minstrel Song Ensemble in Armenian Minstrels and to artists like Minstrel Andranik Ujanci and Minstesl Makhmour, as well as the studio work of the group and the students of the Jivani School of Minstrel Art.
We get a listen to the vocals of Tovmas Poghosyan, a professor and the artistic director and president of the Sayat-Nova Cultural Union in the recording studio, a peek into Garine Haroyan's archival work for the center and a behind-the-scenes look as the ensemble prepare for a concert.
The interview with Minstrel Kochar as he explains his early singing roles during his Soviet era school years and his backyard performance at his village home in Yeghis is indeed a delight. It also leave the viewer wanting, because, hey, what are these fruits that the bears eat in the mountains?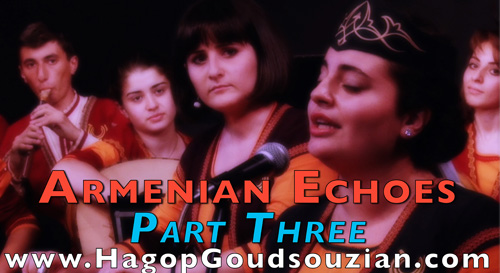 It's easy to fall headlong into the kaleidoscope of colors and sounds with the trilogy Armenian Echoes as the films follow the work and artists of the Aram Merangulyan Folk Instruments Ensemble and its kamancha maker, player and concertmaster Onik Galstyan, the deeply lovely vocals of National Chamber Choir under direction of Robert Mikeyan and collaboration with composer and musicologist Arthur Shahnazarian, the reverence of song of the Choir of the Mother Cathedral of the Mother See of Holy Etchmiadzin, the bright work of the Naregatsi Folk Instruments Ensemble.
What's easier is to fall under the spell of is the elderly minstrel Edik Safaryan as he sings one his songs dedicated to his wife Knarig, the dancers of the Vardanyan Sisters Dance Troupe and Edmon Safaryan playing the duduk along with fellow musicians Khatchik Sogoyan, Gargan Hakopyan and Ura Hakopyan.
Perhaps my favorite is Bogdan G. Hovhannisyan, amateur folk song collector and khachkar (an Armenian stone carving with origins dating back to the 9th century) carver and engraver. Amid the jumble of his workshop, Mr. Hovhannisyan treats viewers and his assistant to a song before he explains his passion for folk songs that began under the Soviets when it was not encourage and his founding of a folk choir in the Lori region of Armenia.
https://vimeo.com/195574555
Despite all the charms of the landscape Mr. Goudsouzian offers, the smiles of dancers and joyful offerings of song throughout these films, viewers are reminded of the seriousness with which all these artists have devoted themselves.
There are reminders of a sometimes harsh reality as the director of the Sayat-Nova Cultural Union struggles with financing now that the state no longer provides funds, the sorrow that many Armenians simply emigrate to other countries to find better lives, the remaining scars of lands that once belonged to the Armenian people, a genocide and the horrific ravages of the 1988 Armenian earthquake that killed some 50,000 people and destroyed nearly 500,000 buildings. But there is a stubborn perseverance to keep going and to take the business of cultural preservation seriously. Nothing could sum up this sentiment better than a young singer from the Surb Tiramayr Choir from Vanadzor when she says, "Singing spiritual songs is a very difficult and a big responsibility. We have taken it upon ourselves, because they are the heartfelt songs of our people and they don't take it very well if it's poorly sung. You must sing it very well or resign."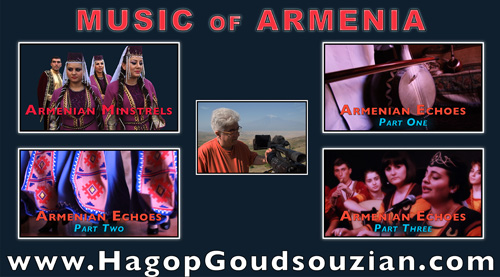 There are no slick rock star musicians, no big haired divas, no Dancing with the Stars anywhere in sight in Armenian Minstrels and Armenian Echoes – no, these small town dancers, striped shirted religious singers and mountain side saz players and minstrels are better. By way of Armenian Minstrels and Armenian Echoes, Mr. Goudsouzian had opened a treasure trove of the delights of the Armenian soul.
Purchase the videos at http://www.hagopgoudsouzian.com/world_music2
Author:
TJ Nelson
TJ Nelson is a regular CD reviewer and editor at World Music Central. She is also a fiction writer. Check out her latest book, Chasing Athena's Shadow.
Set in Pineboro, North Carolina, Chasing Athena's Shadow follows the adventures of Grace, an adult literacy teacher, as she seeks to solve a long forgotten family mystery. Her charmingly dysfunctional family is of little help in her quest. Along with her best friends, an attractive Mexican teacher and an amiable gay chef, Grace must find the one fading memory that holds the key to why Grace's great-grandmother, Athena, shot her husband on the courthouse steps in 1931.
Traversing the line between the Old South and New South, Grace will have to dig into the past to uncover Athena's true crime.