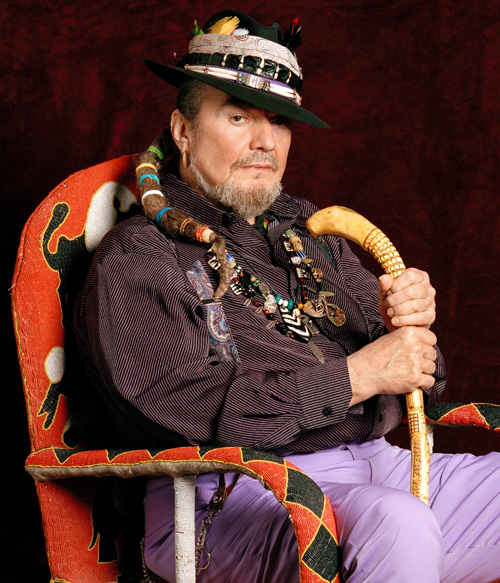 Dr. John, or Mac Rebennack as known to friends and family, stands alongside of Louis Armstrong and Fats Domino as one of New Orleans' all-time distinctive voices. He was born in New Orleans on November 21st of 1940.
His very colorful musical career began in the 1950s when he wrote and played guitar on some of the greatest records to come out of the Crescent City, including recordings by Professor Longhair, Art Neville, Joe Tex and Frankie Ford.
During the 1950s and 60s, he worked as an R&B session man. A notorious gun incident forced the artist to give up the guitar and concentrate on organ and piano. Further trouble at home sent Dr. John west in the 1960s, where he continued to be in demand as a session musician, playing on records by Sonny and Cher, Van Morrison and Aretha Franklin to name a few.
He also launched his solo career, developing the charismatic persona of Dr. John The Night Tripper. Adorned with voodoo charms and regalia, a legend was born with his breakthrough 1968 album Gris-Gris, which established his unique blend of voodoo mysticism, funk, rhythm & blues, psychedelic rock and Creole roots.
Several of his many career highlights include the masterful album The Sun, Moon & Herbs in 1971 which included cameos from Eric Clapton and Mick Jagger and 1973's In the Right Place, which contained the chart hits "Right Place Wrong Time" and "Such A Night."
Dr. John garnered Grammy award wins in 1989, 1992, 1996 and 2000. He has also received five other nominations over the years. In 2004, his musical love letter to the city of New Orleans, N'Awlinz: Dis Dat or d'Udda, was awarded the prestigious Académie Charles Cros 57ème Palmarès award in France. It was the first time since the 1970s that an artist from North America received the award.
In the aftermath of Hurricane Katrina, as the storm passed but the situation worsened, Dr. John responded in the way he knows best: musically. Dr. John and his band headed into a studio in upstate New York to record a seven-track EP dedicated to the Crescent City. Sippiana Hericane was released by Blue Note Records and all the proceeds from the CD sales were divided equally between the New Orleans Musicians Clinic, the Jazz Foundation of America and the Voice of the Wetlands.
The EP's centerpiece, a four-part suite "Wade: Hurricane Suite" is book-ended by "Clean Water," a song composed by Dr. John's good friend and New Orleans songwriter Bobby Charles, and a version of Dr. John's "Sweet Home New Orleans" with new lyrics penned by his wife and songwriting partner Cat Yellen. A brief reprise of "Clean Water" ends the EP.
The following is a statement from Dr. John on the devastation of his hometown of New Orleans: "I love New Orleans. I love the people, its food, its culture, the music and the lifestyle. New Orleans is the best of everything. I'm saddened and angered by what has happened. If anybody in the government would've done something about the disappearing wetlands for the past fifty years, then this probably wouldn't have been as bad.
The federal, state and local governments have known for a long time that certain things needed to be done to protect New Orleans. The levees should've been able to deal with this assault. Now a high price will be paid for neglecting the needs of the city and its people. It makes me think of what my friend Reverend Goat just told me, 'Let me say this before it goes any further. New Orleans didn't die of natural causes, she was murdered.' Everyone should donate what they can to the relief effort."
Mercernary, released in 2006, was an idea that came from Dr. John's daughter Tina, who pointed out that "Personality," a 1946 hit for Johnny Mercer, would be a perfect fit for her dad's down-home style. In fact, Tina suggested, why not do a whole album of songs written or popularized this giant of American popular music? That got Mac thinking. Mercer was a fellow Southerner and workaholic—the Savannah-born artist wrote the words, music or both to a good 1,500 songs, a remarkable number of them classics, as well as spending decades as a performer.
"I just loved the way Johnny sold that song Personality," Mac said. "It was so much out of the old burlesque thing, and you could tell he knew that stuff, and he always appeared to me to have that Southern something about him. He just hit the lines in songs that was like the real McGillicuddy. He was a great singer, a great A&R man, a producer, and he even started Capitol Records. So we started looking at some Mercer stuff."
After running the idea past Blue Note and getting an enthusiastic response, Dr. John got down to business, poring over Mercer's massive songbook. "I wanted to pull as many of the ones that people weren't as familiar with, but it was impossible," he added. "One thing about Johnny Mercer's stuff is that even the songs that aren't that well known are well known from something."
One of the biggest challenges Dr. John faced was coming up with an original that would both sum up the album's personality and sit comfortably among his interpretations of Mercer's songs. "My tribute to Johnny Mercer," he said, "is 'I Ain't No Johnny Mercer,' which I ain't. But I took a lot of words from a lot of his songs that I would have never thought to use. I never in my life would've thought to use a word like 'apoplexy' in a song. I took some lines from 'Pardon My Southern Accent' and messed that up, too. Even took my favorite word he used in 'Moon River'—'my huckleberry friend." But what I tried to do was take some Johnny Mercerisms, and just do them the way I would do them to make a little riff at Johnny, with him and about myself. I figured if I'm coppin' on Johnny Mercer, I might as well cop on myself while I'm doing it. I may not be as good of a mercenary as Johnny Mercer was, but, whatever way you wanna break it down, I'm a mercenary in my own right."
Mercernary was recorded at New Orleans' Piety Street Studio in the spring of 2005, a few months before Hurricane Katrina hit. The facility, located in the Bywater (once referred to by locals as the Upper Ninth Ward), escaped serious damage, and it's back in business now. Despite these and other pockets of activity, says Rebennack, "Every time I go back, I get weirded out by how little or nothing is going on. Sippiana Hericane was a labor of shock. This record was a regulation recording, and I hope it'll do something in some way to help New Orleans."
In 2008 Dr. John signed a multi-record agreement with the Savoy Label Group's 429 Records. His first release under 429 Records was titled The City That Care Forgot, dedicated to Dr. John's beloved New Orleans. The album features guest artists Eric Clapton, Willie Nelson, Ani DiFranco and Terence Blanchard.
In 2016, producer Don Was led a tribute concert to Dr. John at New Orleans' historic Saenger Theatre. The resulting 2-CD live album, The Musical Mojo of Dr. John: A Celebration of Mac and his Music, featured guest appearances by Bruce Springsteen, John Fogarty, and Mavis Staples, along with New Orleans stars including Allen Toussaint, Irma Thomas, Dirty Dozen Brass Band and Big Chief Monk Boudreaux.
After a half century of creating music for others and himself, Dr. John continues to compose, arrange, produce and perform with passion.
Dr. John died June 6, 2019.
Discography
* Gris-Gris (Atco SD 33-234, 1968)
* Babylon (1969)
* Remedies (Atco SD 33-316, 1970)
* The Sun, Moon & Herbs (Atco SD 33-362, 1971)
* Gumbo (1972)
* In the Right Place (Atco SD 7018, 1973)
* Triumvirate, with Michael Bloomfield, John Hammond (1973)
* Desitively Bonnaroo (Atco SD 7043, 1974)
* Hollywood Be Thy Name (UA-LA552G, 1975)
* City Lights (Verve, 1978)
* Tango Palace (Horizon SP-740, 1979)
* Dr. John Plays Mac Rebennack Vol. 1 (1981)
* Dr. John Plays Mac Rebennack Vol. 2 (The Brightest Smile in Town) (1983)
* In a Sentimental Mood (Warner Brothers, 1989)
* Goin' Back to New Orleans (1992)
* Television (Grp Records, 1994)
* Afterglow (Grp Records, 1995)
* Anutha Zone (Virgin Records, 1998)
* Duke Elegant (Blue Note, 2000)
* Funky New Orleans, with the Donald Harrison Band (2000)
* Creole Moon (Blue Note, 2001)
* N'Awlinz: Dis Dat or d'Udda (Blue Note, 2004)
* Sippiana Hericane (Blue Note, 2005)
* Mercernary (Blue Note 54541, 2006)
* The City That Care Forgot (429 records, 2008)
* Curious George: A Very Monkey Christmas – Music From The Motion Picture (429/Savoy, 2009)
* Tribal (429/Savoy, 2010)
* Locked Down (Nonesuch, 2012)
* Ske-Dat-De-Dat: The Spirit of Satch (Concord, 2014)
* The Musical Mojo of Dr. John: Celebrating Mac and His Music (Concord, 2016)
Web site: http://www.drjohn.org
Author:
Angel Romero
Angel Romero y Ruiz has been writing about world music music for many years. He founded the websites worldmusiccentral.org and musicasdelmundo.com. Angel produced several TV specials for Metropolis (TVE) and co-produced "Musica NA", a music show for Televisión Española (TVE) in Spain that featured an eclectic mix of world music, fusion, electronica, new age and contemporary classical music. Angel also produced and remastered world music albums, compilations and boxed sets for Alula Records, Ellipsis Arts, Music of the World.