The annual Jaipur Literature Festival (JLF), held every January in Rajasthan, is widely regarded as one of India's best literary events, and indeed one of the world's largest free events of its kind (see my compilation of 75 Inspiring Quotes from the 2017 edition). It's not just the established and emerging authors that are a popular draw, but also the celebration of art and music that have become major attractions at the five-day event.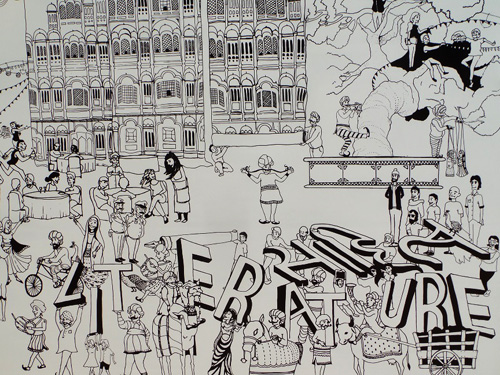 The music lineup at the 10th edition of the festival featured a range of artistes at three locations: the festival venue Diggi Palace in the mornings, an evening heritage showcase at Amber Fort, and night-time performances in the lawns of Hotel Clarks Amer.
Day One
The first musical performance was by the Shillong Chamber Choir from Northeast India. The choir covers everything from Indian cinema to opera. "It's not music that is the difficult part. It is sticking together that takes effort," explained lead singer William Richmond Basaiawmoit in an interview.
The evening performances kicked off with a high-energy set by Rajasthan Josh, a folk band performing a wide range of traditions of the north-western region of India. Featured instruments included the morchang, bhapang, khartaal, double flute, and nagada, performed in traditional bhajans as well as mystic Sufi Rajasthani compositions. The colorful folk dances on the superbly-designed stage also drew loud applause.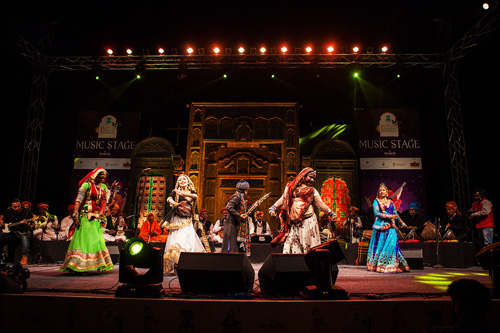 The second band to take the outdoor stage on the chilly night was Kabir Café, who play a genre called Kabir Rock, derived from the teachings and music of the 15th-century Indian mystic poet and saint Kabir. The lineup includes Neeraj Arya (vocals, guitar), Mukund Ramaswamy (violin), Viren Solanki (percussion) and Raman Iyer (mandolin). The messages of devotion, tolerance and inner faith, set to contemporary rhythms, resonated well with the audience at the literature festival.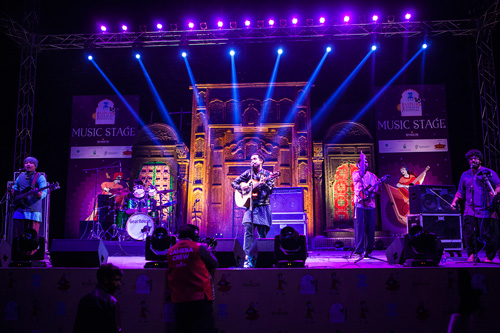 Day Two
The morning of Day Two kicked off with a performance at the lit-fest venue by Swanand Kirkire (Hindi singer and lyricist) and Ankur Tewari (Bollywood lyricist and composer). The evening highlight at the scenic Amber Fort was sarod maestro Ustad Amjad Ali Khan. The sarod has been derived by modifying the ancient folk instrument of Iran, rabab. Khan also has a wide range of collaborations with Western classical musicians, and his legacy carries on with his two sons, Amaan and Ayaan, themselves accomplished sarod artistes.
The night-time performances kicked off with Bombay Bassment, with the sounds of hip-hop, reggae, funk, and drum & bass. The members include drummer Levin Mendes and bassist Ruell Barretto, along with Kenyan rapper Robert Omulo (aka Bobkat) and Chandrashekhar Kunder aka Major C, a DJ. Their first album was released in 2014, and the band has performed across India as well as at the Glastonbury Festival and the Reunion Kaloobang Festival.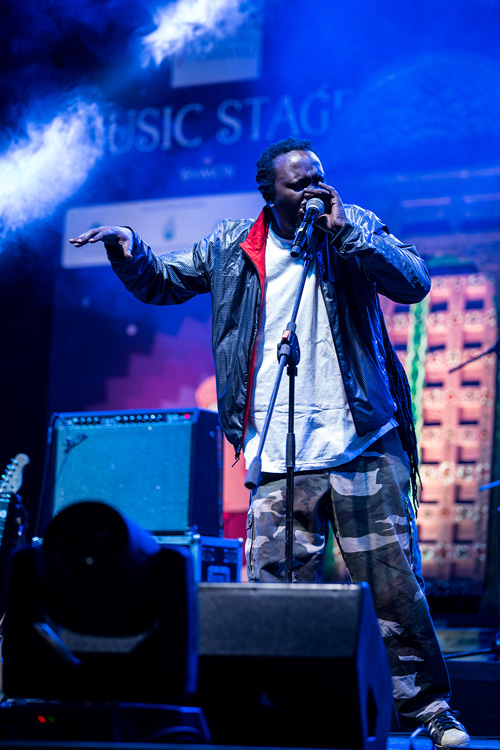 The final act on Friday night was Inna Modja, a singer-songwriter from Mali. Her hit songs include 'Mister H', 'French Cancan' and 'La Fille du Lido.' The performance blended Motown soul, Sahel desert blues, Mandinka guitars, a Fula flute, and kora.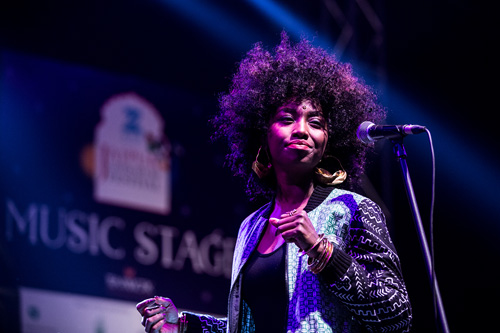 Day Three
The Saturday morning vocal performance featured Padmini Rao, exponent of the Kirana Gharana form of North Indian classical music. Rao is a senior disciple of renowned singer Dr. Prabha Atre, and also studied under the guidance of the late Ustad Zia Mohiuddin Khan Dagar.
The evening show kicked off with the melodic combination of Beth Orton and Sam Amidon.
Beth Orton is a singer-songwriter from the UK who has released six acclaimed albums, including Kidsticks. Sam Amidon is a singer/banjoist/guitarist from Vermont, with five albums to his credit (the latest is Lily-O). To the audience's delight, folk band Rajasthan Josh also joined them for a memorable collaboration at the end, and Western folk harmonics smoothly blended with Rajasthani folk and dance to a rousing crescendo.
Top Indian blues band Soulmate wrapped up the Saturday night showcase, with a sizzling set of vocals and guitar. The quartet was formed in Shillong in 2003 by guitarist Rudy Wallang and vocalist Tipriti Kharbangar, along with Leon Wallang (bass) and Vincent Tariang (drums). Tipriti drew rousing applause for her songs 'Voodoo Woman' and especially 'Keep your hands off me,' in protest against incidents of women being assaulted by men.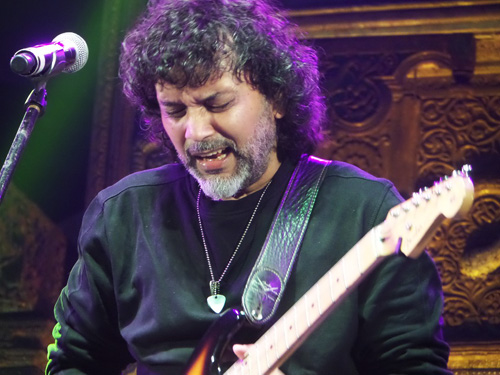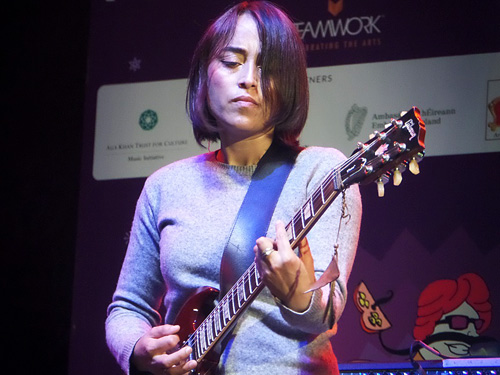 Day Four
Sunday morning kicked off with vocalist Devashish Dey, a classical singer who specializes in thumri, dadra, tappa, chaiti and kazri styles. He has performed widely across India and the UK and released many albums.
The final night-time showcase began with Irish singer-songwriter Lisa Hannigan, whose award-winning albums include At Swim, Sea Sew and Passenger. The audience cheered along for her outstanding and haunting harmonies. She also showed her sense of humor and compassion by dedicating a song to the safety of drivers in India's notorious traffic-choked streets ('don't be in a hurry, don't be crushed by a lorry').
A mesmerizing band then took the stage: Aga Khan All Stars, with a range of talented instrumentalists from Afghanistan, China, Italy and Syria. The collective is a project of the Aga Khan Music Initiative, an inter-regional music and arts education program. The music evoked the culture along the historic Silk Route from Asia to Europe. Salar Nader, Homayoun Sakhi. Wu Man, Feras Charestan, Basel Rajoub, and Andrea Piccioni drew loud applause for their outstanding solos and duets on pipa, tabla, saxophone, kanun and tamburello.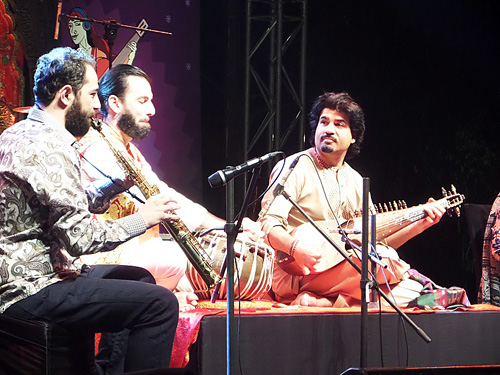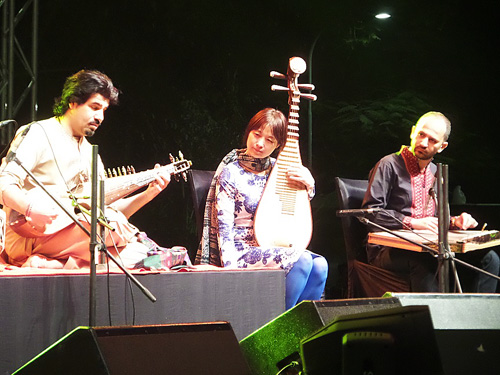 The perfect finale was the colorful and energetic Raghu Dixit Project, one of the most popular contemporary folk-fusion bands in India. Their infectious and happy tunes were sung in Kannada and Hindi, with Raghu Dixit on vocals, Gaurav Vaz on bass, Sanjay Kumar on guitar, H.N. Bhaskar on violin, and Wilfred D'moz on drums. They performed hits from their albums including 'Jag Changa,' and ended with the superb 'Har Saans Mein.'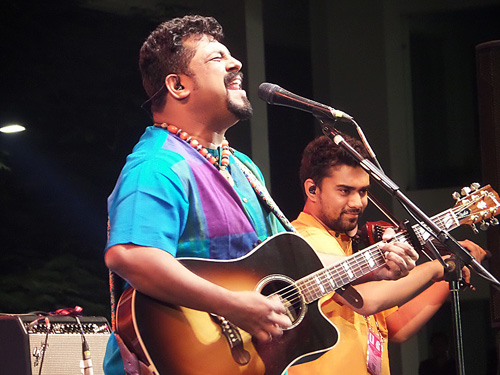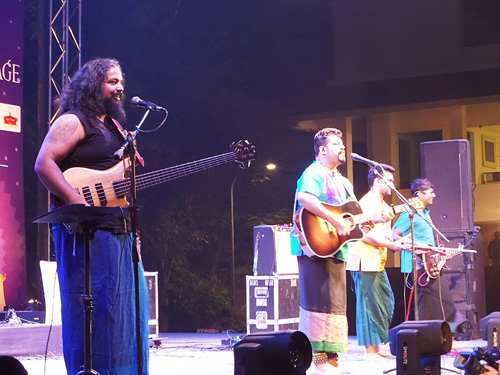 Raghu engaged with the audience throughout, urging them to get up and dance rather than 'sit down and look at the bums of the people dancing in front of you!' The band has performed extensively at festivals across Asia, Europe and Australia, and their youthfulness and creativity will ensure that they continue to headline a range of cultural events.
Day Five
The final musical performance at the Jaipur LitFest was on Monday morning, titled 'East Meets Middle East.' It featured a superb blend of music from the Middle East and South Asia, with Subrata Bhattacharya (tabla) and Abhisek Lahiri (sarod) from Kolkata collaborating with Ronnie Malley (oud) and George Lawler (percussion). Palestinian Ronnie Malley anchored the set, and the group truly transcended boundaries as they paired off in a range of scintillating duets.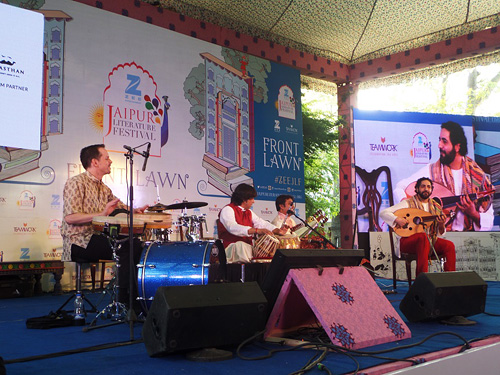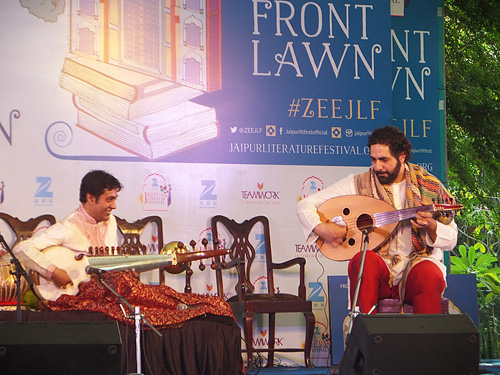 I look forward to interviewing the artistes in more detail and reviewing their albums, and will be sure to check out the 11th edition of the Jaipur LitFest next year, with its unbeatable combination of literature and music!
Author:
Madanmohan Rao
Madanmohan Rao is an author and media consultant from Bangalore, and global correspondent for world music and jazz for World Music Central and Jazzuality. He has written over 15 books on media, management and culture, and is research director for YourStory Media. Madan was formerly World Music Editor at Rave magazine and RJ at WorldSpace, and can be followed on Twitter at @MadanRao.