Sebastián Dominguez Lozano, better known as Chano Domínguez, was born in Cadiz on March 29, 1960. His father was a flamenco enthusiast and young Chano grew up listening to his father's LPs.
When he was eight years old, Chano's parents gave him his first instrument: a flamenco guitar. Chano was able to teach himself to play guitar and practiced everything that he had heard on his father's flamenco records so that he could jam with his friends in the neighborhood.
Chano started playing keyboards with Cai, one of the best rock bands in Andalusia. This group from Cadiz fused traditional Andalusian roots music, including flamenco, with progressive rock. The young keyboardist's impressive solos and improvisations foretold a promising future. Cai released three landmark albums: Más allá de nuestras mentes diminutas (1978), Noche abierta (1979) and Canción de Primavera (1980).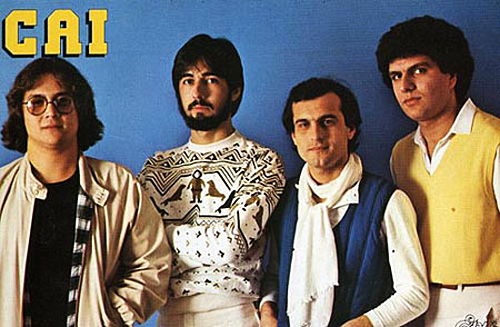 After Cai's breakup early in the 1980s, Chano became part of a jazz group called Hixcadix that was also made up of musicians from Cadiz.
In 1992, he decided to form his own trio. Chano led the group with his personal style, fusing flamenco rhythms with the musical forms of jazz. That same year, he was awarded First Prize in the National Jazz Competition for Young Performers and he released his first two records: Chano and Diez de Paco (Paco's Ten).
In 1995, he produced Coplas de Madrugá (Morning Songs) with acclaimed Spanish singer Martirio. This work covers some of the most important themes in traditional Spanish song and treats them with a genuine jazz aesthetic.
Once Chano established himself as one of the great names in Spanish jazz, his fame spread beyond Spain's borders. His earthy jazz, Latin, and flamenco sounds were heard by an international audience, thanks to records such as Hecho a mano, Directo a piano solo and Imán, as well as his participation at MIDEM Latino and other famous festivals and conferences.
In 2000 Chano participated in Siegfried Loch's Jazzpaña II. This project brought jazz and flamenco together. In the summer of 2000 Chano and other Flamenco and jazz luminaries came together at Madrid's Sonoland Studio. The musicians included bassist Carles Benavent, saxophonist Jorge Pardo, flamenco guitarist Gerardo Nuñez, drummer and percussionist Tino Di Geraldo, celebrated Spanish bebop alto and soprano saxophonist Perico Sambeat, Franco-Spanish bassist Renaud Garcia-Fons, singer Esperanza Fernandez and Chano on piano.
After his successful appearance in the Plaza de La Habana Jazz Festival, and having rubbed shoulders with the best in Latin jazz for the movie and recording Calle 54, the pianist from Cadiz recorded a collection of unforgettable boleros with Marta Valdés for his disk, Tú no sospechas.
In 2005 Chano recorded his first children's CD. Cuentos del mundo (World Tales) features 16 stories narrated by Constantino Romero and music by Chano.
Chano joined Cuban legend Paquito D'Rivera in 2006. Their performance at Madrid's Teatro Real was released on DVD. The band included Chano on piano; Paquito D'Rivera on saxophones and clarinet; Angá Díaz on percussion; Marc Miralta on drums; Mario Rossy on double bass; and Israel Suárez "Piraña" on flamenco percussion.
In 2010 Chano collaborated with film director Carlos Saura's Flamenco Hoy. The show featured musical direction by Chano, choreography by Rafael Estévez and Nani Paños and a cast of 20.
In 2016 he produced "Bendito" featuring Chano as composer and pianist with his favorite 'cantaor' (flamenco singer) Blas Cordoba (a.k.a. "El Kejio").
In 2018 Chano released Chano & Colina, a collaboration with his longtime friend and collaborator, Spanish bass maestro Javier Colina, recorded live at the Sala de Cámara del Auditorio Nacional de Música in Madrid in January 2017.
Chano is also an experienced educator, available for master classes, workshops and residencies. He has taught at Taller de Músics in Barcelona, The Music Conservatory of Bogotá, the Julliard School in New York and at the School of Music at the University of Washington.
In 2016, Chano moved to New York City.
Discography
* Más allá de nuestras mentes diminutas, with Cai (Trova Records, 1978)
* Noche abierta, with Cai (Epic, 1979)
* Canción de Primavera, with Cai (Epic, 1980)
* La Guinda, with La Guinda (1985)
* Hiscádix, with Hiscádix (1987)
* Memorias, with Tito Alcedo (1988)
* Daquí Pallá, with Decoy (1991)
* Chano, with Chano Domínguez Trio (1992)
* Diez de Paco, with Jorge Pardo (Nuevos medios, 1995)
* Hecho a mano (1996)
* Coplas de Madrugá, with Martirio (1997)
* En Directo (1998)
* Imán (Nuba 7767, 2000)
* Jazzpaña II (ACT 9284-2, 2000)
* Si
* Lorquiana
* Tú no sospechas, with Marta Valdés (Karonte-El Europeo)
* Oye como viene (2003)
* Mira como viene (2003)
* Acoplados, with Martirio (2004)
* Con alma (2005)
* Cuentos del mundo World Tales (2005), children's album
* Flamenco Jazz (2005)
* New Flamenco Sound (2006)
* Acércate más (2006)
* Quartier Latin, with Paquito D'Rivera (2009)
* Piano Ibérico (Blue Note, 2010)
* Flamenco skectches (Blue Note, 2011)
* Chano & Josele (Calle54 Records, 2012)
* Over the Rainbow (Sunnyside Records, 2017)
Videos
Quartier Latin, with Paquito D'Rivera (2007)
Chano & Colina (Sunnyside, 2018)
Web Site: http://chanodominguez.info
Credits: Biography partially translated by Rita Granda
Author:
Angel Romero
Angel Romero y Ruiz has been writing about world music music for many years. He founded the websites worldmusiccentral.org and musicasdelmundo.com. Angel is also co-founder of the Transglobal World Music Chart.
Angel has also produced and remastered world music studio albums and compilations for labels such as Alula Records, Ellipsis Arts, and Music of the World.