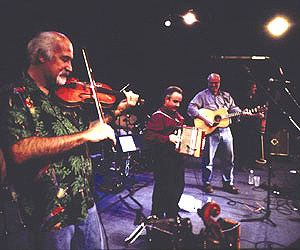 BeauSoleil has secured their position as America's most popular Cajun group. BeauSoleil has preserved the rich Cajun musical traditions of Louisiana, while adding elements of zydeco, New Orleans jazz, Tex-Mex, country, blues and more.
BeauSoleil translates as "beautiful sunshine." It's also the name of an 18th century Acadian rebel leader, Beausoleil Broussard, after whom Michael Doucet, founder, fiddler and passionate vocalist for the band, named the group.
Michael Doucet dedicated much of his life to the study of the origins of Cajun music. He studied with grand old masters such as Denis McGee and Canray Fontenot, and searched out early 78 rpm recordings and unaccompanied ballad singers. At the same time, he was constantly aware of the other musical forms around him – jazz, country, R&B and rock and roll. As Doucet once explained early in his career, "If I was going to play Cajun music, I wanted to play it right. And if I was going to change Cajun music, I have to be sure of the direction."
BeauSoleil has numerous recording projects to its credit, including award-winning movie soundtracks. They garnered six Grammy nominations before winning Grammy gold in 1997 for Best Traditional Folk Album.
Recorded live in concert at The Barns Of Wolf Trap near Washington, D.C., in March 2, Looking Back Tomorrow: Beausoleil Live! marked BeauSoleil's return to the first venue to serve their sizzling musical gumbo to audiences beyond Louisiana's borders. When BeauSoleil took center stage at the National Folk Festival in 1976, an infectious musical genre, rooted firmly in the culture of a long oppressed people, boogied into the spotlight.
"When I was growing up, the word Cajun was never used," says founder/fiddler/lead vocalist/chief songwriter Michael Doucet in the albums's liner notes, penned by author and journalist Michael Tisserand (Gambit Weekly). "People finally started to become a little more proud of their culture. Even if you weren't as educated as a Philadelphia lawyer, you had something to offer, to give-a way of life."
On Looking Back Tomorrow: Beausoleil Live! BeauSoleil showcases their arrangements on traditional songs ("J'ai Ete au Bal," "Travailler C'est Trop Dur," "Grand Mamou"); debuts four new Doucet-penned originals ("Amede," "Varise," "Quoi 'y a Toi," and "Ma Douce Amie"); salutes pioneers Dennis McGee ("Pa Janvier") as well as Clarence Garlow and Eddie Shuler ("Bon Temps Rouler"), and infuses Cajun flavor into rock 'n' roll-a BeauSoleil trademark ("It's You I Love," written by Dave Bartholomew and "Fats" Domino).
BeauSoleil-Doucet, along with his brother David (vocals/guitar), Jimmy Breaux (accordians), Al Tharp (bass/fiddle), Tommy Alesi (drums), and Billy Ware (percussion)-has released six albums on Rhino, garnered eight Grammy nominations over the course of their career, and won the Grammy for Best Traditional Folk album in 1998 for Rhino's L'Amour ou La Folie.
In September of 2004, Vanguard Records released Gitane Cajun, the group's first studio album since 1999.
Discography:
The Spirit of Cajun Music (Swallow Records, 1976)
Louisiana Cajun Music (Swallow Records, 1984)
Parlez Nous Au Boire (Arhoolie Records, 1984)
Zydeco Gris Gris (Swallow Records, 1985)
Allons A Lafayette (Arhoolie Records, 1986)
Bayou Boogie (Rounder Records, 1986)
Hot Chili Mama (Arhoolie Records, 1988)
Cajun Experience (Swallow Records, 1988)
Bayou Cadillac (Rounder Records, 1989)
Live! From The Left Coast (Rounder Records, 1989)
Cajun Jam Session (Arhoolie Records, 1989)
Deja Vu (Swallow Records, 1990)
J'Ai Ete Au Bal [Soundtrack] (Arhoolie Records, 1990)
Cajun Conja (Rhino Records, 1991)
Rainbow Sign (Rounder Records, 1992)
Bayou Deluxe – The Best Of Michael Doucet & Beausoleil (Rhino Records, 1993)
La Danse de la Vie (Rhino Records, 1993)
L'Echo (Rhino Records, 1994)
Vintage Beausoleil: live (Music of the World, 1995)
Arc de Triomphe Two-Step (Hemisphere / Metro Blue, 1997)
The Best of BeauSoleil (Arhoolie Records, 1997)
L'Amour Ou La Folie (Rhino Records, 1997)
Cajunization (Rhino Records, 1999)
Best Of The Crawfish Years (Rounder Records, 2001)
Looking Back Tomorrow (Rhino Records, 21)
Encore, Encore!! The Best of BeauSoleil, 1991-2100 (Rhino Records, 2003)
Gitane Cajun (Vanguard Records, 2004)
Live in Louisiana (Way Down in Louisiana, 2006)
Live At The 28 New Orleans Jazz & Heritage Festival BeauSoleil & Michael Doucet (MunckMix, 2008)
Alligator Purse (Yep Roc, 2009)
From Bamako to Carencro (Compass, 2013)
Author:
World Music Central News Department
World music news from the editors at World Music Central