"Yiddish culture as it existed in Eastern Europe can never be revived as it was. Luckily, enough of the culture has been preserved in books, on recordings and by older mentors to have allowed us to pick up the thread and be a part of our tradition, even if it has evolved into something new and different." – Lorin Sklamberg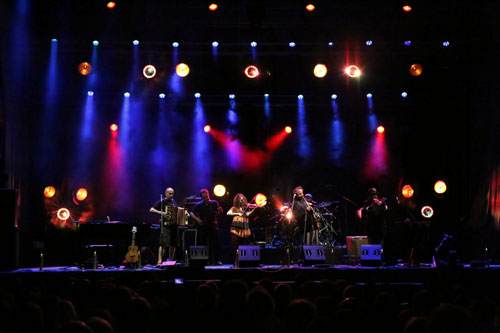 On September 4, at an outdoor performance at Grzybowski Square in Warsaw, the Klezmatics celebrated their thirtieth anniversary. The fruits of the group's activity include eleven discs (released from 1989 to 2011), and, among other awards, a Grammy in the category of World Music. The crowd was large, the artists gave us a demonstration of the best music, and the weather was surprising. The concert took place as part of the 13th Singer's Warsaw Festival.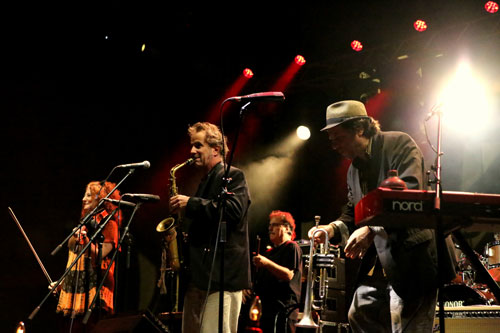 The Klezmatics gave a concert which can be summarized briefly as an expression of joyful thanksgiving: they captivated the audience, bewitching it with their singing, passion, and sound. The show will remain in our memory as a souvenir of holiday colors and sounds.
In the Klezmatics' music, old Yiddish melodies come back to life, mingled with the sounds of contemporary musical genres such as rock, jazz, gospel and ethno/folk. In this music, the hybrid of styles and genres serves to affirm that Yiddish music is still part of living tradition and culture. The artists do not skimp on delighting our senses, reaching on stage for more than a dozen different instruments, both traditional and modern, and singing in several languages.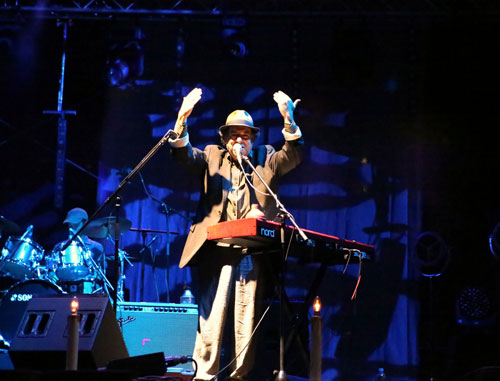 Today, the Klezmatics are already Jewish music classics. They create important arrangements and interpretations of traditional Yiddish songs, changing today's view of the Jewish and klezmer culture of Eastern Europe. Thus, in a strange way, this music connects longing and nostalgia with a passion for life, love, and joy.
For this work, thanks and great appreciation are due to Lorin Sklamberg (lead vocals, accordion, guitar, piano), Frank London (trumpet, keyboards, vocals), Lisa Gutkin (violin, vocals), Matt Darriau (kaval, clarinet, saxophone, vocals), Paul Morrissett (bass, tsimbl, vocals), and Richie Barshay (percussion instruments).