I met Chucky Lopez in 1973. Eddie Palmieri had moved to the City by the Bay San Francisco, California. Eddie has family there and felt the move would be great since he loves San Francisco. One night, after hanging in San Francisco during the day, myself and 3 other friends decided to stop by Cesar's Latin Palace on Green St, the old location to see who was performing. It was dark about 8:00 or 9:00 p.m.
The doorman at Cesar's in San Francisco said Eddie Palmieri was playing and we all went in to see the show. Chucky Lopez was on bongo and mostly on timbales that night, doing what a great musician does best, play! I do not remember who all the members of the band were at that time; although that night I met Eddie and also very young outstanding vocalist (Ubaldo) Lalo Rodriguez from Puerto Rico. Lalo did stay, residing in San Francisco for quite a few years, and I never imagined that decades later my orchestra would open for Lalo.
Chucky is a great person, musician, bongo legend of legends and an all around great Latin percussionist.
Mind me saying this, when Chucky plays, the people in the audience just turn their heads to look who's up there on stage playing. All bongoseros have a style, but Chucky has select style of his own.
Chucky's father is the great conguero Tommy Lopez, who passed away, great friend of Francisco Aguabella. Francisco used to tell me that when he traveled to New York, Tommy Lopez would keep him up all night long playing rumba! Francisco always spoke well of his friend Tommy Lopez and would laugh and chuckle about his times with Tommy Lopez.
Let's see what Chucky has to say…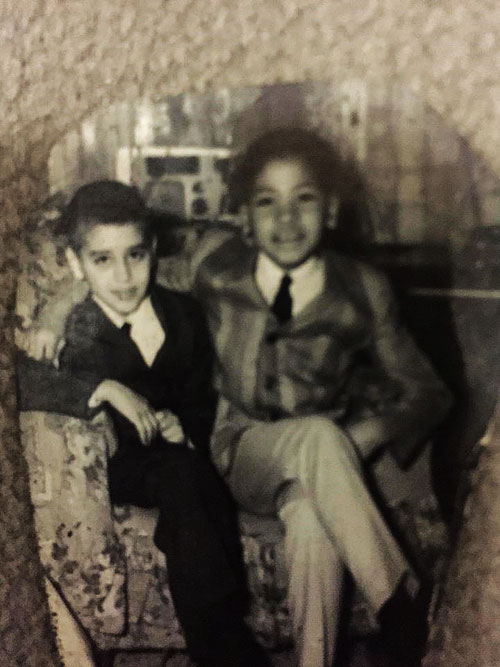 Chucky tell me when you were born?
I was born on August 1st 1954 and my birth name is Thomas "Chucky" Lopez.

Tell me a little bit about your upbringing in music?
I was raised in Hell's Kitchen during the 60's. That was a wonderful time in my life as it was the first time that I went to see musicians perform live at the Apollo.
It was also the last time they closed before renovation and I was fortunate enough to have played on the stage at the Apollo, I was only 8 years old. My father is Tomas Lopez, he was also quite know in the Latin music field.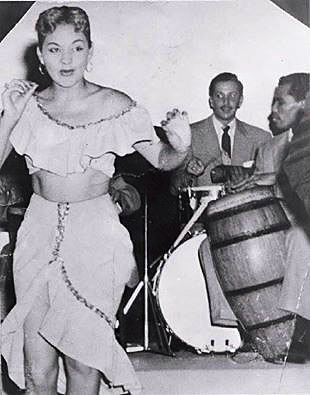 Chucky can you tell me a little about how you got musical lessons as a kid interested in music?
Ever since I can remember. I remember my dad giving me lessons, even on occasions when I just wanted to be a kid. My father would always say to me "niche" do it like this, do it like that! He never let up. For that I am grateful as it opened doors for me in the music field.
Who did you dad hang with musically?
Some of my dad's friends were Patato (Carlos Patato Valdez), Totico (Eugenio Arango), Julito Collazo, Francisco Aguabella, Chino Pozo and Armando Peraza, just to mention a few.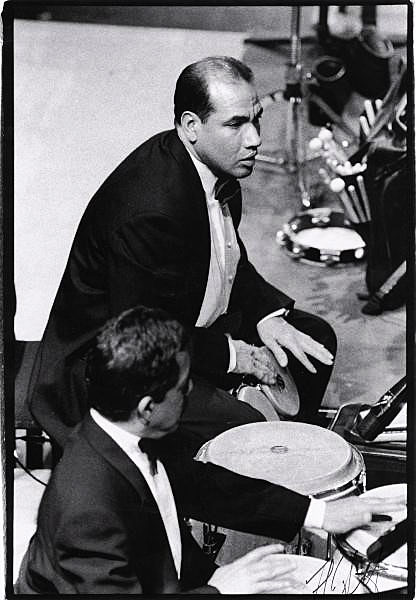 So how did this work for you musically?
I grew up with these guys on a daily basis as my dad and they would have jam sessions and just hang out.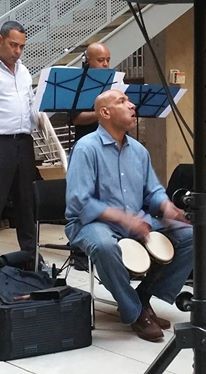 Chucky how did it work out that you started to play the bongos?
I started picking up the bongo more seriously around the age of 13. Although my dad had trained me more on conga drum, my preference was the bongo.
So where did you go to play the bongos or observe musicians performing?
I started hanging out at Hunt's Point Palace every Sunday. That was the place to see and be seen. About 10-15 bands would perform and one could see them for only a $2.00 admission. On one weekend Johnny Colon was performing and he invited me on stage, the rest is history.
Whom have you performed with?
I played for Willie Colon and Eddie Palmieri offered me a job. Most of the guys I hung out with were older and I learned a lot from them. I was still in Junior High School, 123 to be exact in the Bronx, New York.
Where did your career take you?
As I moved on with my career I was fortunate to play with Machito, Tito Puente, Eddie Palmieri, Orquesta Broadway, Mongo Santamaria Jr., Conjunto Clásico, Larry Harlow, Ray Barretto, Tito Rodriguez, Jr., Conjunto Candela, Cortijo El Combo just to mention a few more. I have traveled to many countries, states and cities. I have met people from all walks of the earth.
What do you say about the roots of your learning bongo?
It was quite a privilege as I had my father on hand to assist me with clave and various rhythms and tuning my instrument etc. When I think back of my childhood teen years I can't say I regret anything, as I was quite fortunate. I am still very fortunate 30 years later to be talking about it.
—
Some words from a few friends of Chucky Lopez:
Pablo "El Indio" Rosario: percussion legend, Puerto Rico:
Chucky and I grew up together, although I am a little older. For his very young age he was always a step or two ahead of the rest in part due to his dad Tommy Sr. In my opinion, Chucky is one of the top bongo players that the music business has to offer for the last 50 years.
His bongo solos should be studied by all aspiring bongo players as a true focus of advanced drum conversation. He is a musician that happens to play bongo among other percussion instruments. Yet at the same time, he is the most underrated bongo player today. He is very humble, not criticizing or embarrassing anyone. We come from the same school of show me what you've got to say. Toca y no hables tanta baba (play and don't talk so much).
To this day, I am still learning from one of the most powerful bongoseros of our modern time. Mr. Thomas Lopez Jr. (Chucky Lopez) El Verdadero Caballero.
Pete Lugo, artisan, bongo & bell maker, Bronx, New York:
I have always had much respect and admiration for you Chucky, for you as a person as well as a master drummer. Who knows, maybe one day I can build a nice bongo for you. I hope when I open my new shop in the Bronx, you can visit me, so I can begin to post some pictures on my wall of my favorite percussionists or percussionists that I build drums and make bells for. I would also like to meet Pablito El Indio Rosario one day, another of my favorites!
Mario Grillo, leader of Machito Orchestra, percussionist, performed with Chucky Lopez in the Machito Orchestra:
All I can say about Chucky Lopez is 2 words: The Best. My father (Machito) loved his playing; he has extreme knowledge of what the instrument is about. His concept is complete, great. He is from the old school, he is a master at bongo, conga and timbales, you're not gonna get better than Chucky Lopez.
I have known him all my life; I have known his father Tommy Lopez all my life. He has extreme knowledge on the tradition. Chucky is a team player, when Chucky is in a rhythm section, he makes the section better, he makes you better, 'cause you got to play better, he also has a great memory, a photographic memory, he can play a tune and 10 years later he will play it just as he originally did. He is a great player in the studio as well as live.
His father Tommy Lopez was know as "Mano de Hierro" (Hands of Iron), Chucky is the same, he has hands made out of cement. I have played with other players, the best players [Mario mentions the names of a few greats] but hands down, hands down, Chucky is the one you want to play for your Orchestra.
—
"Thank you Chucky Lopez for making this interview possible and to the great ones, Mario Grillo, Pete Lugo and Pablo "El Indio" Rosario for your great time, memories of Chucky, and assistance to make this project possible. You guys are the greatest! Thanks again!" – Les Moncada
Author:
Les Moncada
Les Moncada is a former Latin Jazz orchestra leader and conguero for over 40 years. He was born in Oakland, California and currently resides in Sacramento, California.
Les Moncada was an apprentice to conga and batá master Francisco Aguabella, a friend of vibraphonist Cal Tjader, Latin Jazz band leader Pete Escovedo, conguero Armando Peraza and many more.
He has been writing for many years for World Music Central.
Les Moncada's Facebook site is: Timbales and Congas Bongo Bata and bells.